Re: Peaceful Days Are Over, Let's Play Devil Survivor Overclocked!
Posted: Fri Oct 20, 2023 11:43 am
Demon Race: Snake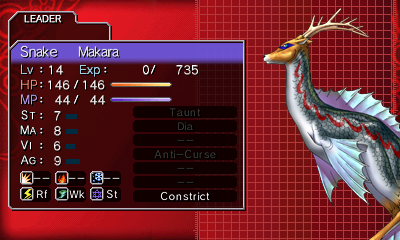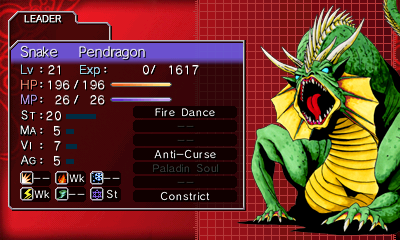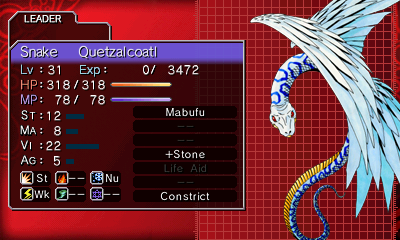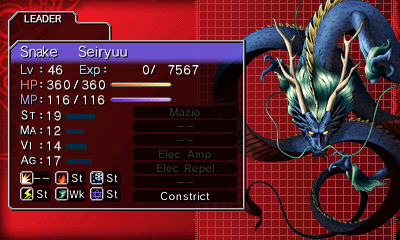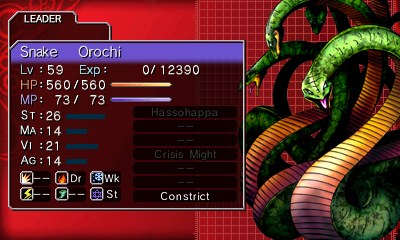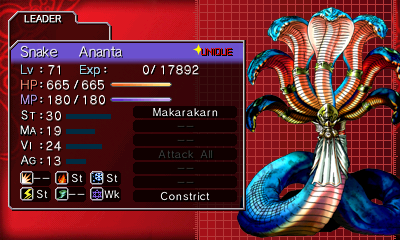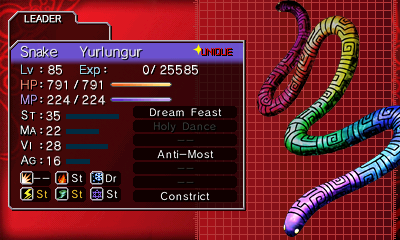 *Yurlungur is exclusive to Overclocked
Snakes as a whole are physical bruiser demons, but they often come in with magic oriented commands and defensive passives. This makes it hard to for them to hit the ground running, but they are some of the most lopsidedly powerful and/or tanky demons for their stage of the game if you can manage it. Pendragon in particular enjoys ludicrous ST for when he becomes available, and Quetzalcoatl is a near unbreakable physical wall. Past that, Snakes become a bit more balanced with a noticeable emphasis on bulk, with high HP and decent VI and MA and great resistances with a single weakness to cover. Yurlungur boasts no weaknesses at all and can easily cap his ST and VI off of a good fusion. It's a bit hard to recommend specific Snakes since the Race as a whole grows pretty linearly and the back half becomes available at a point where demons who simply specialize better and come in with better skills start to hit the scene while Snakes begin to generalize their stats. Still, it's far from a bad idea to have multiples of the highest available tier (With the exception of the Unique Ananta of course) for one particular reason.
Constrict
is the Snake Race skill. This is a non-conditional passive that has two effects. The primary one is much less useful, restricting the Move range of adjacent enemies to 1. This mostly is intended to work against you in the handful of times you square off against Snakes, and like Bind it can be countered with Devil Speed. The secondary effect, on the other hand, is ridiculously good: when an Enemy initiates a skirmish against you, you'll get +10 initiative in the turn order. This essentially eliminates the enemy's initiative and gives you the same turn order advantage you'd get from being the one to initiate the skirmish. Combine this with something like Tailwind, and suddenly situations where you'd have the potential to take a ton of damage instead become clean sweeps in your favor. You can very easily slap a Snake onto a team and have them hold down an area solo and detonate any enemy team that runs into them. This is also pretty much the ideal way to grind free battles. I had a very negative opinion of Constrict until I realized this aspect of, and now I'd say it's probably one of the best passive Race skills in the game. Does the primary effect of this skill have any use? Well, unlike Bind you can pull in a Snake in the middle of a turn to utilize this, so it has that going for it. Anytime I thought this might have use though, I was always able to find alternative solutions that work just as well or better. If you know any situation where the move restriction effect of Bind is amazing, don't hesitate to let me know, but in my mind this aspect of it is purely meant to be used against you.