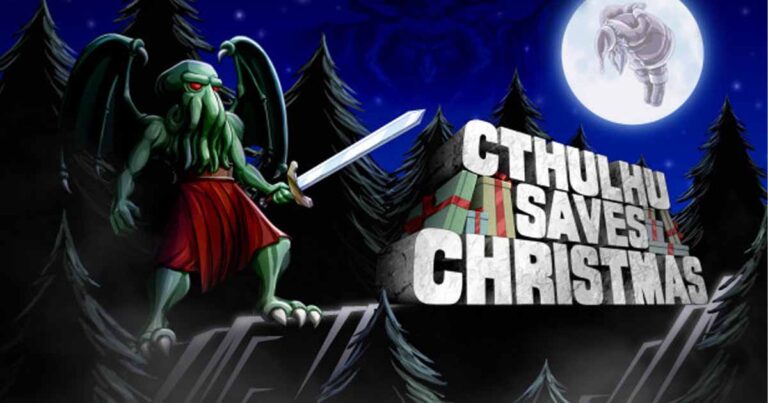 What game is this?
Cthulhu Saves Christmas is a silly JRPG style game that doesn't take itself seriously, and has nuked the fourth wall from orbit. This is a completely blind LP. I have no idea what I'll run into when playing the game. It's also a sequel to Cthulhu Saves the World (I haven't played that either). It appears to be quite short. I plan on having daily releases in order to get this out by Christmas.
Why LP this game?
1. It's the Christmas season, so it seemed fitting.
2. As I joke in the first episode, I have acquired 300 likes on my Facebook gaming channel, and every single one of them is a bot, so I figured a celebration was in order for the milestone.
3. It has been requested in the LP Request thread on Something Awful
Don't you have three(ish) LPs still in progress that you haven't been updating?
Yes, but I think I caught the 'Rona at the end of October. I'm not positive since I didn't lose my sense of taste or smell, and that seems to be the most common symptom. However, I was sick for a few days, and then fatigued like crazy for three weeks. Then I spent the next three weeks catching up on everything I had missed. Now that I'm caught up on real life stuff, I figured I'd get back into the saddle with a fun little LP. That and I'm still dreading the editing that I'm going to have to do for the next Super Robot Wars 2 episode release.
As for the Luigi's Mansion 3 and Creeper World 4 LPs, the story is done, and I just need to do bonus episodes for both of them. (PS. The Creeper World 4 LP is off-site).
Episode List
Episode 1
Episode 2
Episode 3
Episode 4
Episode 5
Episode 6
Episode 7
Episode 8 Finale
Episode 9: NG+ 1
Episode 10: NG+ 2
Episode 11: NG+ 3
Episode 12: NG+ 4
Episode 13: NG+ 5
Episode 14: NG+ 6
Episode 15: NG+ 7
Episode 16: NG+ 8: True Finale