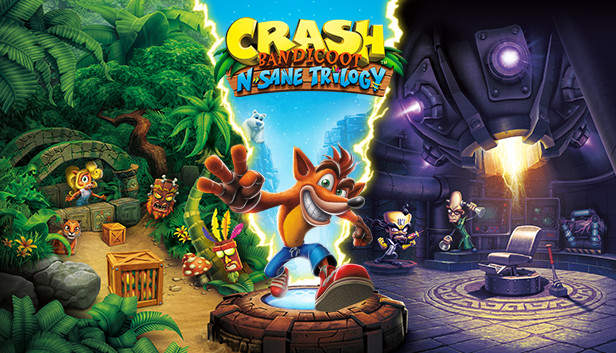 CW: Cartoonish, stereotyped portrayals of indigenous Australians and Australian wildlife.
Those of you who follow my Let's Plays know that I like to play weird, interesting, deeply-flawed titles with a lot of heart...but not today. This Let's Play is about a big video game franchise that is very near and dear to me -
Crash Bandicoot
.
In this thread, we'll be playing
Crash Bandicoot: N. Sane Trilogy
. Developed by Vicarious Visions in 2017, it's a quasi-remake of the first three
Crash
games. As someone who's followed the franchise almost since the beginning, I absolutely adore this collection - perhaps even more than the originals. I will be joined by my good friend
pdPreciousRoy
, who is seeing these games for the first time.
This LP is geared towards those unfamiliar with
Crash Bandicoot
. That being said, whether you've never played a
Crash
game in your life, or you're a hardcore fan, or maybe you haven't touched the series in years, everyone is welcome!

Crash Bandicoot
is a series of platforming games, originally created by Naughty Dog for the Sony PlayStation between 1996-2000. The first game is an interesting and fun, if often frustrating, experience; its sequels are powerhouses of graphical prowess and game design, re-imagining the tropes and mechanics of classic balls-hard 2D platforming in three-dimensional space.
After making the spinoff
Crash Team Racing
in 2000, the rights to
Crash Bandicoot
reverted back to its publisher, Universal Interactive Studios. The next several years were fraught with peaks and valleys as the IP jumped from studio to studio. Sadly, even the best post-Naughty Dog
Crash
games couldn't recapture the magic of the originals.
After the critical and commercial failure of 2008's
Crash: Mind Over Mutant
, the franchise was shelved by its current publishers, Activision and Vivendi. The character of Crash was briefly brought back as a guest character for Activision's toys-to-life
Skylanders
games, but the future of the franchise proper seemed doomed.
Fast-forward to 2017. The first three games were re-released as
Crash Bandicoot: N. Sane Trilogy
, developed by Vicarious Visions for the PlayStation 4. This love-letter to the past polishes the old games with a new coat of paint, tightened the controls, and introduces several quality-of-life changes from later titles. The
N. Sane Trilogy
sold like hotcakes and introduced a new generation of gamers to the orange marsupial. The collection was later ported to Xbox One, Nintendo Switch, and PC. Toys for Bob, the studio responsible for the Switch port, would later develop an official instalment of their own,
Crash Bandicoot 4: It's About Time
, in 2020.

First of all, this is
not
a megathread. While I will LP all three games in the collection, they'll be separated into individual threads, and I will complete one or two unrelated Let's Plays in between each game. For those who remember my
Castlevania: Lords of Shadow
megathread, I ended up burning out hard on that series by the end, and I don't want it to happen again, especially with a franchise that's so important to my childhood.
Playing the PC version of
N. Sane Trilogy
, I will collect every gem in all three games, posting updates every Sunday. While the majority of this LP will focus on the
N. Sane Trilogy
, I will sometimes use footage from the originals as a basis for comparison. We'll also discuss the development histories of both the originals and the
N. Sane Trilogy
, as well as talking about the post-Naughty Dog
Crash
games, and what they got wrong (and right!) about the classic feel.
I will also be getting Platinum relics on the Time Trials in
Crash Bandicoot: Warped
. I'm not ruling out the possibility of completing the Time Trials for Crash 1 and 2, but currently it's not in the cards, as I think it would slow down the pace a bit too much.
As to whether I'm going to play some of the later games and/or Toys for Bob's
Crash 4
...maybe? Don't rule it out, but as mentioned, I'm a bit weary about increasing the scope too much, so for now we'll focus just on the
N. Sane Trilogy
.
Thanks for joining me on this crazy, hog-wild ride. Let's get started!