Part 6: The Hills Have Blindsides
Part 6: The Eyes Have Blindsides

Woodland Ruins


We went through a lot on this floor, so it's time to leave it behind and head on.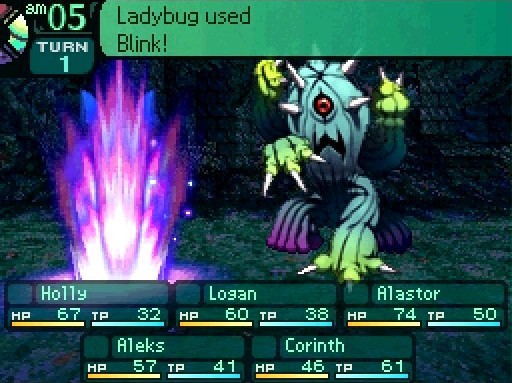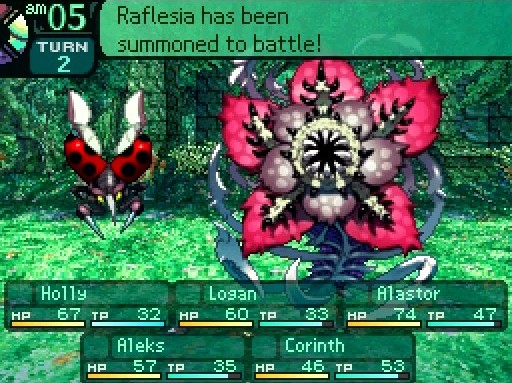 Alright, now that I'm ready
and at a safe distance
, check this out!

Now yer speakin' me language!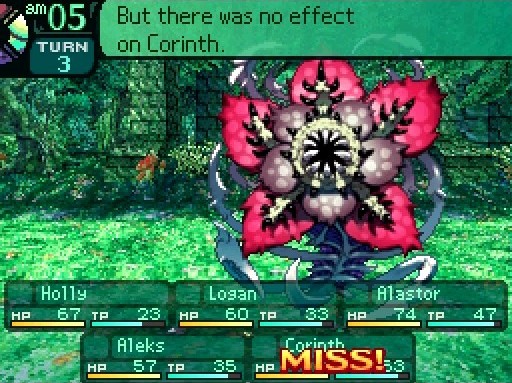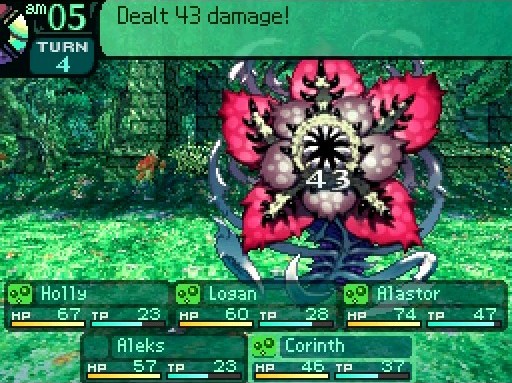 That is looking the painful.

It is! Oh god, it's like I'm undead, ohohohoho!

Meh, I've had worse.

If you want to fight a Raflesia, then you'd best kill it quick before it quickly kills you. Freeze is only brought out if Pollen isn't used, so it's not as common, and also isn't AS deadly. I can only attempt this because of all my Fire power.

There's honestly no need to be in a rush to kill it, as its drops don't give that much of a headstart.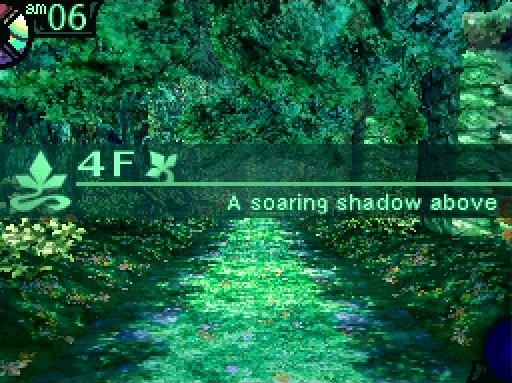 Neat.


There's one last room on 3F to visit, but you best be prepared.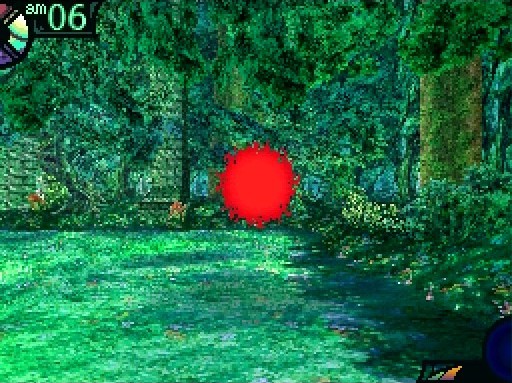 St-St-Stalkers on both sides...

Good for not immediately running away, I guess.

We could kill these cunts nah, but, uh, I dinnae wanna!


You just head straight down to get these two chests, nothing to worry about. Oh, how do you get back out of this room? Well I've never tried it, so I'll just say it's impossible and move on!

Generally some FOE trap rooms are one way and basically scream "use a Warp Wire" to get out. Granted you could fight your way out, but good luck doing that with EO2 FOEs, let alone red ones!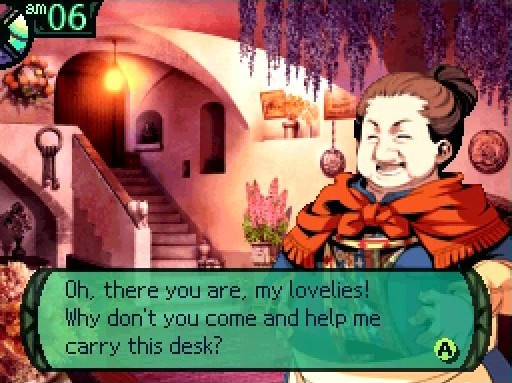 Holly can carry that with one arm... of course.

Phew... thanks! You're a strong bunch...! The desk was my daughter's, but it's too small for her now. We bought her a new one. I couldn't lift it myself, so I didn't know what to do. My husband is out looking for ingredients in the Labyrinth. Good thing you showed up!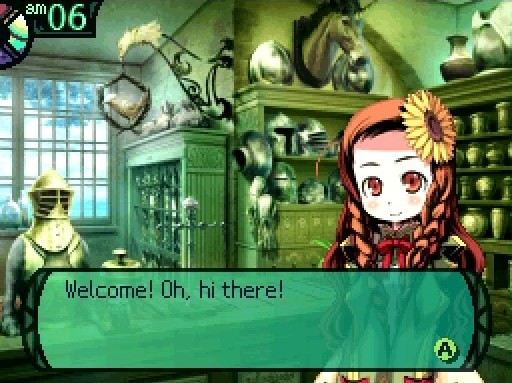 Is it true you've already made it to the 4th floor? Wow, that was really fast! I've been hearing more people in the shop talk about you. You're an amazing guild! I'm proud just to know you! Oh, I mean... sorry! I shouldn't say things like that. Umm, I've got some cleaning to do... feel free to look around the shop!

You've got me all blushing here, but I still need to know of all the secondhand bookstores around here!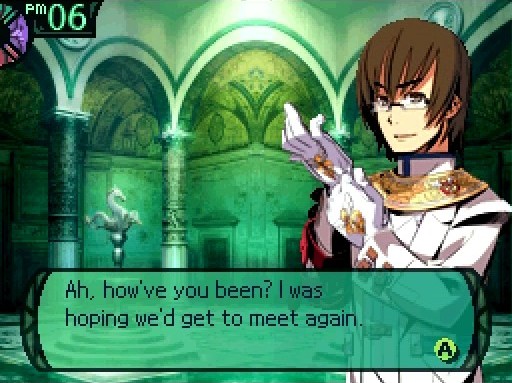 sleepy but thats normal

Hm...? You look tired. Are you all okay? You may know your way around the Labyrinth, but that won't help if you get exhausted. Don't hesitate to return here and rest at the inn, or to come see us if necessary. But it's best not to get injured in the first place.

Just don't get hit and you'll win every time.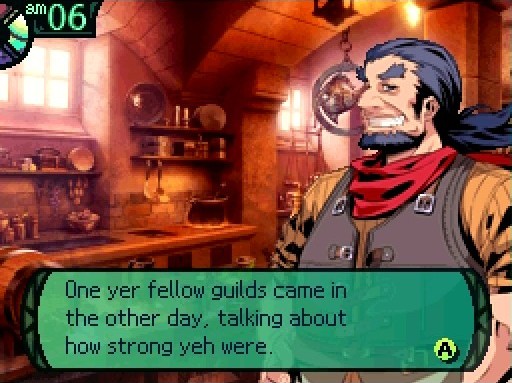 But I dunno... I've seen my share of guilds, and yeh don't seem like much to me. Find that floating castle and maybe I'll change my tune! Haw haw!

I wonder what guild has been talking about us?

A girl with a sword from the Ed-whatever guild, she said we were very honourable for taking on all these quests. And then she tried to fight me.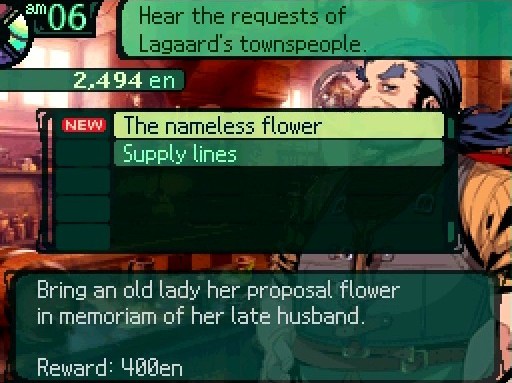 Yeah... this quest should be right up yer alley. There's a well-loved family in this Duchy, and their gran isn't doing so well these days. She's a kind old bird. Lost her man a few years back--he was popular in the corps in his day. Every time I saw them, they put a song in this wicked old heart of mine. I don't think she's long for this world, and her family wants to give her a memento of gramps. They tell me there's a certain flower he gave her when he proposed. Thing is, I've looked it up, and it only grows in the Labyrinth. They say it's on the 5th floor. A soothing, pale flower... think yeh could fetch it for the old girl's sake? We're all counting on yeh!

Is the game giving these quests a floor early so they add some difficulty with you forgetting about them by the time you reach that point?

Another issue with EO2 quests. The distribution timing kind of sucks and is all over the place. From EO3 onwards this mostly ceased to be an issue.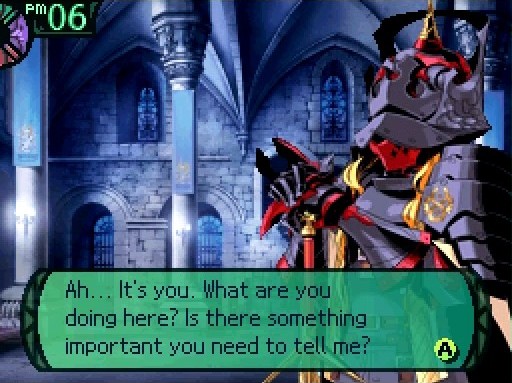 I just want an adventure already.

Hmmhmm!

There's no need to report here every time you return to town. Although... part of my job is to advise explorers like you, I suppose. Well, here's a tidbit for you, then. It's obvious, but most explorers tend to forget it. Are you aware that each enemy in the Labyrinth has a specific affinity? Swords, axes, arrows, spells... if you find an enemy's weakness you can do even greater damage. Combat in the forest will be much easier once you use your mind as well as your weapons... that's all the advice I have for you. Never underestimate the Labyrinth.

Too bad the games don't exactly keep track of weaknesses until 4. You just have to go off of damage number comparisons. And I guess be on the lookout for Analysis activating if you have an Alchemist.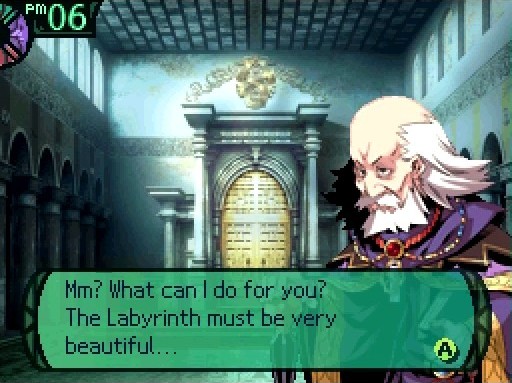 I've seen better.

That's what we're researching! Ugh, how many damn Yggdrasil Labyrinths are there, and why does one of them have "space cop" scribbled next to it?!

I've only been inside with the guard corps protecting me, but I was struck by its beauty. High Lagaard has its own charms, of course, but it's nothing like the forest interior. Even before my time, the forest has protected High Lagaard. It's almost a guardian to this nation. Perhaps you'll find the land of the gods at its peak, rather than a mere floating castle. I'll be interested to see the outcome.


Grabbing my dingaling when I'm alone in the forest.

See it's funny because it's one of seven thousand words for penis.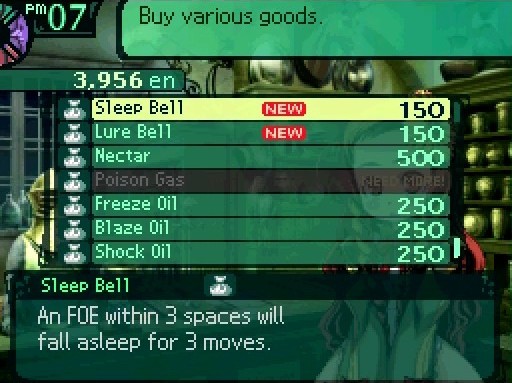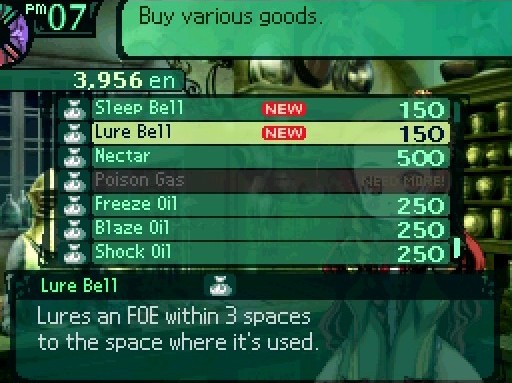 Sleep Bell, requires 1 Bell Fruit - Item, Lv1 Slumber, stuns non-red FOEs within 3 rings for 4 turns
Lure Bell, requires 1 Bell Fruit - Item, Lv1 Luring, non-red FOEs within 3 rings will move to the user and be stunned for 4 turns
Wood Bow, requires 1 Bug Wing and 1 Bent Twig, ATK+27 - An everyday bow made of the forest's branches.
Required for The item trade I
Targe, requires 2 Bug Wing and 1 Hard Root, DEF+9 - Shield that protects the user's shoulder joints.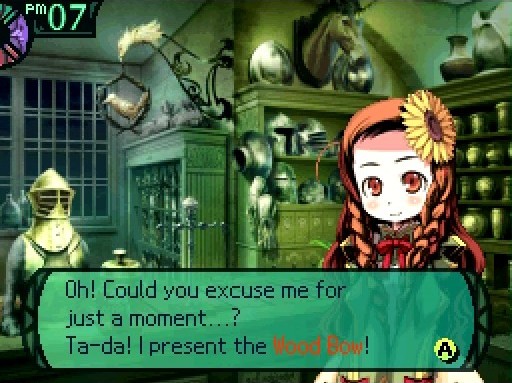 I know the color red causes issues with image compression but seeing basically instances of red words look like they're being smudged out is oof.

I can't even blame the bad font like last game!

I'll put it on the show floor today, so please have a look. It's my father's masterpiece! Oh, yes! I left the reward with Cass, so you can collect it at the Stickleback Bar. If I need anything else, I'll leave a request for you all on the notice board!

Maybe I should get a bow, I could look pretty- oh... a squirrel.

There you are! Where the hell have you been? Come on, you've got some food to gather.

Nope.

What do you mean, "nope"?!

I have this new guild I'm working for. Who actually pay me. And maybe even like me.

WHAT?! You are blood bound to serve me. Don't you walk away!

Make me.

What- but- you- GAHHHH!

Well, well, well, if it isn't the consequences of your actions.

...shut up, sis.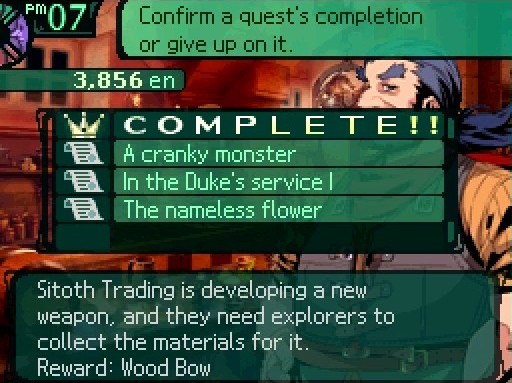 Ah, excellent, thank you for being the in-between, have a glass on me. ...everything okay?

...you know what? Yeah. It is.

Hey there! Great work! Sorry to give yeh all the runaround. I've heard the whole story! Ahh, quit yer whining and take the reward! Haw!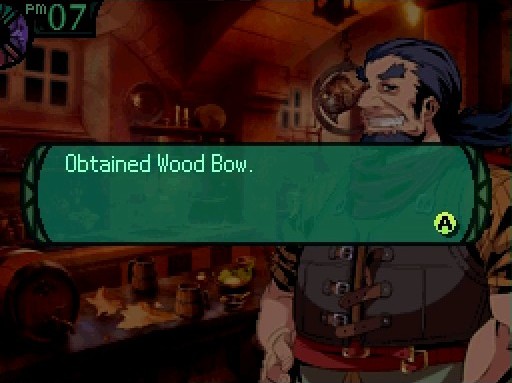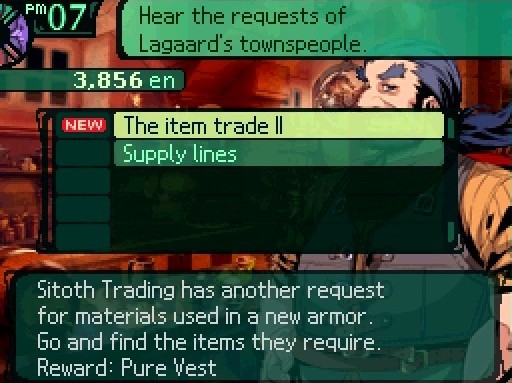 Oh, uh, if you want me to help with this I can-

Woah now, sit down and have a brew! Put your feet up for a change, that's what the rest of the guild is for.

Yeh must know what the score is by now. Yes, another request from Sitoth Trading. I don't want to muck up the details of the quest, so yeh should ask around over there.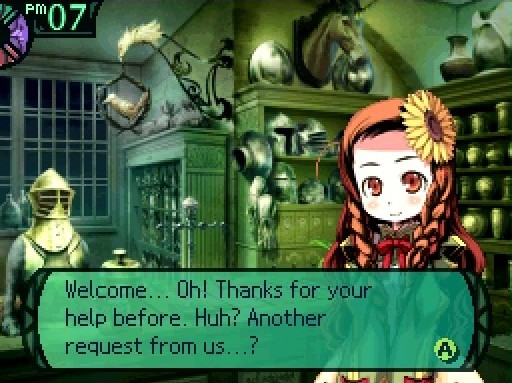 Need one of them Pure Vests, uh, definitely fer someone pure like me.

Wonderful! I'm still trying to get used to asking strangers to do our work... I'm glad that you're so eager to help us. Oh, right! The materials we need. That's 1 Metal Hull and 5 Bug Shells. Just like last time, once you have them, just sell them to me. Oh! A customer! Sorry, I have to go, I'm counting on you! Welcome, sir...!

Evenin', I'm here to peruse your axes again.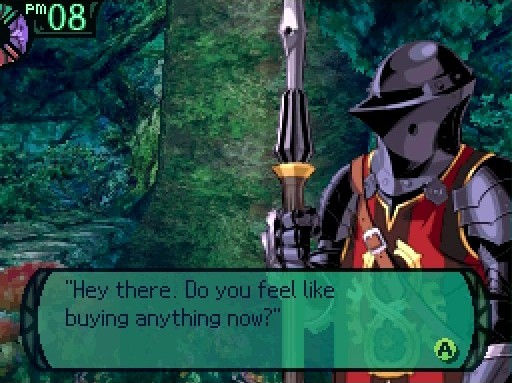 "Now?" Have we met before?

Who cares about that, I want that amazing medicine he has. Where did you even get that?!

Now we shouldn't rush, perhaps the sword is more useful. Though taking a look at it, it seems pretty rubbi-

Here's the money, thanks for the sword!

Who saw that coming?~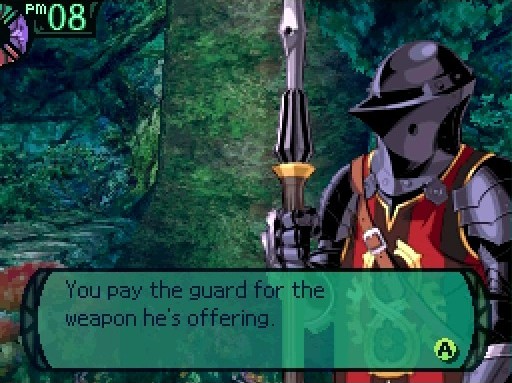 It's an honor to meet any members of Edda. Have a pleasant journey!

The guard leaves the area with a smile, happy merely to have met you. You, too, elect to return to your journey through the Labyrinth.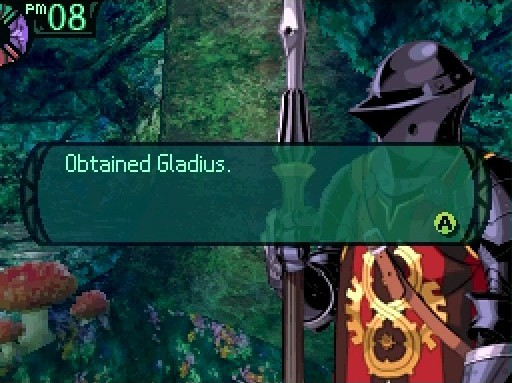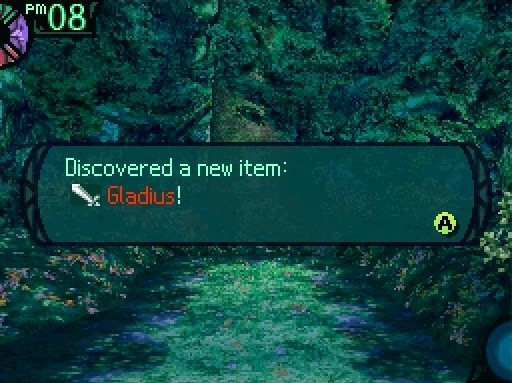 I finally remembered to go back to this guy now that we have the ca$h. Don't buy the sword, it's garbage.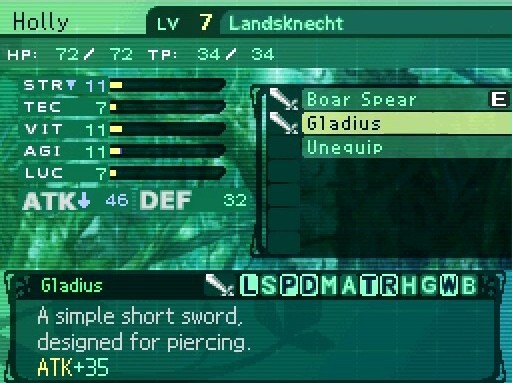 Well, it's a slight improvement, but the Boar Spear we get FOR FREE on THE NEXT FLOOR is much better.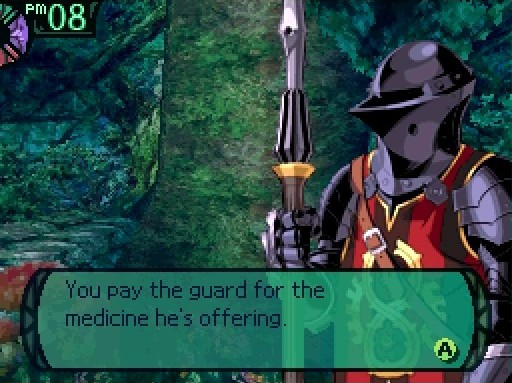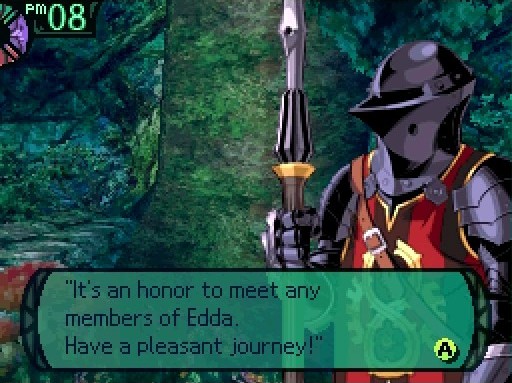 You'd have to be an idiot to think the weapon is a better deal!

Meanwhile, this heals all status for all allies and isn't available to buy until
27F
, what the fuck. If anyone asks why I like this game so much, it's because there's dumb shit like this popping up constantly. How did no one notice this??? Anyway, back to your regular exploration.

For the record, Therica BXes are distributed through quest rewards and chests so this isn't the only time you get one before post-game. It's just 27F is when they become farmable.


That is the cheatings! Only bugs can flying!

The airborne beasts rests its wings atop the high rubble towering before you. The rubble is stacked high and seems impossible to climb over. It is natural, you reflect, that the forest denizens can reach areas that you cannot. If you are to continue, you must understand this well and pay attention to your surroundings. You hold your breath as you leave, so as not to alert the monster to your presence.

Slaveimp
HP: 152
STR: 17
VIT: 17
TEC: 17
AGI: 17
LUC: 17
Level: 16
Exp: 0
Skills
Flight: Uses the Arms. Deals 50% Cut+Fire damage 4-5 times at a 50/50 chance, respectively. Has a 95% accuracy modifier and a 100% speed modifier.
Heal: Uses the Head. Heals an ally by 110HP. Has a 100% speed modifier.
Aura: Uses the Head. Increases damage dealt by all allies by 150% for 5 turns. Has an 80% speed modifier.
Damage Vulnerabilities

100%

100%

100%

100%

125%

100%
Disable Vulnerabilities

50%

50%

50%

50%

50%

50%

50%

25%

50%

50%

50%

35%

25%
Drops
Glue Hide: 20% chance, sells for 126en
1 required for Sherwani - Clothing, DEF+20, VIT+1 - sells for 420en
Gum Hide: 95% chance, sells for 11en.
1 required for Wing Leaf - Clothing, DEF+13, HP+5 - sells for 200en
1 required for Sherwani - Clothing, DEF+20, VIT+1 - sells for 420en
2 required for Bullwhip - Whip, ATK+32 - sells for 260en
2 required for Hide Aspis - Shield, DEF+12 - sells for 325en
2 required for Rough Hat - Headgear, DEF+8, TP+8 - sells for 120en
3 required for Hide Plate - Heavy Armor, DEF+22 - sells for 310en
5 required for Iron Glove - Gloves, DEF+10, VIT+1
Conditional: None

New to the series is Flying FOEs, ones that come in a cool blue and patrol around places you can't reach. This is a bad introduction to them since Slaveimps are absolutely pathetic, they're comparable to Redhorns, who we don't have much issue with anymore. Flight also does pathetic damage and they won't use their other skills until a later time, there's a reason they're so weak after all. We could fight them now, but we'll do so later and they're easy to dodge, so I don't see the point. Getting through the floor will be more difficult, so I'd rather save the TP.

Oh hey, here's a new mechanic. FOE types. You saw orange and red FOEs before but the color didn't mean much other than signifying power. Here these signify different ways they can trip you up on the field. Flying FOEs can ignore walls entirely making them pretty tricky to get past if you aren't paying attention to the map.

Slaveimps are absolutely pathetic and you could kill one right now with most parties. Not much of a reason to do so unfortunately due to the lack of EXP, so it's just less of a hassle to avoid them.

Now normally EO2 FOEs are to be avoided until you are heavily ready to take them on. That's not the case with flying FOEs for whatever reason. All Flying FOEs can easily be taken on when you come across them with a lot less prepwork. I'm assuming it was because they thought it was easier to get caught out by them so they made those FOEs weaker to give more of a fighting chance.


Looking closely, you can see that he's a soldier of High Lagaard.

That's quite the load you've got. Must make it hard to fight the monsters.

I-I-It's not heavy at all!

Yer legs are shakin', noodle arms.

After you tell him your tale, he nods in understanding.

Supplies, huh...? Well, the men are stationed in the southern area of this floor.

After thanking the solder, you considered your next move. You have the opportunity to complete the quest by going to the southern area.

Another instance of "wrong way, idiot", but to prove how 2cool4school I am, I will explore the entire floor with the load even if it's a pain in the ass.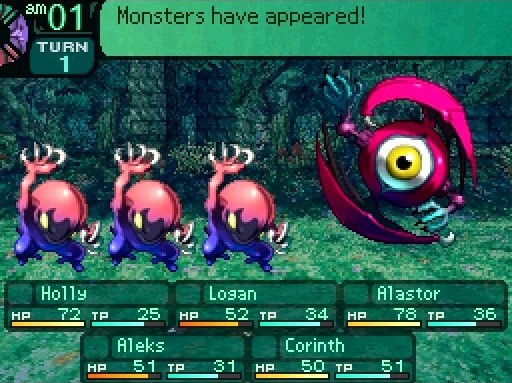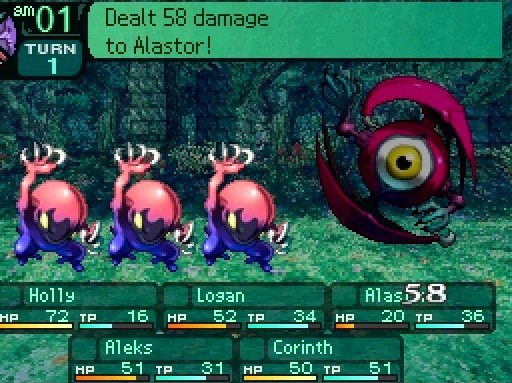 What the FUCK is that?

Oh, too scary for the mean vampire?

Evil Eye
HP: 130
STR: 17
VIT: 14
TEC: 9
AGI: 12
LUC: 12
Level: 13
Exp: 506
Skills
Glare: Uses the Head. Attempts to inflict Paralysis on a single target. Has an 25% base infliction chance and a 100% speed modifier
Tackle: Uses the Head. Deals 200% Bash damage to a single target. Has a 50% accuracy modifier and a 100% speed modifier.
Damage Vulnerabilities

100%

100%

100%

100%

100%

100%
Disable Vulnerabilities

100%

100%

0%

100%

100%

100%

100%

100%

100%

100%

100%

100%

100%
Drops
Glue Quill: 30% chance, sells for 16en.
1 required for Short Bow - Bow, ATK+34 - sells for 270en
1 required for Rough Hat - Headgear, DEF+8, TP+8 - sells for 120en
2 required for Warhammer - Stave, ATK+41, HP+10 - sells for 370en
3 required for Hide Armor - Light Armor, DEF+23 - sells for 500en
5 required for Plume Boot - Footwear, DEF+11, AGI+2 - sells for 350en
Conditional: Kill with non-physical damage
Gem Eye: 70% chance, sells for 27en
1 required for Carp Sword - Sword, ATK+43 - sells for 440en

Man, this game was great before these fucks showed up. Evil Eyes are less annoying when you encounter them with other enemies, since they have a guaranteed blindside otherwise and have a 50/50 chance of pasting someone into the ground with Tackle. Hey, don't we have a quest where we fail if we finish a battle with a dead party member? When they're under half health they have a chance of using Glare, but that's the least threatening thing they can do, they're always ready to make you waste a Nectar or be the number one priority to take down. Fuck these things!!!

Ahaha! Believe it or not, this is actually the less dangerous formation to encounter these monsters in. You see, here's a mechanic that wasn't used in any other game, guaranteed blindsides for random encounters. Certain encounter formations are always flagged to start off the battle as a blindside, and there's absolutely no way to prevent it. The Survivalist's blindside passive? Useless! Fortunately these mostly get used for formations where there's only 1 monster in them but they can be a rude thing to run into.

Evil Eyes are a very rude introduction to the guaranteed blindside mechanic, because chances are, they'll kill someone with their free turn. Just look at their STR stat and how their skill deals double damage. And given how money isn't exactly free flowing right now, chances are you don't have a Nectar to revive someone who inevitably died to these things. Kill them first unless you want more blood spatters on the grass floor.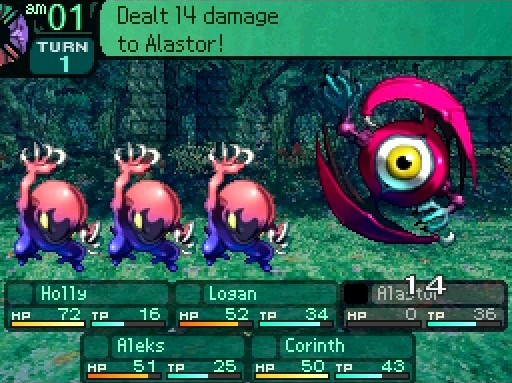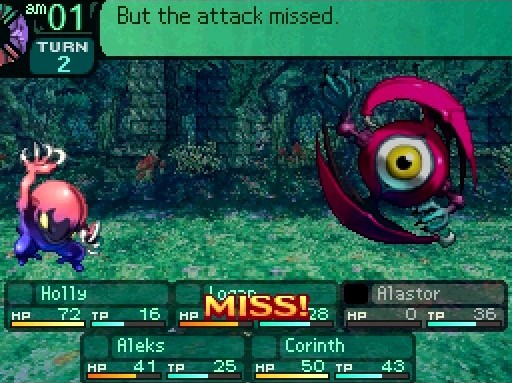 He is always so smiling when dead.

Thankfully we can leave the mole and revive Alastor to continue the quest, but UGH.



In here, quickly!

Bloody dinos! They were always so eager to interrupt me... lumberjack work.

Yes I think we get it by now.

That there is a Raptor, which is stronger than the Gashtor, which can still kick our ass, so we'll be waiting a bit longer to tackle this one, it'll chase you down though!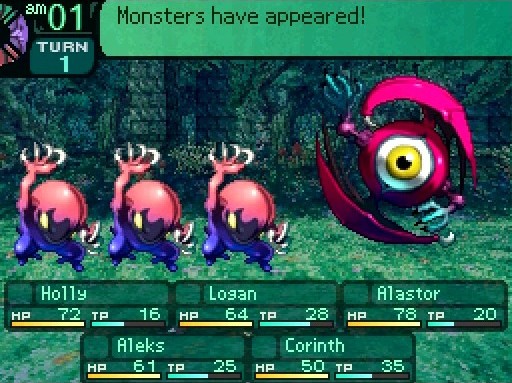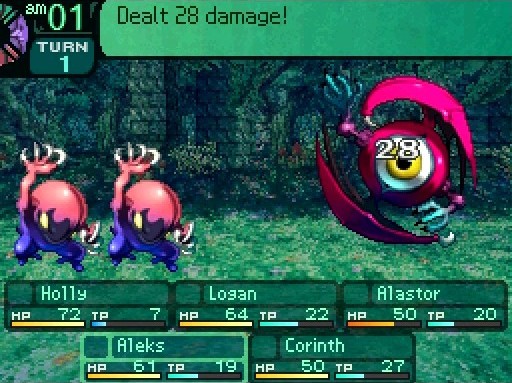 Thankfully an Evil Eye's regular attack is pretty manageable and we can take it out in one turn. It will not always be this easy.

4F A3 Take Point
Ambush Chance: 5%
Ambush Encounter:
100% Raflesia x1
Green Nut
. 55% chance. Sells for 75en.
1 required for Blaze Oil - Item, Lv1 Blaze, imbues the target's regular attacks with Fire damage - sells for 250en, must be restocked
1 required for Freeze Oil - Item, Lv1 Frost, imbues the target's regular attacks with Ice damage - sells for 250en, must be restocked
1 required for Shock Oil - Item, Lv1 Shock, imbues the target's regular attacks with Volt damage - sells for 250en, must be restocked
Sour Fruit
. 25% chance. Sells for 30en.
1 required for Ward Chime - Item, Lv2 Stalker, reduces danger values by 33% for 50 steps - sells for 200en
2 required for Guard Sole - Item, Lv2 Patrol, reduces damage tile damage by 40% for 50 steps - sells for 200en
3 required for Poison Gas - Item, Lv1 Poison, 15% base infliction chance, 20-30 damage - sells for 450en
Tiny Bloom
. 20% chance. Sells for 25en.
1 required for Nectar - Medicine, revives the target to 10-16HP, TEC depending - sells for 500en
2 required for Theriaca A - Medicine, LV5 Unbind, removes all binds from the target - sells for 100en
3 required for Theriaca B - Medicine, LV8 Refresh, removes all ailments from the target - sells for 100en

Unlike last game, the gathering points you find on later floors to their introduction tend to be very similar, but also very boring. It's fine, I don't read them either!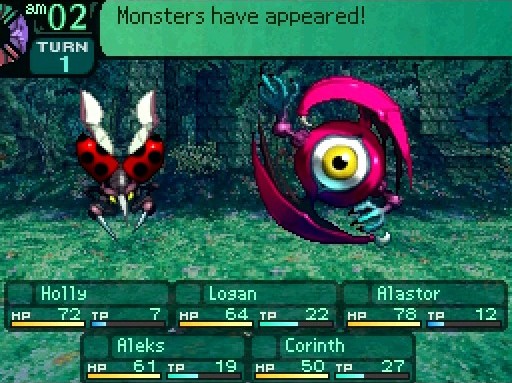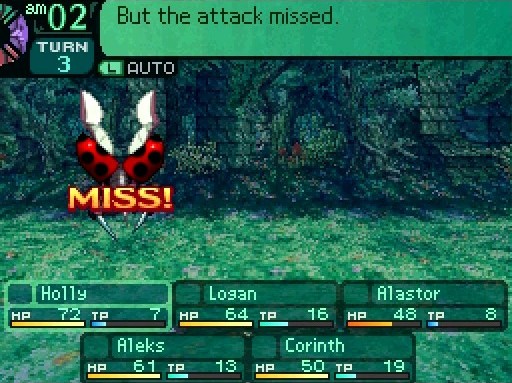 Well that's annoying, but we're fine to face a Raflesia every now and then, we'll be seeing them as regular encounters soon enough.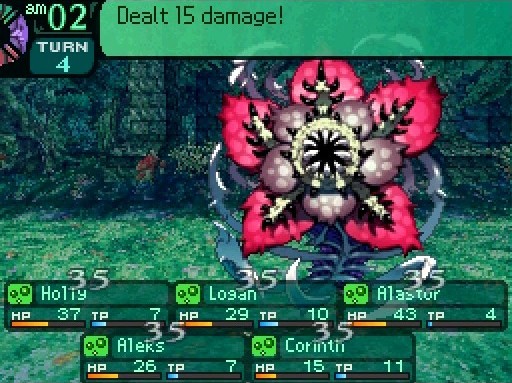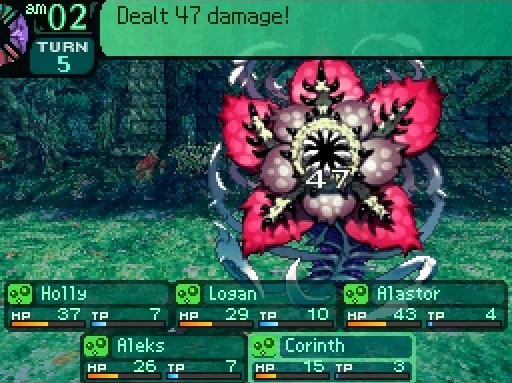 FUCKFUCKFUCKFUCKFUCK

Ah, the classic EO experience. Such beauty to my eyes.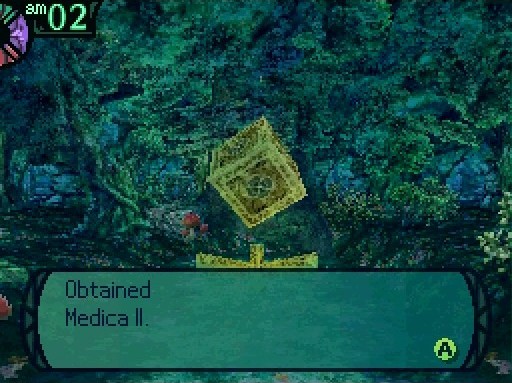 And that was an optional part of the floor, and it seems they intended for you to take this path later since the encounters are pretty rough compared to the proper path.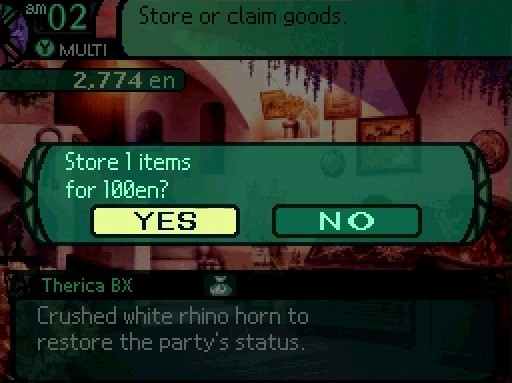 Now to never use the Theriaca BX,
just in case
.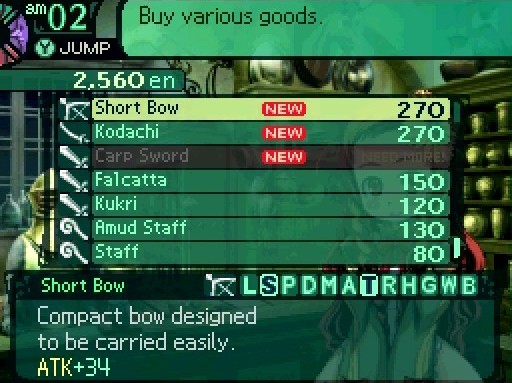 Short Bow, +0 speed, requires 1 Glue Quill and 2 Bug Nails.
Kodachi, ATK+37, requires 1 Red Shard and 3 Bug Nails - Katana that's as flexible as a short sword.
Rough Hat, DEF+8, TP+8, requires 1 Glue Quill and 2 Gum Hides, sells for 120en - A hat of layered beast fur for high defense.


Snails and bugs working together, oh the horror!

The bugging is very nice in the golding, do want.

Kingmai
HP: 96
STR: 12
VIT: 12
TEC: 12
AGI: 12
LUC: 12
Level: 11
Exp: 390
Skills
Mucus: Uses the Head. Attempts to inflict Arm and Leg Bind on a single target. Has a base 75% infliction chance and a 100% speed modifier.
Damage Vulnerabilities

100%

75%

100%

100%

100%

150%
Disable Vulnerabilities

100%

100%

100%

100%

100%

100%

100%

100%

100%

100%

100%

100%

100%
Drops
Metal Hull: 30% chance, sells for 11en.
1 required for Royal Claw - Claw, ATK+47 - sells for 420en
1 required for Pure Vest - Light Armor, DEF+17 - sells for 230en
Required for The item trade II
3 required for Gladius - Sword, ATK+35 - sells for 280en
FIFTEEN required for Slice Whip - Whip, ATK+38, STR+2 - sells for 370en
Conditional: Kill with Ice damage
Iron Shell: 70% chance, sells for 22en
1 required for Kurodachi - Katana, ATK+46, Type: Ice - sells for 580en

Snail... II! Slightly annoying binds but there are way deadlier enemies on this floor that you need to prioritize. They can come in large packs with Woodmai but that also isn't a big deal, and you want to see it because it gives you a nice chunk of exp. It's nice to get a breather every now and then!

Not that notable. If you're coming from the later games where themed enemies working together is an actual game mechanic, that's not in this game. EO3 is the one that introduced that.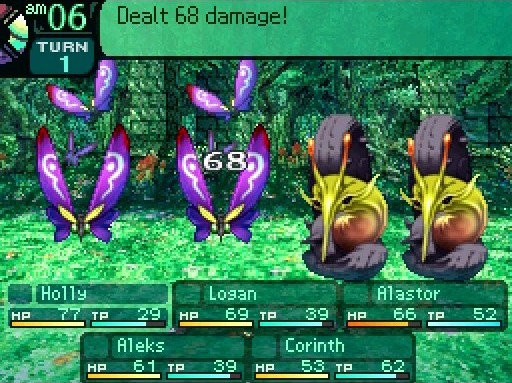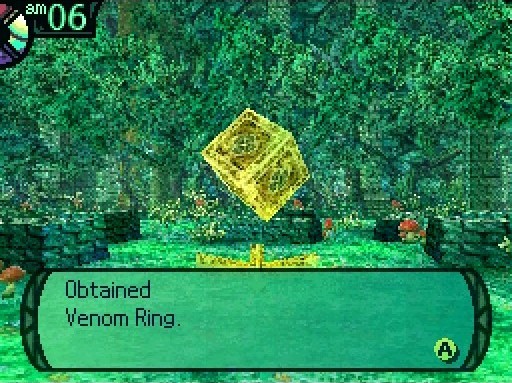 Accessories are good so we'll be making use of this later.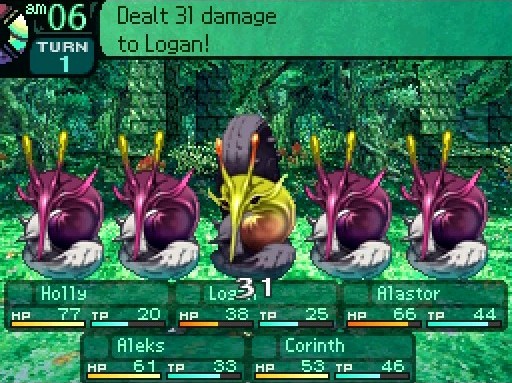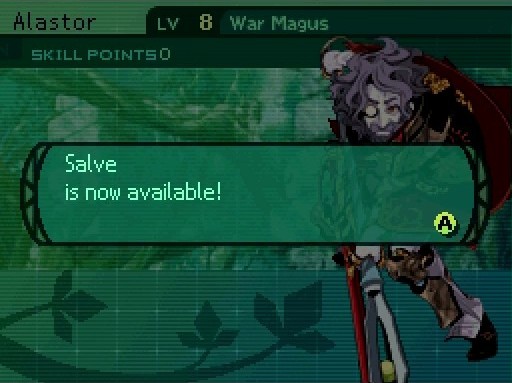 I will plunge you into the depths of health!

While Salve doesn't have much kick to it due to lack of healing multipliers on a War Magus, it's pure laziness on my part to grab it for less Cure usage. We'll be going for Warmight after this, we'll need it!



Normally I would advocate fer fightin' these fools, but even I cannae be fucked.

That's the spirit.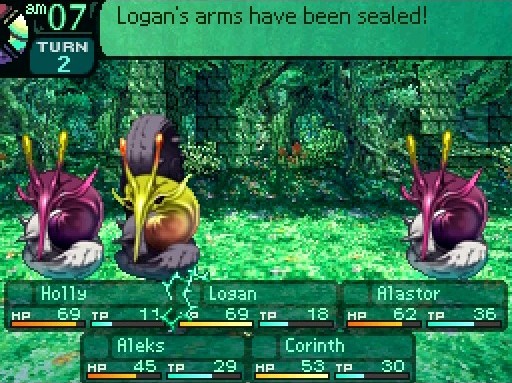 Ugggggh... this better wash off!

4F D2 Chop Point
Ambush Chance: 10%
Ambush Encounter:
100% Raflesia x1
Hard Root
: 60% chance. Sells for 35en.
1 required for Targe - Shield, DEF+9 - sells for 150en
3 required for Horn Mace - Stave, ATK+45, HP+20 - sells for 440en
Bent Twig
: 25% chance. Sells for 30en.
1 required for Wood Bow - Bow, ATK+27, +20 speed (+10) - sells for 170en
Required for The item trade I
3 required for Slice Whip - Whip, ATK+38, STR+2 - sells for 370en
5 required for Beast Bow - Bow, ATK+39, STR+1, +5 speed (-5) - sells for 440en
Log
: 15% chance. Sells for 150en.
Required for nothing.

Again, nothing exciting aside from a higher ambush chance, fuck that noise. Indeed, it seems this floor has been going pretty smoothly so far, we're nearly at the supply quest destination. I hope nothing will-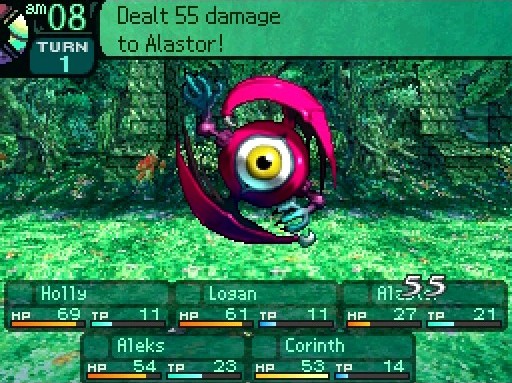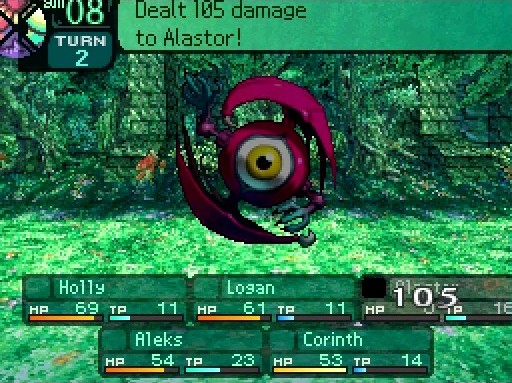 He is always so popularizing.

I am like TWO STEPS AWAY, would you kindly fuck off??? You better be carrying a lot of Nectars if you're using a War Magus, but at least Logan can quickly revive him, Survivalists are good for something at least.

Introducing guaranteed blindsides with enemies that can one shot you while also having the quest where you can't have anyone die take place on the same floor is such a glorious dick move.


Coming closer, you can make out footsteps and speech. You have found the band of guards that you sought! One of them spies you. Wiping the sweat from his brow, he begins to speak.

I heard a group of explorers signed up to bring us supplies. Please tell me that's you...

Here's yer damn food, I promise I dinnae take much.

We really must work on your people skills. It is all accounted for, I have... different preferences.

You tell him the story, and he gently smiles before relieving you of the goods.

I knew it! Thanks, guys. We can stay here much longer now that we've got these...

After receiving their gratitude, you walk away, relived to be free of your burden.

I wasn't sure how long I was gonna last... they were way too heavy.

Perhaps you should work on those noodle arms.

You're one to be talking, cannelloni boy!

...hmm, close enough. I'm more of a farfalle guy.


Greetings, I take it you're with the other lot?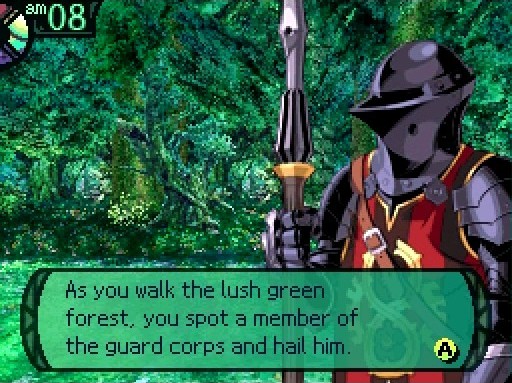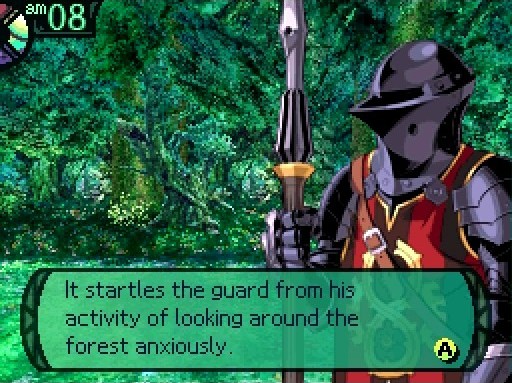 Oh...! You must be Nidhogg, right? I heard that many guilds were sent to defeat Chimaera. But I must tell you, Beowulf has already ascended to the fifth floor to challenge it. You see... some time ago, they lost many of their comrades to the king of beasts. The remaining two decided to press on in the hopes of defeating the monster someday. But if they couldn't do it with five, I don't see how they'll manage with two...

The guard shakes his head worriedly.

Beowulf's leader, the one called Flausgul, is an amazing man. I only hope the worst is not about to befall him...

The guard looks up into the forest again anxiously. If you would challenge Chimaera, you must hurry and pursue Beowulf to the 5th floor.

Sounds pretteh serious. Let's go!

Pah, idiots, what's the point in throwing away your life for revenge? The dead don't care, they're dead.

Agreed, if you must do such a thing, at least have it be for the undead.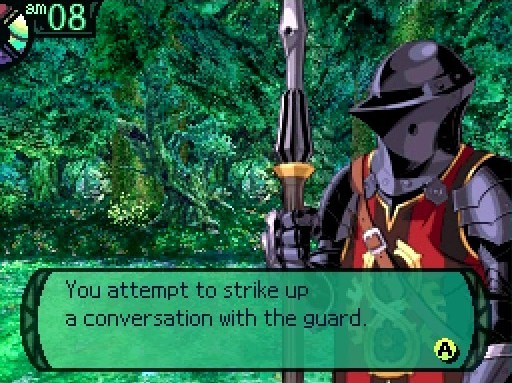 Please, Nidhogg... look after Beowulf...

The guard's voice is small and plaintive, and his gaze does not waver from the forest sky. You must hurry and pursue Beowulf to the 5th floor.


That's a good chunk of the floor done, but it's quite the journey from the 3rd floor, so we're pretty worn out.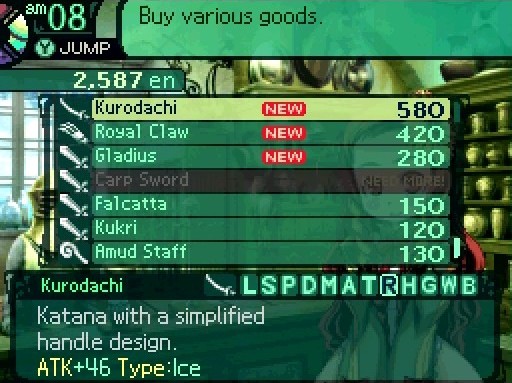 Kurodachi, requires 1 Iron Shell and 7 Shell Warts.
Royal Claw, ATK+47, requires 1 Metal Hull - Made from modifying and sharpening a hard shell.
Gladius, ATK+35, requires 3 Metal Hulls - A simple short sword designed for piercing.
Pure Vest, Light Armor, DEF+17, requires 1 Metal Hull and 5 Bug Shells, sells for 230en - Clothes with hard plates woven inside.
Required for The item trade II

We've unlocked our first claw for the upcoming Beast and they work pretty similarly to katanas, having high ATK, though very slightly slower and less accurate. They can definitely dish out damage if they want, but due to a wide variety of factors, cough Loyalty cough, it's a lot easier to use a Ronin and focus on the more defensive aspects of a Beast. Something to expand on later.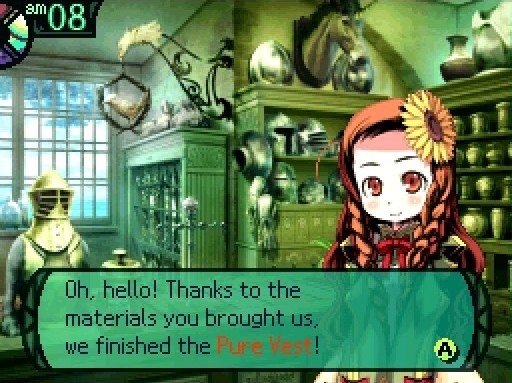 My father and I are both so grateful! I've already put it on the show floor, so please take a look. I left the reward with Cass, so you can claim it from him. Thank you sooo much. If I have another request, I hope you'll be the ones to help!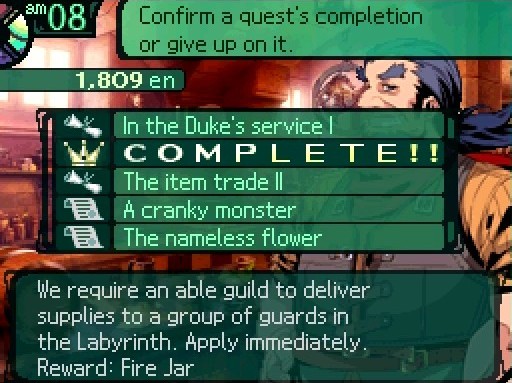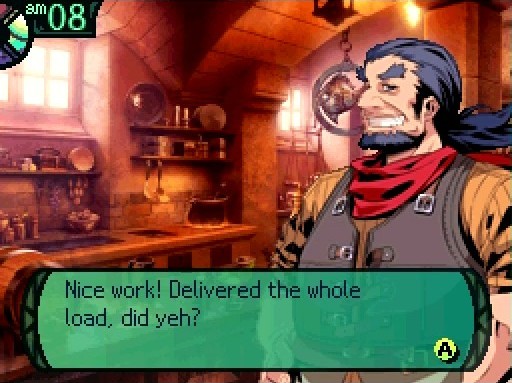 I heard that lot never leaves the place. The forest'll take them if they don't look out! The main thing though, is yer reward, right? Here yeh go, and thanks a lot!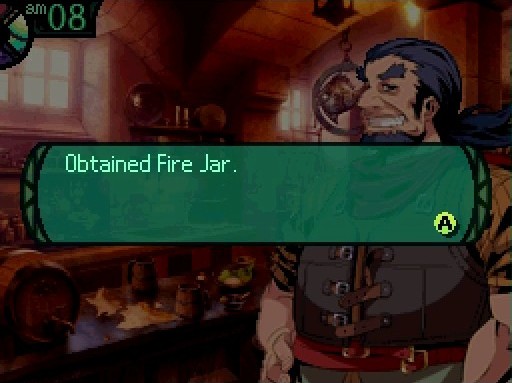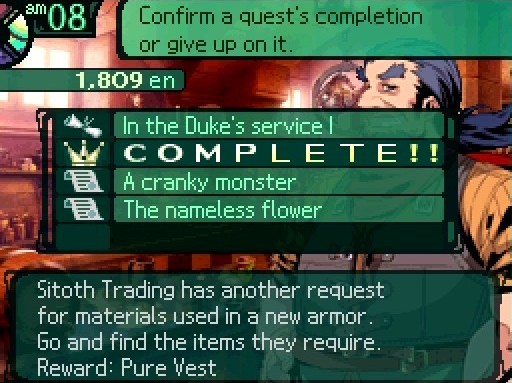 Welcome back. How was the armor they worked up? Well, I s'pose you'll find out soon enough. Here you go! Thanks again!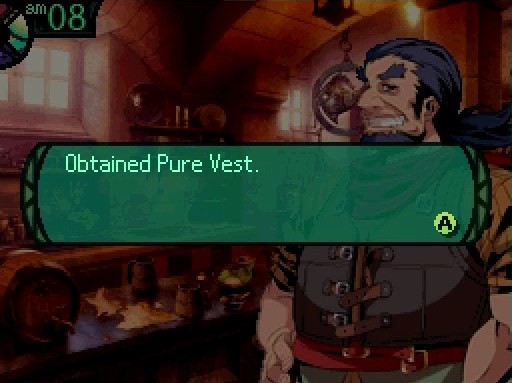 Maybe you should put it on to stop dying all the time.

And deny my chance of death? Absolutely not!

There's still a chunk of 4F left, but we'll finish that up along with trying to find Chimaera next time.