All we had to do was LP the damn game, DM! Let's 100% GTA: SAN ANDREAS!
Posted: Fri Feb 12, 2021 11:58 pm
CONTENT WARNING: This is a Grand Theft Auto game with all that entails - lots of violence, swearing, horniness and some rather... dated early to mid 2000s humor.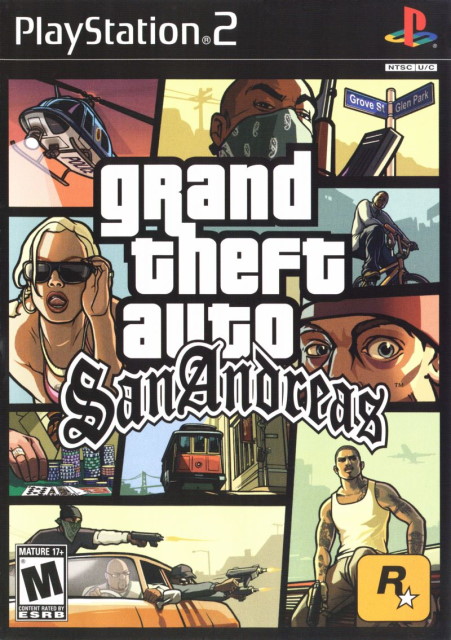 Five years ago Carl Johnson escaped from the pressures of life in Los Santos, San Andreas... a city tearing itself apart with gang trouble, drugs and corruption. Where film stars and millionaires do their best to avoid the dealers and gang-bangers. Now, it's the early 90s. Carl's got to go home. His mother has been murdered, his family has fallen apart and his childhood friends are all heading towards disaster. On his return to the neighborhood, a couple of corrupt cops frame him for homicide. CJ is forced on a journey that takes him across the entire state of San Andreas, to save his family and to take back control of the streets.
ABOUT THE GAME
Grand Theft Auto: San Andreas
by Rockstar North is the third GTA game in the so-called 3D Universe, originally released on the PlayStation 2 in October 2004. Set in 1992 and taking inspiration from gangsta rap culture and films such as
Boyz n the Hood
and
Menace II Society
, San Andreas tells the story of Carl "CJ" Johnson, a former member of the Grove Street Families street gang in Los Santos (a fictionalized version of Los Angeles). CJ has spent the last five years living in Liberty City but returns to the west coast following the death of his mother. Naturally, things go sideways as soon as CJ gets off the plane, as corrupt cops frame him for the murder of one of their colleagues and he slides back into the gangster life he tried to leave behind.
Of course, Los Santos is only the beginning. One of the big selling points of San Andreas was having an entire state (based on parts of California and Nevada) to play around in, which was very ambitious considering the PS2's limitations. Some technical shortcuts had to be taken to make such a massive open world work on the hardware and the PS2 definitely struggles to keep up at times, but somehow the whole thing manages to (mostly) hold together. The size of the open world and the sheer amount of content was hugely impressive at the time, and it still holds up surprisingly well. There is a lot more dialogue this time around, and most missions are much more tightly scripted than in the last two games. Basically, this was where the modern Rockstar open world game was truly born - for better and worse.
ABOUT THE LP
Just like the
GTA III and Vice City LP
about a year ago, I am once again joined by my usual LP partner
ChaosArgate
, who never played the classic GTA games when they were new because he was too young at the time. I, on the other hand, am a miserable old bastard so I've completed San Andreas at least half a dozen times since 2004 and even 100%'d the game. In fact, unless glitches prevent it or I throw the game disc out of the window after failing one of the more notorious missions after 38 attempts,
this will be a 100% run. All the missions, all the collectibles, all the races, all the driving school gold medals (which aren't actually required for 100% but I'm getting them anyway), everything.
This time, we'll be playing the original PS2 release from 2004. The
original
original release, which means certain missions will be even more frustrating than they are in the later versions of the game. :shepface: And yes, the Hot Coffee content is technically on the disc but I have no way of accessing it even if I wanted to show it off (which I don't) so you'll have to find your low-poly sex scenes somewhere else. That reminds me I should probably get around to continuing the Witcher 1 LP at some point...
Why the PS2 release, then? Well, this is the original version of San Andreas, which also means it's the one with all the original visual effects, lighting, various world details and atmosphere intact. When San Andreas was ported to other systems, the resolution, textures and draw distance got a boost but the visual style was changed significantly and many effects and details were simply absent. Basically, the later ports look much, much cleaner but more sterile. I'm sure many players prefer that clean and crisp look (not to mention smoother performance), but I'm a big fan of the PS2 atmosphere so that's what I'm going to show off.
There are mods to add the original visuals back to the PC port, but I had some technical issues with that and didn't feel like dealing with it. The PS2 Classics release on PS4 has the original graphics at a high resolution but controls worse due to the lack of pressure-sensitive buttons (if you're doing the harder vehicle challenges, you really,
really
need analog throttle and brake) and has some other problems. Emulation isn't quite perfect either. So, in the end I just decided to go with the original version, running on an actual PS2 through the XRGB-mini Framemeister. Although I'm in the PAL region, I'm playing the NTSC version on a North American PS2 so there's no 50 Hz bullshit here.
There's a lot more story this time around and ChaosArgate is coming into this blind, so

NO PLOT SPOILERS!

VIDEOS
[YouTube playlist]
Episode 1: After Five Years on the East Coast...
Episode 2: CJ Goes Legit
Episode 3: Drive-Thru
Episode 4: Cesar Vialpando
Episode 5: OG Loc
Episode 6: Ryder the Genius
Episode 7: Madd Dogg's Rhymes
Episode 8: Burning Desire
Episode 9: Wrong Side of the Tracks
Episode 10: Doberman
Episode 11: The Green Sabre
Episode 12: Badlands
Episode 13: Body Harvest
Episode 14: Two Tickets to Paradise
Episode 15: Supply Lines
Episode 16: CJ the Tourist
Episode 17: Battle Construction Vehicles
Episode 18: Back to School
Episode 19: Loco Syndicate
Episode 20: Mendez & Toreno
Episode 21: Ice Cold Killa
Episode 22: Mountain Cloud Boys
Episode 23: Amphibious Assault
Episode 24: Yay Ka-Boom-Boom
Episode 25: Through the Desert
Episode 26: Rolling, Turning, Diving
Episode 27: Viva Las Venturas
Episode 28: CJ's Previously Owned Vehicles
Episode 29: Running, Scrambling, Flying
Episode 29B: San Fierro Rush (San Fierro Race Tournament)
Episode 30: The Black Project
Episode 30B: Road Rash (Las Venturas Race Tournament + Other Racing Type Stuff)
Episode 31: The Four Dragons
Episode 32: Bulldozers, Trucks & Trains
Episode 33: Familiar Faces (and Maccer)
Episode 34: Dam and Blast
------