A game with the good kind of bugs! Let's Play Bug Fables
"The Paper Mario you've been waiting for [...] This is Paper Mario for grown-ups."
-Arlo
"Bug Fables transcends Paper Mario."
-KingK
Did you know that if you talk to an old man, then surf up and down the coast of an island halfway across the world, you can fight a block of glitchy static and multiply your items by 128? Of course you did, we all shared bug fables by word of mouth on the playground. Wait, I'm being told I'm getting this wrong, that's not what this LP is about? (I'm so sorry.)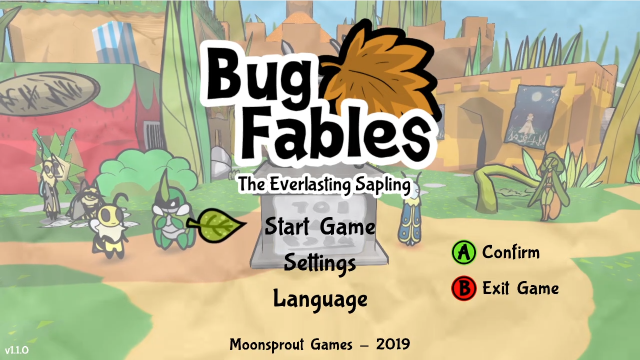 Bug Fables: The Everlasting Sapling
is an independently-developed, small-numbers RPG (or, in simpler terms, Paper Mario clone) set in a world of anthropomorphic insects. Developed by Moonsprout Games and published by DANGEN Entertainment, it was released on PC in November 2019 and consoles May 2020, after a successful crowdfunding campaign and over four years of development. The consensus among people who've played it is that the wait was well worth it; I'm inclined to agree with them, as this is one of my favourite games ever (maybe even my absolute favourite). Never mind the comparison to Paper Mario (though obviously fair, Bug Fables never tried to hide its inspiration), this game is just a really excellent JRPG-style experience all around, with a fleshed-out world and well-realised characters. Why did nobody think to use social insects as fantasy races before this?
Here are links to various places you can buy the game, if you want to play along. In my opinion, it's a great value for your $20-25 (this game is packed with content; my first playthrough ran over 50 hours, and it's very replayable).
Itch.io
--
Steam
--
Nintendo Switch
--
PS4
--
Xbox
(The itch.io page also has a free demo you can download, though it's an outdated build of the game. It doesn't run as smoothly as the release version and some mechanics were changed, but if you're on the fence about buying the game, try it out!)
The devs also have a
Twitter
and
Tumblr
. Nowadays, they mostly post fanart.
Introduction and Motivation:
I was something of a latecomer to Bug Fables, actually. I hadn't followed the crowdfunding or development history; I learned about the game from the Paper Mario: Master Quest LP thread on SA, and didn't get around to playing it until last April. Despite its popularity within the niche community of classic Paper Mario fans, and its general success, I still think this game deserves wider exposure.
Why do I want to LP this game? Plenty of other people (including but not limited to Paper Mario experts Kappy and Fatguy703) have already done video LPs on Youtube and several of those are quite good. I may have watched a lot of them. I think it deserves to be LPed in screenshot style, and I haven't seen one of those yet, so I figure there's a niche where I can still meaningfully contribute.
In addition to having a well-designed and strategic battle system, this game is very well-written and charming, and has excellent worldbuilding and characters. I want to show off as much of the text as I can in a single playthrough (trust me, there's a lot of it!). I seem to remember the developers saying they viewed the amount of text as overindulgent and were surprised how much players actually liked it. I will try to keep things organised such that you can read what interests you and skip what doesn't, to the best of my ability.
This is one of those games that just gets better and better as it goes on (the developers definitely improved in writing and design skill over the course of the 4+ years they worked on this game, and the early content seems to have been locked in before they really got into their stride); some people find Chapter 1 a bit dull, but I promise it's only upward from there. This isn't a perfect game, and I do have some minor critiques here and there, but it's damn good and it's worth playing if you like this genre at all.
Content Notes/Warnings:
This is a game about cartoon bugs. There are spiders in it. If you have arachnophobia, you might want to be careful.
Despite the cute art style, this game can get dark at times, dealing with issues of trauma and loss among other things. Nothing too excessive (IMO), but it's not green grass and sunshine the entire time, and you may want to know that going in.
There is a pair of recurring side characters (
Mothiva and Zasp
) whose dynamic comes across to many as emotional abuse. I don't think I can direct concerned readers to just skip certain scenes, either, because the issue is the overall dynamic that emerges more than any particular scene in a vacuum. The devs have stated they are intended to be a romantic couple, which suggests they might not quite realise how toxic a relationship they ended up writing. I'm not going to tell anyone not to read the LP or play the game because of it, but forewarned is forearmed.
Details for this LP:
This will be a 100% playthrough, completing side content as soon as it becomes available (more or less; I do have some exceptions in mind).
Please keep the thread friendly to unspoiled readers.
Specifically, please don't spoil the story. Talking about upcoming mechanics, items, medals, strategies, etc. is fine (within reason) as long as it comes up naturally in conversation, but this game's writing is great and I'd like the LP to stand as a way for newcomers to experience it.
I will be playing on Hard Mode, with no other modifications. The developers have said that is the intended experience, and if you're playing along, I highly recommend doing the same for your first playthrough (you can switch off Hard Mode at will without losing any progress if it proves too much for you). This game offers a lot of
difficulty options
to customise subsequent playthroughs (including a built-in randomiser mode!), which I love, but I want to show off the baseline experience here. Once you get to know the game, the higher difficulties can be fun, but I think vanilla Hard Mode hits the sweet spot for a newcomer: challenging enough to make you pay attention and think, while not too overwhelming to be accessible.
I am playing on PC, version 1.1 (released on the game's one-year anniversary, the most recent revision as things currently stand). This patch added new endgame content, as well as making several quality-of-life and balance changes. I'll admit I'm iffy about some changes relative to the previous version (1.0.5); I was almost tempted to revert to that version for the LP. I'll try to point out differences when they come up, but overall I think this is the version to play if you're starting now.
I am using an Xbox 360 controller with the default control scheme, because that works for me. Any button prompts ingame will reflect that, as will buttons I mention in commentary (although I have a habit of calling the "Back" button "Select", I was a Nintendo kid). The game can also be played natively with a keyboard and will change the displayed prompts appropriately, and has fully customisable controls.
I am sourcing various icons (character portraits, items, medals, etc) and some data from the
Bug Fables Fandom Wiki
.
Music links will all be to the
OST on Youtube

This icon is of Tristan's (the composer) ingame avatar, and will be used to indicate music links.
While I have some definite plans for this LP, there will be opportunities for reader voting about things like how I build my party or what strategies I use for certain encounters. More on this later as it comes up.
(This is also my first LP. I've been lurking/reading/commenting here for a while, it's about time I contributed something. If you have constructive criticism or think anything I'm doing isn't working, please don't hesitate to let me know. That said, as I'm still ironing out my workflow, don't expect a consistent update schedule for a while; please bear with me while I figure things out.)
But enough ado. Let's get started.
TABLE OF CONTENTS

01: First Meetings
02: Snakemouth Way
03: Snakemouth Spelunking
04: Snakemouth Depths
05: Vicious Spider

06: Meeting the Ant Queen
(Part 2)
07: Cooking with Fry
(Part 2)
08: Sidequesting in the Ant Kingdom
(Part 2)
09: Golden Path
(Part 2)
10: Golden Settlement
11: The Golden Festival
(Part 2)
12: Festival Ceremony
13: Post-Festival Cleanup
14: A Pitcher's Worth a Thousand Words
15: Into the Golden Hills
16: The Sun is Also a Flower

17: More Meetings, More Missions
(Part 2)
18: A Study in Scarlet
19: Games Within Games
20: Sandbox Gameplay
(Part 2)
21: Defiant Root
(Part 2)
22: The Great Bugarian Bake-Off
23: The Queen on High
(Part 2)
24: Lockdown
(Part 2)
25: The Blob
26: Drone Strike

27: New Complications
(Part 2)
28: The Butler Did It, and Other Stories
29: Mother Mayhem
30: Chasing Cards
31: Metal and Paint
(Part 2)
32: Victory is in the Cards
33: An Unknown Dungeon
34: Friendship Bites
35: One-Armed Bandit
(Part 2)
36: Concerning Horns
37: Impostor Syndrome
38: The Magician and the Fool
39: Crossing the Streams
Miscellaneous Posts
Design Interlude: Fixing the Devourer
Design Interlude: Discussing Astotheles
Appendix
(Bugs may not have one but this LP sure does!)
Dramatis Personae
Bestiary (Chapter 1)
Bestiary (Chapter 2)
Bestiary (Chapter 3)
Bestiary (Chapter 4)
Bestiary (Chapter 5)
Bestiary (Chapter 6)
Bestiary (Bonus Bosses)
Mechanics & Skills
Medals
Items & Recipes
Spy Cards
Title Screen History