Design Interlude: Discussing Astotheles
I hadn't planned to do a full design breakdown/repair post about Astotheles, but after the update and subsequent thread discussion I realised there was probably enough to say that it was worth doing. I want to be clear from the outset that, overall, I actually like the Astotheles fight and think it probably only warrants minor changes.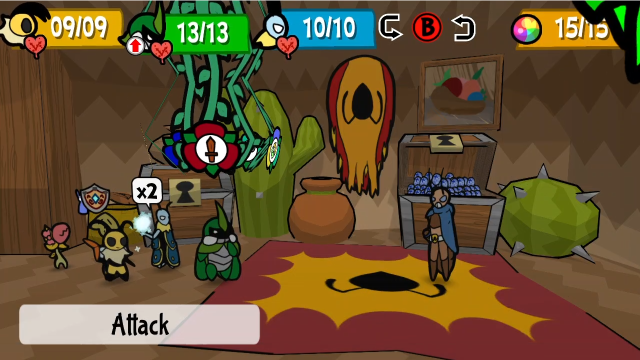 This fight has two separate and distinct things going on. The first, of course, is the no-items gimmick. The second is the structure of Astotheles' attacks, largely a flurry of low-damage hits that heavily rewards blocking. The item restriction is the sort of thing that could be applied to any fight, but I do think it was a very smart decision to tie it to what is otherwise a simple and straightforward fight concept.
The structure of his attacks heavily rewards using Taunt and stacking defence boosts on Kabbu (well, Back Support at least, or you could get
Defense Exchange
from wave 30 of the Cave of Trials), and Spiky Bod if you're good at blocking (because it applies separately on every hit, it can add up fast). If you don't go that route, the fight becomes more or less a damage race (which is fine, there are still various ways to deal with that), but I definitely think this fight does a good job of encouraging players to try playing defence.
The one criticism I have of the attack patterns is that his damage output might be a bit too unpredictably random. The difference between his mildest attacks (one 4-damage hit, or two 2-damage hits), and his strongest (4-damage hit followed by a 3-hit combo) is pretty stark, especially late in the fight when he gets to roll those dice twice per turn. This can definitely make the difficulty feel a bit inconsistent: I have had runs of this fight which felt like I won due to good RNG, rather than any choices I made, and I think it might benefit from some kind of weighting element where the strongest and weakest attacks he can do each become more likely the more turns it's been since the last time he did them. This is a minor nitpick though, I'm certainly not averse to random elements in games.
So let's talk about the item restriction.
The core concept is straightforward: when you use an item, Astotheles reacts with a counter that destroys the item before it takes effect. Effectively, all items in this fight behave as though they've been replaced with a blank item that wastes the character's turn without doing anything.
This, in and of itself, is fine. It can feel bad to waste an item if you walk into it unknowingly, but every character's Spy dialogue gives a hint about how it works, so I think it's perfectly fair. It makes you recontextualise item use as part of your strategy: HP and TP management becomes something you need to really think about instead of offloading it to consumables, you can't use bombs or status-boosting items to boost your damage output, self-inflicted status strategies aren't viable, etc. It's a good way of making the player think and get out of their comfort zone if they've been relying too much on a specific strategy.
The problematic aspect is in what happens if you try to use an item while Astotheles is suffering from a disabling status effect (freeze, sleep, numb). He arbitrarily cures himself of the status, then breaks the item anyway.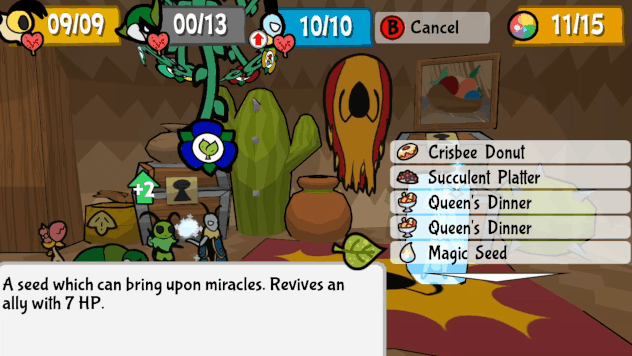 This is a problem for a couple of reasons:
(1) It counteracts what the game teaches elsewhere about how status effects interact with enemy reactions. In the Chapter 2 fight against Zasp and Mothiva, Zasp
does not react
to Mothiva being hit or KO'd if he is frozen or asleep when it happens, and that's absolutely something you can take strategic advantage of. Other enemies later in the game will behave similarly: Astotheles is very much an exception to the rule.
(2) It runs counter to intuition, meaning most players won't predict the outcome correctly. It's true that Bug Fables isn't a game absolutely dedicated to realism, but it's still the case that a player is going to have expectations, and it's better not to contravene them unless you have a good reason to.
(3) The self-cure leaves Astotheles in a better position afterward than before, making this even more counterproductive than wasting an item when he isn't disabled. The player is being punished more than usual for trying a natural way to play around the gimmick (whereas my design preference would be to reward players for getting clever).
The result is that this behaviour almost always takes the player by surprise and feels like a "gotcha" out of nowhere, or maybe even like the game is cheating against them. It usually leaves them in a worse situation than before, and (because players are often in a desperate situation when they feel the need to try it) very often leads directly to losing the fight.
I can think of three different ways to resolve the problem:
(A) When incapacitated by status, Astotheles doesn't react to item use. This is my preferred solution, it's more consistent with how other fights work, and changes the strategic value of status effects. I might also suggest lowering his freeze and/or sleep resistance, to give the player a bit more freedom to actually exploit it. This does make the fight easier; I think that's fine, but I would consider increasing his HP in compensation (especially if lowering his resistances).
(B) Make Astotheles immune to status effects. The main advantage here is that this would be the easiest to implement, and stays closest to the current version of the fight (you don't get to use items, he destroys all the items you try to use), while resolving the problematic aspect. The downside here is that this takes away a strategic option the player would otherwise have, so it's a nontrivial difficulty increase. Maybe his HP would need to be reduced a bit to keep things fair.
(C) Have the fight take place before Team Snakemouth recovers their possessions, changing the justification for "no item use" to them not having any. This might also require forcing Vi to sit out the fight, since all of her abilities are either tied to her Beemerang or her Stash (which would require a rebalance of his stats, but the game is definitely capable of having a fight without the full party, as we saw with Acolyte Aria). The main thing I don't like about this version is that it removes some of Astotheles' characterisation, "he's so fast/skilled he can intercept your item use" did add a little something I'd be sorry to lose.
Any one of those solutions, it seems to me, solves both the verisimilitude and unfairness problems while staying true to the intent of the fight. It doesn't require major changes.
To wrap this up on a different note, let's have a look at Astotheles' page from the art book: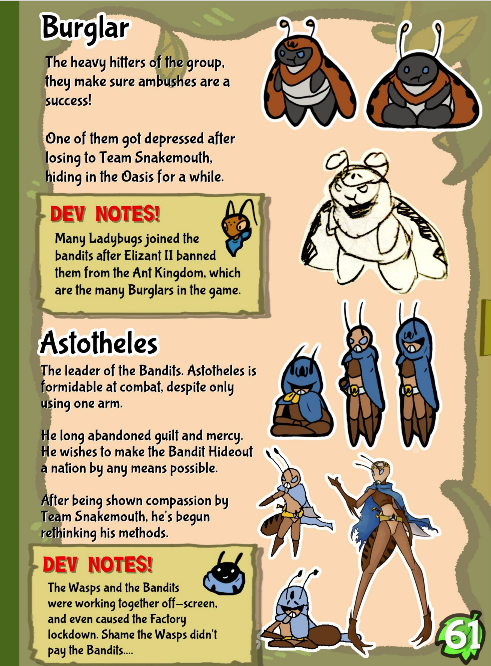 Genow's aside about the factory lockdown is interesting, because we don't get a lot of evidence for that ingame (though we did see spears like the ones the wasps use in the Power Plant, so it seems like they broke in there and may have run afoul of the Midge Broodmother).
Also, the concept art shows him with a sword or dagger hilt, which suggests his weapon might not be a cane or walking stick as I've always interpreted it. I maintain I saw what I saw.