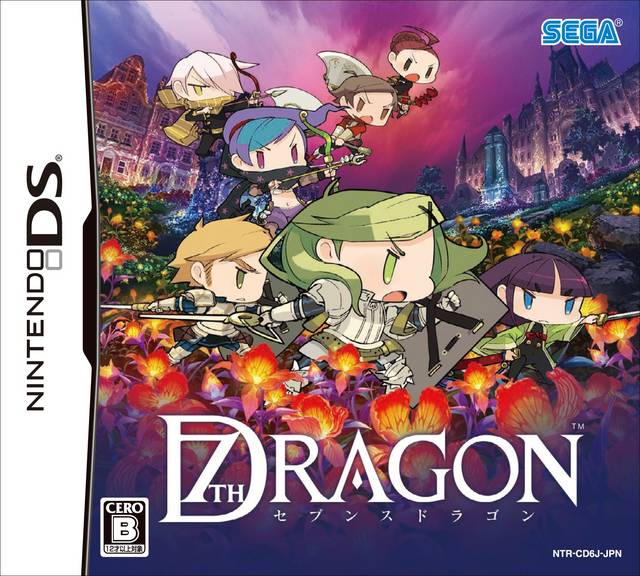 7th Dragon
is an JRPG made in 2009 by Imageepoch (the company proceeded to go bankrupt in 2015). It was produced by Rieko Kodama, one of the leading artists and later director for the Phantasy Star series, and it was directed by Kazuya Niinou, who also directed the first Etrian Odyssey game. It's pretty easy to see the influences from Etrian Odyssey here, as it has a lot in common, to the point where it feels almost derivative and doesn't really have its own identity. The later games would be much better about differentiating themselves. However, unlike Etrian Odyssey, it's not a dungeon crawler, just a regular JRPG, where you create your own band of characters and go around slaying dragons. Sounds like fun, huh? Anyways, as mentioned before, it is part of a series, which only consists of 4 games. Unfortunately, only the 4th game, 7th Dragon III Code: VFD got an official English release, where the others never left Japan.
That is, until a goon by the name of
Pokeytax
completed a fan translation of the game in 2014. (And the 2nd and 3rd games later on.)
You can find the fan translations for those here.
If you're wondering why there are 2 patches for the game, well... I won't lie, the game has some problems. It's very rough around the edges, but the two biggest problems the game has are the ridiculously high encounter rates, and the damage tiles. There are damage tiles everywhere, which take off a decent chunk of your party's HP and dealing with them is very tedious. One of the patches just translates the text, and leaves the rest of the game alone. The USA patch translates the game, but also halves the encounter rate, and heavily lowers the amount of damage the party takes from damage tiles, eliminating the two biggest problems with the game. If you plan on playing this game,
please play the humane patch.
The game is rough enough around the edges as it is. With that said, I did enjoy my time with the game, and hope to show if off to all of you.
I'll be playing with said humane patch, and this will be a narrative LP, where I take submissions for characters and write in some lines for them and such.
Spoiler Policy
Considering that the only game that was released outside of Japan was the 4th game, I'd appreciate it if spoilerific discussion of the first 3 games didn't happen at all. You can discuss the 4th game, but please do tag and label your spoilers in that case.
Game Mechanics:
Basic Mechanics and Formulae
Aggro
Class Showcases:
Fighter
Rogue
Samurai
Knight
Mage
Healer
Princess
Updates:
Update 1: The Road Ahead
Update 2: Touring Kazan
Update 3: Questing
Update 4: Raging Beast
Update 5: The Case of the Fried Shrimp
Update 6: The First Dragon
Update 7: DRAGON! DRAGON!
-
Update 7.5: NPC Dialogue
Update 8: King
-
Update 8.5: NPC Dialogue
Update 9: Mountain Climbing
-
Update 9.5: NPC Dialogue
Update 10: Mantis Dragon
-
Update 10.5: NPC Dialogue
Update 11: Deathscissor
-
Update 11.5: NPC Dialogue
Update 12: Eclipse
-
Update 12.5: NPC Dialogue
Update 13: Pleroma
-
Update 13.5: NPC Dialogue
Update 14: Love Hunting
Update 15: Not So EXcellent After All
-
Update 15.5: NPC Dialogue
Update 16: Armanos
-
Update 16.5: NPC Dialogue
Update 17: "What were they thinking?" "They weren't."
Update 18: Love Hunting II
Update 19: Mantlion
Update 20: Flame Eater
Update 21: Arietta
-
Update 21.5: NPC Dialogue
Update 22: Sleeping Lion
-
Update 22.5: NPC Dialogue
Update 23: Tyrannosaurus
Update 24: Party in Kazan!
Update 25: Ancient Technology
Update 26: Invisible
Update 27: An Earthshaking Revelation
Update 28: Breaking the Hippocratic Oath
Update 29: Mountain Slayer
Update 30: Tasty Rainbows
-
Update 30.5: NPC Dialogue
Update 31: Innocence Glitched
-
Update 31.5: NPC Dialogue
Other:
April Fools
Special Thanks to:
Can Of Worms for ripping all the enemy sprites for me.