What is Don't Escape: 4 Days to Survive?
Don't Escape: 4 Days to Survive (or DE4) is an indie point-and-click adventure-horror game. It was developed by Scriptwelder and published by Armor Games Studios. It's the fourth game in the "Don't Escape" series, but as far as I can tell, there is no relationship between the four games.
A cataclysmic event has cracked the moon in half, and the Earth is struggling with the environmental fallout. Everything is already dead, dying, or mutating... except David, a lone survivor having prophetic dreams. We control David through the end of the world in the post-apocalyptic land, trying to survive four days of terror and danger. David must find a way to fortify his shelter each night against new threats, and perhaps meet companions, but time is not on his side, as many actions advance the clock and bring the deadly night closer and closer.
Will David survive? Will we discover the truth behind the apocalypse, and maybe live through the effects of the sundering of the moon? That depends on us!
What kind of LP is this?
This is a blind screenshot LP, and I have never played this game. It was recommended to me by my good friend and companion Maple Leaf, who encouraged me to do this Let's Play repeatedly. You, my great audience, will follow me in this quest, giving me your valuable input to make certain decisions or take certain actions to survive each day. Some actions I'll be worrying about myself and doing what I can to keep the story moving, but there will be times where I'll ask you to vote and contribute to David's decisions. In these votes, I will also be casting a vote and explaining my reasoning, but I will go with the majority vote. Please remember, as this is a blind Let's Play, there is a
no spoilers
rule in effect. I want to discover the story alongside all of you!
How are the updates going to be written?
As the game is dialogue-heavy and descriptive, there will be screenshots and a lot of in-text writing. Characters speaking will have an image of their heads talking, while my own commentary will be in
italics
. Any narrative writing will be written without any addition or modification to the text, or between [square brackets] for tutorials. If you see a musical note icon, click on the associated link to listen to the soundtrack that plays in certain areas!










































Characters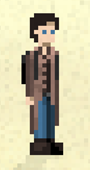 David
: The player character. A good man who cares for his friends and a bit of a packrat, he has prophetic dreams of deaths that will happen to him the next night.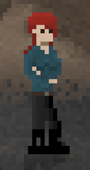 Catherine
: Catherine Mayweather, or Cate for short. The helicopter pilot that crashed into our farmhouse at the start of the second day. She used to work for Sidereal Plexus and is probably from another world. She hinted that we have already experienced cycles of awakening.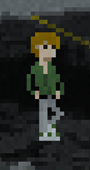 Cody
: A skinny ten-year old boy. We found him at the burger restaurant on the second day and gave him food to convince him to come with us. Loves tigers.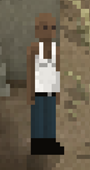 Barry
: A middle-aged man whose wife, Maggie, died on the first night. We found him at his home on the second day and helped him by burying Maggie. He died on the third day while we explored the Sidereal Plexus office. He survived on the seventh day after our warning.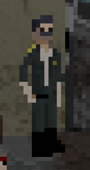 Sarge
: Sergeant First Class Franklin McWillis. Leader of what's left of the army. We found him and his men camping out at the restaurant on the third day. He wanted to go west through the desert. We met him again on the seventh day, but he had joined a gang of bandits. We convinced him to leave with his men.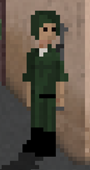 Paul
: One of Sarge's men. An engineer who gave us Storm Catchers to help us survive the storm after we helped his squadmate Steve.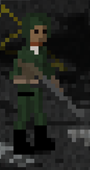 Josh
: One of Sarge's men. He held up on his own, but didn't want to become a deserter and leave his squad behind.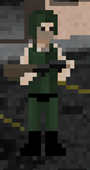 Mark
: One of Sarge's men. He trusted Sarge and considered him a friend, but thought we were "crazy sect people" for suggesting a way out of Earth.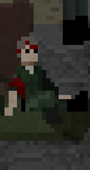 Steve
: One of Sarge's men. He was wounded by bandits during a firefight before we met him, but we patched him up with some items we found.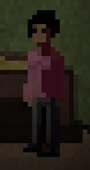 Maggie
: Barry's dead wife. She visited us in our dream during the sixth night to warn us we were dream-traveling, and asked to save Barry in this life.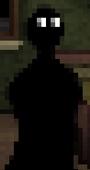 Seeing Creature
: A mysterious dark figure who "found" us while talking to Maggie in the sixth night's dream. We had to run from it and beware its touch, according to Maggie.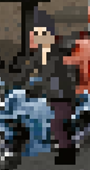 Razor
: The bandit leader. We spied on him and Sarge on the seventh day discussing the plan to attack us at night. His attack failed and he was captured. We decided to spare his life and let him go.