Yes, Breath of Fire II, one of the fondest memories of my-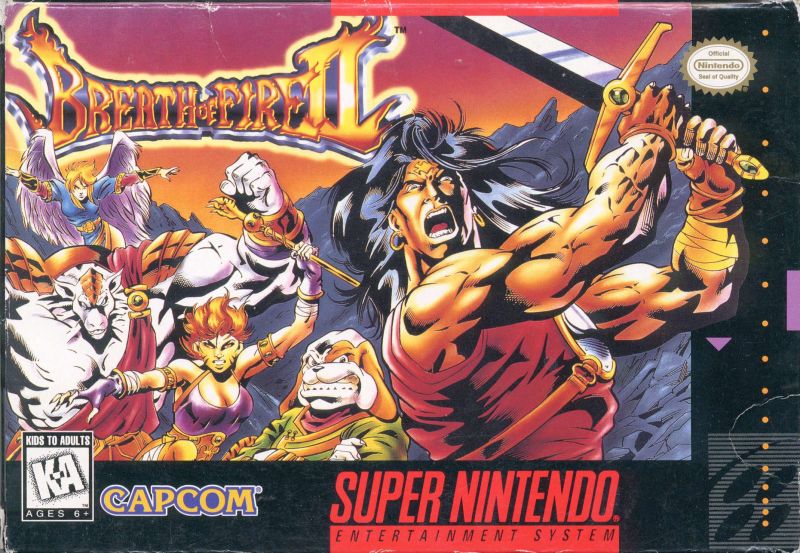 ...Er, sorry, wrong box art

.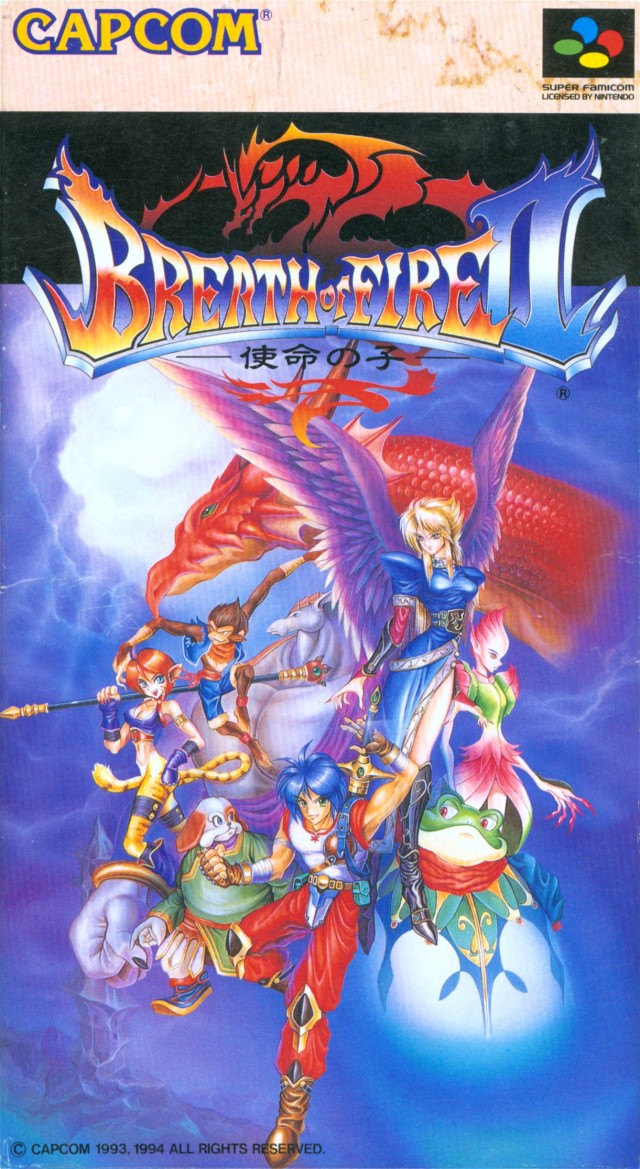 ♪ Theeere we go, THAT'S more like it ♪!
Yes, Breath of Fire II; One of the most unique RPGs I've ever played, and one of the prettiest. It's traditional in structure, but the decisions made with its gameplay, balance, and pacing are fairly different. Sometimes different in a good way, sometimes in a bad way, and sometimes just... plain... weird.
I love it though. I love it so much, I got someone called Nitrodon to start hacking the game to pieces! His work is where I'll be getting a lot of my knowledge (in addition to BSiron's FAQ on GameFAQs)!
As for the translation... We're not touching it. Capcom decided they could do better than Woolsey, and Capcom was wrong. Instead, we're going with the Retranslation, with it's cleaned up UI and Dash feature.
So welcome, friends, to the most thorough, beginner-friendly, and informative walkthrough you will ever see! Strap in, cuz it's gonna be a wild ride!
RESERVED INDEX POST:
Part 1: The Darkness Stirs (Prologue)
Part 2: We're Rangers! (Harpies, Pests, & Roach)
Part 3: Gimme a Chance
Part 4: Lethal Dose (Baba to Augus)
Part 5: Clean Hit (Joker)
Part 6: Kingdom (Windia)
Part 7: There's Something Here (Terapin)
Part 8: Awakening (Shamans & Dragons)
Part 9: Cold and Dark (Witch's Tower)
Part 10: Creeping Shadow (Wildcat Cafe)
Part 11: Fly Pudding (Gold Fly)
Part 12: No Way Out! (Kuwadora)
Part 13: The World is Trembling (Trout)
Part 14: A Whale La-La-La... (Munmar)
BONUS UPDATES:
Bonus #1: Lin is Poisoned! (Argus with only Ryu & Rand)
Bonus #2: How to Break the Game, Part 1
PARTY CHAT:
Party Chat #1: Sanamo, Granny, & Fusion!
Party Chat #2: Township Gets Bigger!
Party Chat #3: Jean is Jailed! The Royal Signet is Missing!
Party Chat #4: Kuwadora's Beaten! The thief girl's captured!
Party Chat #5: Search for a Grassman!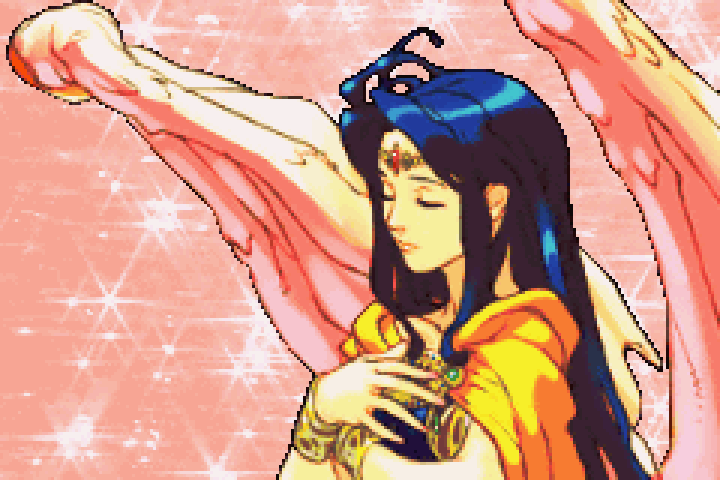 Part 1: Breath of Fire II Walkthrough - The Darkness Stirs (Prologue)

NOTE:
We're using the Retranslation, not the official localization. I will still include the official terms, however, to clear up confusion. Also, you should read the descriptions; They will usually be used to cover details I didn't have time for in the episodes themselves.
IF YOU'RE DOING THE MONEY GLITCH (I'm forgoing this for the Walkthrough):
Menu:
Put Ryu in Slot 2 and Bow/Bosch to slot 1
Item Shop:
– SELL: LifePL/Ammonia
– BUY: x6 of any fishing item (the shop description will tell you if it's used for fishing)
[DO NOT BUY 1 AT A TIME!! If you did, just Clean/Auto your inventory to put em in the same stack]
Weapon Shop:
Have Ryu trade for an IronAR/Iron Band or SaladBwl/Headband, then press A & B at the same time to glitch out the game. Do this as many times as you want (speedruns do this until they have about 17-18 million zenny)
After duplicating money:
Say Yes to equip the x6 fishing items over the NatureWP/Benadanti
Someone called "Sten" will get a bugged MoonDrop as a weapon; Said MoonDrop will be absurdly busted.
WHY THE MONEY GLITCH WORKS:
I'm not certain as to how A + B causes the game to start editing another character's inventory... But for some reason, it does.
In any case, the game's choice of character depends on which Slot Ryu is in. If Ryu is in Slot 1, the game will edit someone called "Nina". If Ryu is in Slot 2, it will edit "Sten". Slot 3 will edit "Jean/Tapeta", and Slot 4 will edit "Spar/Aspara".
It's important to edit Sten, as the game accidentally uses the character's starting Condition (more on that stat later) to determine what their equipped weapon is (since they're not supposed to be in your party yet). Most characters start with 96/255 Condition, which translates to a TreeST/Wooden Staff (only sells for 50z). Sten, however, starts with 160/255 Condition, which turns into the NatureWP/Benadanti. This sells for 90000z, so you can duplicate money much quicker.
WHY THE BUGGED WEAPONS WORK:
The game is trying to figure out what properties the "weapon" has; So if you transfer the x6 fishing items, the same sees it as having "06". Bit 0 says "this weapon is a Holy weapon", and Bit 6 says "this weapon makes you attack twice in a single turn".
x06 is also what the MoonDrop item is identified as in a normal playthrough, so the game twists itself into a knot assuming that the MoonDrop is what you just equipped into Sten's weapon slot.
Finally, a separate process (so the x06 doesn't enter into this) classifies all items as either weapons, armor, accessories, or consumables. Consumables are always classified as 0x00 or 0x40, so the MoonDrop also gets 64 Attack on top of everything else.
And yes, you can do this as many times as you like, with as many characters as you like.
WHY IT HAS TO BE RYU:
Ryu is the only one who can stack multiple copies of an item (the fishing items) into one Accessory slot. This is what allows us to put x6 of an item into another character's weapon slot. If we attempted this with anyone else, the game would just tell us that the character cannot equip the x6 fishing items.
THE ROUTE THUS FAR:
Gate:
Get the TreePole/Wood Pole from the closet in your bedroom
Talk to the lady who asks you where Yua is (next to the middle house)
Get a Healing Herb from the middle house
Go up to get beat by the Gunhead
– Attack yourself to end it quicker
Re-enter the Church and talk to Papa Hulk
Leave the village, enter the cave, and get smacked by Barubary/Barbaroi
Newhaven:
Get LifePL/Ammonia from the Chief's closet
Get 100z from Ryu & Bow/Bosch's room
– Will not be available if you got the Healing Herb in the upper house
Get the Antidote from the upper room in the Inn
– SELL: TreePole/Wood Pole & LifePL/Ammonia
– TRADE: Bowie Dagger → Bronze Sword (Ryu)
– BUY: IronAR/Iron Band (Ryu) and Herbs