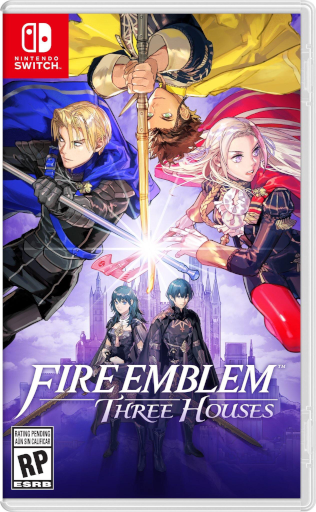 Fire Emblem: Three Houses
is a turn-based strategy RPG developed by Koei-Tecmo Games, with assistance from series creator Intelligent Systems, and published by Nintendo on July 26th, 2019 for the Nintendo Switch. In
Three Houses
, players take control of Byleth, a mercenary in their father's group, who ends up being recruited by the Church of Seiros, the dominant religion in the region of Fódlan, to teach at the Officers Academy, located at the Church's headquarters, Garreg Mach Monastery. Byleth is offered the opportunity to teach one of the groups representative of the three countries that rule Fódlan: the Black Eagles, the house of the Adrestian Empire, led by the imperial princess Edelgard von Hresvelg; the Blue Lions, the house of the Kingdom of Faerghus, led by the royal prince Dimitri Alexandre Blaiddyd; and the Golden Deer, the house of the Leicester Alliance, led by Claude von Riegan, heir to the ruling seat of the Alliance.
Three Houses
represents a radical departure from many series traditions. In-between story missions, players now deal with having to schedule a finite amount of in-game time between the start of the game and the end of the game, analogous to a far less micromanagement-heavy version of
Persona
or
Atelier
—though, oddly, the time-limited elements were apparently inspired by
Pikmin
. How players can spend this time ranges from exploring Garreg Mach Monastery and interacting with the students under their tutelage, to hosting and attending seminars by Garreg Mach faculty, to participating in optional battles.
In terms of mechanics, Three Houses simplifies many series mechanics, and borrows a few from
Fire Emblem Gaiden
, a title notable for its unique and strange mechanics. Gone is the weapon triangle, a series tradition, replaced by abilities that can be learned through mastering a given weapon type. Gone is magic that can break like weapons—instead, units get a low amount of magic uses per map, but they refresh once the battle is over. Returning from the GBA and GameCube/Wii
Fire Emblem
games is weapon weight, a mechanic that makes players balance stronger weapons with their units' attack speed. Returning from
Gaiden
is equipment, non-weapon items that units can equip to gain extra offensive or defensive capability.
Very big thanks to the
Fire Emblem Hacking Discord
, members of whom provided the script text dump and character portraits I use in this LP. Hacking my Switch is a scary prospect, so they saved me some anxiety.
Very big thanks also to
Serenes Forest
, which provided an easy resource of datamined info, and also clarification on some in-game vagueness. In particular, the Combat Art descriptions used in the LP are borrowed from them, rather than using the sometimes-lacking in-game ones.
If you wanna discuss the LP with me and other people who somehow like my stuff, join the
EO LP Server
. I know the name points to another series, but it's also just sort of the de facto server for even my non-EO stuff.
SPOILER POLICY
The fact that there is a timeskip in the middle of the game is not a spoiler, nor are the post-timeskip character designs except for Byleth. However, anything beyond mentioning its existence and speculating about it is not allowed. This includes discussing gameplay implications of it.
Do not discuss support scenes we have not seen yet.
Do not talk about plot that we have not seen yet.
Absolutely do not talk about plot from the other routes that we have not played yet.
I reserve the right to say "this is a spoiler, please edit your post" about anything, even if it is not explicitly mentioned in this policy.
Also, one thing:
Three Houses
contains characters who are canonically bisexual, and several character relationships between characters of the same sex that are not textually represented as romantic, but could be subtextually interpreted as such. I expect there to be discussion of LGBT+ topics and analysis in this thread, as such.
Please do not be a bigot in response to this, or yell at people for having interpretations that you do not share.
Don't get angry that someone ships Mercedes and Annette, or yell about how anything non-heterosexual is all just The Gays Shoving Their Lifestyle Down Your Throat.
Debating the quality of the representation in Three Houses, or problematic elements thereof, is also forbidden.
It's a valid discussion, and one I've thought a lot about as a bi person myself, but it's not one I particularly care to have in the thread.
TABLE OF CONTENTS
Playthrough #1: Black Eagles — Silver Snow
Update 0: I Fear the Edge of Dawn
Update 1: This Beloved Place
Update 2: Battle of the Nestling and the Kitten
Update 3: The First Actual Month
Update 4: CANYON.MID
Update 5: Rebellion
Update 6: But Why
Update 7: Very Normal Days
(Content warning: abuse and neglect of a child by a parent, kidnapping)
Update 8: If He Hits Ya, It's Gonna Hurt
Update 9: Really Wanna Guillotine Count Varley
(Content warnings: a character suffering from post-traumatic stress disorder and PTSD-induced nightmares, vivid flashbacks of trauma. Violence against a child.)
Update 10: Corruption
Update 11: Vanished
(Content warning: a character remembering being involuntarily imprisoned and used for human experimentation.)
Update 12: How the Hell Did This Guy Not Stick Out Like a Sore Thumb
Update 13: Dimitri's Getting Lonely
Update 14: Fire Emblem: Two Lances
Update 15: Cat
Update 16: Uncertain Path
Update 17: Orb!
Update 18: Glenn Gimmadome, Owner of the Gimmsdale Gimmadome
Update 19: Sssssssssss
Update 20: Field-Tournament-Style-Up-and-Down-On-the-Ground etc. etc.
Update 21: extremely Vinny Vinesauce voice FiiIIIIiiIIiiiIIIIIIiiiISH
Update 22: The Sound of No-one Caring
Update 23: I Should've Saved the Big Ball Joke for This Update
Update 24: Damn
Update 25: I almost put "Couldn't Think of a Good Title" for this update's title, but that felt too glib for what I'm going to discuss.
(Content warning: discussions of loss, grieving, death, and the emotions that come with each.)
Update 26: The Subtitle of Another Fire Emblem Game
Update 27: Notphica
Update 28: Stuff Goes Down, as Predicted
Update 29: Hmm.
Update 30: Cold are the hands that grasp at your soul, 'fore the graves are dug and the death knells toll.
Update 31: From Cradle to Grave
Update 32: Adjacent Mol Iloh
Update 33: The Binding Coil of Supports - Turn 1
(Content warning: A character mentioning her old desire to die, with suicidal ideation implications.)
Update 34: Please Do Not Attack My House
Update 35: Troublesome, isn't it? And untidy, too!
Update 36: Linear Bounded Something-something
Update 37: Dog
Update 38: Blemphis
Update 39: That Noise Armored Xemnas Makes When You Beat Him
Update 40: Why Would You Set These Traps Oh Gods Help Me
Update 41: Hell Man
Update 42: Causing Problems On Purpose
Update 43: Dick "Dastardly" Richard
Update 44: I Gotta Have My Tools
Update 45: It's Always Sunny in Fódlan: Fort Merceus Got Nuked
Update 46: extremely Yiazmat voice LIKE A HOT KNIFE THROUGH BUTTER
Update 47: The Mole, The Mob, And The...Nukes?
Update 48: The Crown of the Immaculate
Update 49: The Dying Gasp
Playthrough #i: Ashen Wolves — Cindered Shadows
Update 50: Sewer Children
Update 51: Did Someone Order a Bunch of Reinforcements?
Update 52: A Nice Camping Trip in the Great Outdoors
Update 53: Rea Gets the Shakes
Update 54: Rats, We're Rats, We're Verrats
Update 55: I'm Ver-giant-rat That Makes All of the Rules
Update 56: Let's See What Kind of Trouble We Can Get Ourselves Into
Playthrough #2: Golden Deer — Verdant Wind
Update 57: The Moon
Update 58: Unchanging, Ever— Wait, Nope, Still Unchanging
Update 59: How Many Times Do We Have to Teach You this Lesson, Old Men?
Update 60: The Bone of Gautier
Update 61: Rude Man Who Kidnaps, Please Call
Update 62: Jelly! Fruit Preserves! Jelly! Fruit Preserves! Fruit Preserves! Jell— There It Is!
Update 63: "Jelly is Bones." It's Not Bones!
Update 64: Reality Coprocessor
Update 65: My Large Agarthan Sons
Update 66: Ohayo, Lemming-san!
Update 67: Crossbar Switch
Update 68: CCCool
Update 69: No, I'm Not Gonna Say It
Update 70: Fódlan Summer
Update 71: The Binding Coil of Supports - Turn 2
Update 72: Fatebreaker
Update 73: Fog of...bad. Yeah, gottem.
Update 74: Wow! President Big Number!
Update 75: The Binding Coil of Supports - Turn 3
Update 76: Dry, Dry Desert
Update 77: Rematch
Update 78: Time Kompression
Update 79: Shambyela
Update 80: From the Heavens
Playthrough #3: Blue Lions — Azure Moon
Update 81: Strength
Update 82: Baelsar's Brick Wall
Update 83: Mist Ache
Update 84: He's Bigger, Faster, and Stronger Too
Update 85: No Nerds! Fight Milk
Update 86: An Abundance of Crow Eggs
Update 87: Underground Spring Water
Update 88: Cats Are Nice
Update 89: Bloodied and Only Moderately Broken
Update 90: They'd Be Out of Business In a Week's Time
Update 91: Roxas, that's a stick.
Update 92: I'm Not Sure Anyone Pays Attention to These Titles
Update 93: PROTIP: To clear the map, kill enemies until you win.
Update 94: Chivalry, much like Rodrigue on my failed attempts at this paralogue, is dead.
Update 95: Professor SSSSnake
Update 96: Wait a minute, I should've done a Windows 95 joke last update. Dammit.
Update 97: Flayn Day
Update 98: Spherical
Update 99: The Level Cap
Update 100: Break
Update 101: Lemme get this straight, you just realized you have two ears?
Update 102: The Most Painful High School Reunion
Update 103: WELCOME TO CHAOS WORLD
Update 104: My House Has Now Been Attacked Three Times
Update 105: I'll Add It to the Heap
Update 106: Why Do They Call It Oven
Update 107: Complete Global Saturation
Update 108: All the Giant Bats
Update 109: Astro Dorks at 12 O'Clock
Update 110: Master's Mend
Update 111: Welcome to the Magic Show
Update 112: Arianrhod Island
Update 113: March On
Update 114: The Lime Knife
Update 115: Perfect calculations deliver perfect results.
Update 116: LAST CALL
Playthrough #4: Black Eagles — Crimson Flower
Update 117: The Extreme
Unit Overviews


Adan/Abby Eisner

Edelgard von Hresvelg

Hubert von Vestra

Ferdinand von Aegir

Linhardt von Hevring

Caspar von Bergliez

Bernadetta von Varley

Dorothea Arnault

Petra Macneary

Dimitri Alexandre Blaiddyd

Dedue Molinaro

Felix Hugo Fraldarius

Sylvain Jose Gautier

Ashe Ubert

Annette Fantine Dominic

Mercedes von Martritz

Ingrid Brandl Galatea

Claude von Riegan

Lorenz Hellman Gloucester

Raphael Kirsten

Ignatz Victor

Lysithea von Ordelia

Marianne von Edmund

Hilda Valentine Goneril

Leonie Pinelli

Seteth

Flayn

Manuela Casagranda

Gilbert Pronislav

Alois Rangeld

Catherine

Shamir Nevrand

Cyril

Yuri Leclerc

Balthus von Albrecht

Constance von Nuvelle

Hapi
Mechanics
Crests
Universal Skill Learn List