Hell Comes to Frogtown
"Used to take everything seriously...then they blew it up."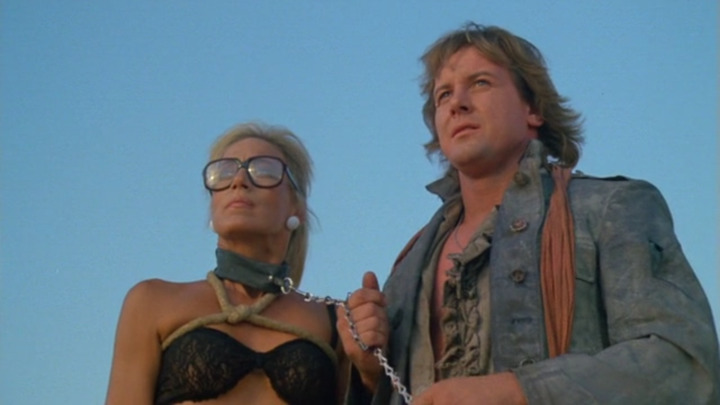 Synopsis
The setup here is that a nuclear war that destroyed the world (introduced with the ironic phrase "a difference of opinion") which among other things caused a mutant race of frog people to be created. In a brief pre-credit sequence, we learn that the frog-men are not allowed to carry weapons, but have managed to get some guns anyway, as one of them kills a human.
We then meet Sam Hell (actual last name Hellman), a wanted criminal who is about to face some rough justice from the father of one of the women he sexually assaulted. However, two women from 'Medtech' show up and take him into custody. They've discovered that he is a virile male, one of the few remaining in the world. Instead of going to prison, he is forced into service for Medtech. It is a military organization (run by women, it seems) that is charged with ensuring the continuance of the human race; fertility is highly prized and getting pregnant is seen as a patriotic duty.
To keep Sam from running, a chastity belt of sorts is placed on him to monitor him, and control of it is given to Spangle, the officer who is now in charge of Sam. Their mission is to rescue a group of fertile women who have been captured by a frog commander named Toty in Frogtown, a place few humans apparently go to voluntarily. Sam's job will be to impregnate the women once they are rescued. They leave together with one other soldier, Corporal Centinella, who drives the car and crews its machine gun.
Along the way they encounter a woman running through the desert in the middle of the night. She doesn't speak, but when Spangle discovers through a scan that she's not sterile, she induces ovulation in the woman and orders Sam to impregnate her. Sam initially balks at the idea, so an exasperated Spangle attempts to inspire him using her "training in seduction techniques". When Sam eventually "does his part" and the woman is safely a mother, she's released and told she's now a "national hero".
As they get close to Frogtown, Spangle has Sam put a chain on her so she can show up as his prisoner and not be taken by anyone else in the city, since his belt will self-destruct if he is separated too far from her. Centinella stays back and the two go into the city. They enter a bar where most of the patrons are frog people. Inside, Sam runs into an old (human) friend of his, Looney Tunes (real name: Lonnie O'Toole) who says he has discovered a uranium deposit to mine. The frog dancer at the bar also gives them the password indicating that she is their inside contact with Toty.
Sam and Spangle find out from one of the frog-men that it was 'Bull' who had captured the women for Toty, an act which earned Bull a promotion. There is then an attempt to purchase Spangle as a slave from Sam. Sam seems to be avoiding having to go through with it, until Bull himself shows up and forcibly auctions her to himself, since no one is willing to upset him or Toty. Arabella, the frog dancer, rescues Sam and tells him that Spangle has been taken to Toty's harem.
Arabella then throws herself at Sam, but Sam's belt starts to beep since Spangle is being moved and they have to move quickly. Sam finds Spangle just as she's being presented to Toty. Toty also talks to a man named Count Sodom, who tells him another shipment is coming soon. Sam accidentally reveals himself, and ends up getting captured.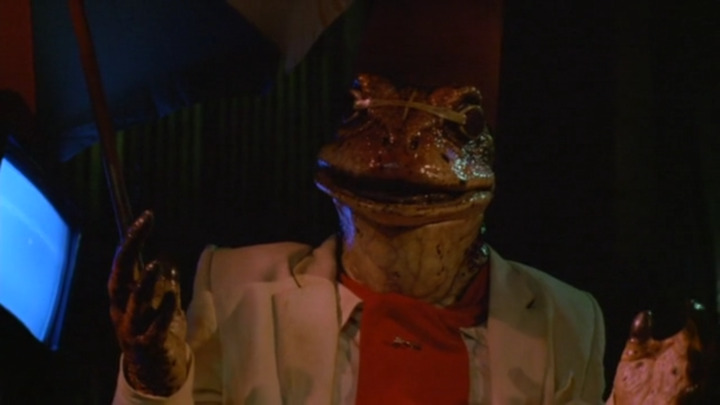 Spangle wakes up and finds that the other women who were taken are around her, performing some sort of ritual on her on orders from Commander Toty. She reveals herself and they tell her that she needs to have 'passion' in order to survive the 'Dance of the Three Snakes', to which two of their companions have already been lost. She wants to fight her way out, but is unable to overpower the frog who takes her to see Toty.
Arabella arrives to rescue Sam, but is killed by one of the frog guards, who Sam then dispatches with a hand drill. Although he could now leave (one of the frog guards cut off his chastity device, which did explode afterward), Arabella's sacrifice fills him with resolve to actually do the right thing. At the same time, Looney Tunes is discovered by a frog patrolling the streets and fires off the signal flare that will bring Centinella in.
Spangle is presented to Toty and force to dance for him; if she does not please him she will be killed. She does her best to 'remember her passion'. She is sufficiently seductive, and Toty calls her to him, but she kicks him as soon as she gets close enough. Toty is likely about to have her killed when Sam shows up and kills Toty's bodyguards. Toty leaps away and Sam and Spangle fight their way out (mostly it's Spangle that does the fighting).
Centinella arrives and the hostages are all freed. In the fighting to get out of Frogtown, Looney Tunes is fatally wounded. Toty pursues them in an armored car with a tank gun mounted on it. They lose him up in a rocky hilly area, but are stopped by Count Sodom, who is armed with an RPG aimed at their car.
Count Sodom reveals himself to be the man who had originally captured Sam -- Devlin. He is upset that the government (particularly Medtech) is run by women, and wants to destroy the world again. He's been trading guns to the frog people in exchange for uranium, which he is having processed by rogue scientists in a plot to develop a nuclear bomb. He pulls out a gun and is about to shoot Sam when one of the girls loosens a sword on Sam's back and he throws it straight at Sodom. Sam retrieves Sodom's gun; Sodom shows himself to still be alive so Sam is forced to shoot him. Sam then takes the RPG launcher.
He heads back to the car and before he arrives hears an explosion. He finds the car wrecked by a shot from Toty, and thinks everyone inside has died. Toty drives up and starts to celebrate his triumph, but Sam appears from behind a bush with the RPG. He tells everyone else besides Toty to run off, and plans to blow both of them up by firing off the RPG. However, it turns out to be a dud. Sam then engages in melee combat with Toty, finally kicking him off the cliff.
It turns out that the women had just been hiding, and they are all safe and sound. Sam and Spangle finally confess their mutual affection, although Spangle reminds Sam that he first has duty to perform, and impregnate the 'fertiles'.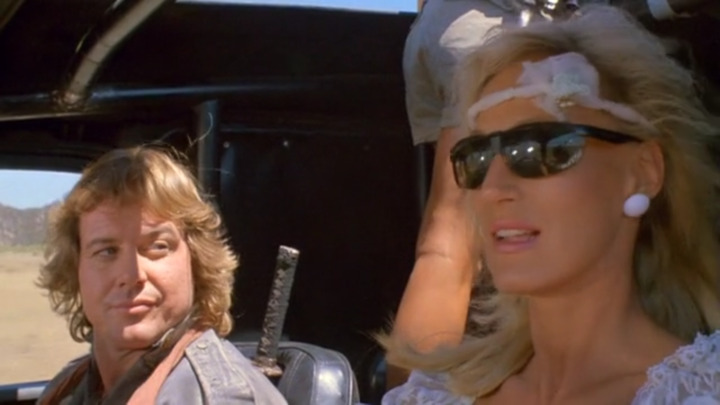 This film seems like a perfect example of 'tongue-in-cheek' because it never quite gets too hammy but never really drops the lighthearted mood. The acting is always cheesy so it doesn't matter if it isn't all that great. That said, a fair amount of the movie is put together well. It is surprisingly well-plotted, even if it is simplistic and intentionally over-the-top. Most of the plot elements work and nothing feels nonsensical even if the world is outlandish. The production design is also quite good, from the sets to the nicely detailed frog-people costumes.
While this is an exploitation movie, it is in some ways undercutting that effort. Even if it's only in a half-serious "nice problem to have" way, Sam does come off as somewhat reluctant to be required to engage in so much sexual activity. There's also a certain alienation that results from Spangle saying that she's 'trained' in seduction; it highlights the fact that anyone displaying their body is just doing it because it's some sort of job requirement, not because they are trying to entertain or enjoying it. We know that it's all a show, and there were times I almost didn't realize just how much skin was being shown on-screen because it kind of just fits with the plot. It is still a film where women's bodies are being shown off and the sexual prowess of the protagonist is constantly hyped, but it does at least some of the work to make it less crass than it could have been.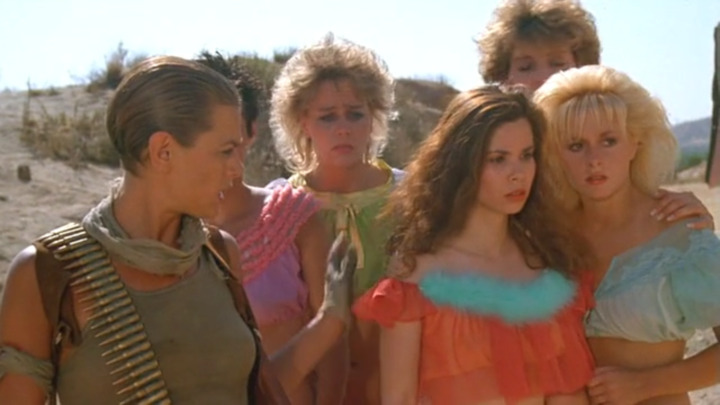 I don't blame anyone for finding the sexual politics and other aspects of the movie just bizarre and potentially off-putting. It could be extremely difficult to sympathize with a man who, according to the opening sequence, is probably a rapist (even if that detail is somewhat glossed over and he never really acts that way in the film). The frog people are uncomfortably depicted as an oppressed and exploited underclass. While that does seem to be a slight criticism of how the humans have treated them, it's not given much examination, making it feel like another muted voice and potentially a minimization of the real-world analogous problems. There is also the peculiar valorization of pregnancy, even when forcibly administered. However much that seems to fit in with the world as it's designed, it can't help but seem out of place. To be fair, it is slightly better that this is occurring in a female-led society than as a rule imposed by men (and the one man who hates that 'women run too many things' is an irredeemable villain). On the whole, these things are not overly damaging to the film as it is, but could be distracting since they are more serious issues than the movie lets them be.
This film is entertaining in spite of some of those weird bits. They almost give it a bit more charm, since they reveal that there was more thought put into this than just making another cheap post-apocalyptic exploitation movie. I'm not sure it comes off in the end as entirely charming (Roddy Piper as Sam is quite likable, but that's just him) but it at least has character. Even if it is a character with some rough edges, those are presented in a way that allows you to question them (or ignore them if you really don't care), and it's entirely possible to enjoy it for the fun parts.
Connections to Roadwar 2000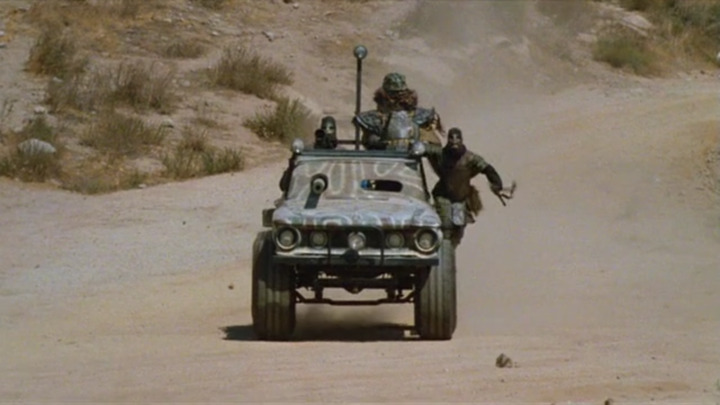 While most of the movie is about the strange world in which humans and sentient mutated frogs are contending with each other in a blasted wasteland world, there are still some connections that can be found with the relatively mundane fighting world of Roadwar. There is actually a bit of vehicular combat, influenced mostly by the
Road Warrior
, but these cars are outfitted, in a somewhat realistic touch, with more military-grade hardware. A big front-mounted tank weapon is something that would have been pretty fun to have in Roadwar, though it'd probably alter the way combat works a bit too much to do so.
The other point where this film matches things in the game is that there is some sort of remnant/provisional government with broad powers but not a broad reach. The GUB in the game is as good as a government as we get, but as we'll see very shortly it cannot do much on its own, and has to enlist ordinary citizens, even if they are criminals. Sam is even someone who'd probably be fairly comfortable having a gang to run with, and the tone of this film is reasonably close to the slightly cheesy tone of the game's story as well.