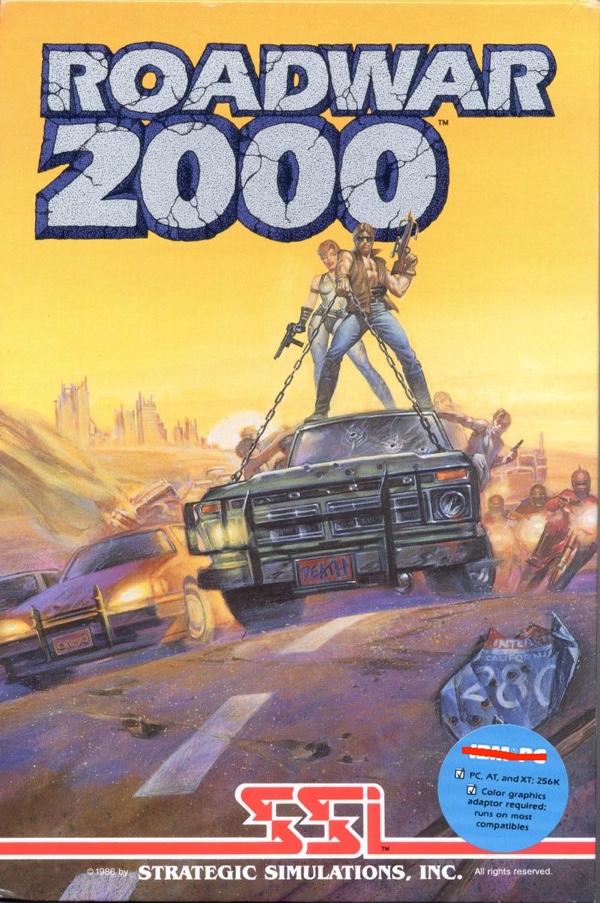 Roadwar 2000
is a 1986 SSI combat game where you build up a road gang in an attempt to stay alive in a post-apocalyptic wasteland. North America has been devastated by a pandemic and nuclear attack, and only the strong will survive. As society collapses, the cities have turned into self-contained fiefdoms where violence is the only language that many understand. Looting and killing for necessary resources is just a part of daily life for most. Gangs that grow in strength sometimes provide a limited amount of safety for a town, but there remains the constant threat of the disease for which a vaccine is rare, and rumors of more dangerous invaders making war on the continent. What hope is there for the future? Who knows, you just want to keep your cars gassed up and your soldiers ready to fight.
Roadwar 2000 is one of the more unusual 'RPG-light' games in that while you play as a gang leader, you do not build up that character. Instead you're attempting to acquire better quality vehicles and soldiers, along with occasionally a few 'cronies' (such as a doctor) that provide specialized skills. The soldiers themselves are essentially abstract, just a certain number of people rated by their quality in combat. The best analogue I can think of in modern games would be the Mount & Blade series.
The game consists of wandering around the map in search of loot and people to make your gang stronger. Sometimes you encounter rivals on foot, and fight them in an abstract head-to-head fights. Other times you are in your vehicles and have to fight it out on a tactical map, which is really where the heart of the game is. There is something of an overarching plot, but seeing as this originally ran on the C64 and Apple II, so don't expect anything too complex.
That does lead to something of a downside of the game, in that the combat encounters do not vary much. It can become rather tedious, since the plot takes a while to advance. This is a screenshot LP, so you won't have to see every single encounter, but I'm also going to keep it entertaining with something extra: an ongoing set of movies.
Each week, I'll announce a new post-apocalyptic movie for the week, which I'll watch and post a brief commentary on. Everyone's encouraged to watch and post their own thoughts on the films. [I'd love to stream them but lack the hardware and bandwidth to do so]. I'll be of course examining movies that relate closely to the world of the game, usually with vehicular combat and gang warfare in a world gone mad. I'm also sticking to films that were made around the time of the game or before; essentially the latter part of the Cold War. That means they'll generally be from the period 1970-1990.
The specific version of Roadwar 2000 I'm playing is the Amiga port, which helpfully includes details on your gang on-screen, and probably the best color version available. Sound and animation is minimal, so the screenshot format will not miss out on much of it.