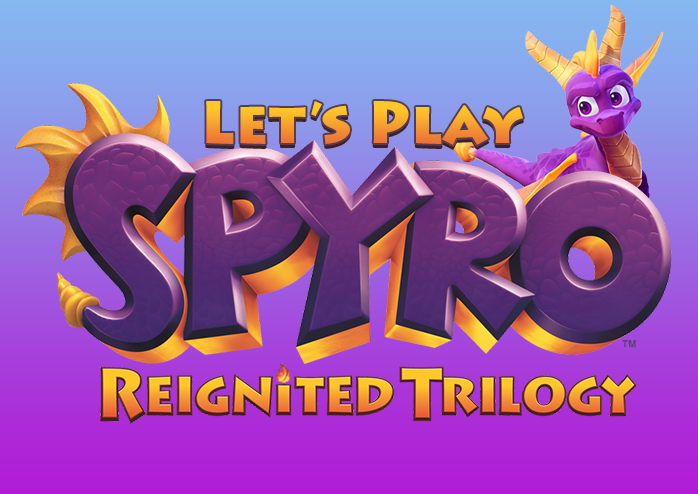 "Spyro: Reignited Trilogy" is the 2018 remake of the 3 original Spyro games. (Spyro The Dragon 1998, Spyro: Ripto's Rage 1999 and Spyro: Year of the Dragon 2000) The new games have been made by Toys For Bob (see Crash's remake). The orignals games were by Insomniac Games. I say remake, not remaster, because it's an almost full-on remake of all three games in one package. The gameplay itself is very nearly identical but everything has been redone, most importantly all the visuals.

I'll be playing through the whole trilogy normally, in order. So starting with Spyro 1, which I never did a full playthrough of! Should be interesting. I'll be showing off differences in the originals and these here and there. More so when 2 and 3 come because I've extensively recorded and broken those games. So trying out all the same stuff in Reignited will be a fun thing. I'll be playing Live here in the beginning, pivoted to post-commentary again after the first world.
Let's Play & Break?
If you're not familiar with my usual style of LPs, I tend to, aside from just playing them, also show off breaks & glitches. The original games were full on them, and I showed it well in my LPs of 2 & 3 I think. Unfortunately they changed everything in the remakes, so the old stuff no longer works. There's new stuff, but also with patching, there's less. A bit sad, but what's there I will try to show off. In 2 and 3 especially.
You can find all the old stuff on the
kilobops website
. Alternatively on LPArchive.org or on my YouTube channel itself.
Any place to support you?
Yes! I have a newly created patreon at
https://www.patreon.com/jaffy
.
You can join me live on stream sometimes if you want, at
http://twitch.tv/jaffyjaf
.
Finally, you can join my discord if you wish!
https://discord.gg/8hgEeuR