Setup.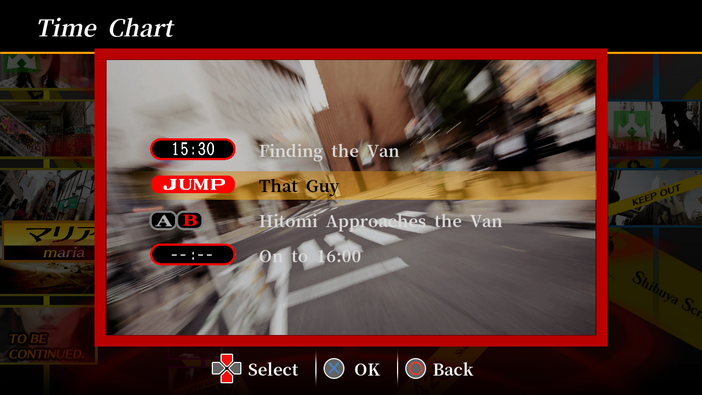 Pressure.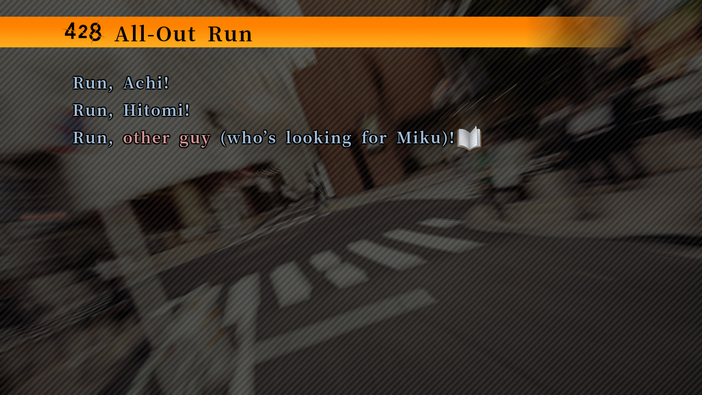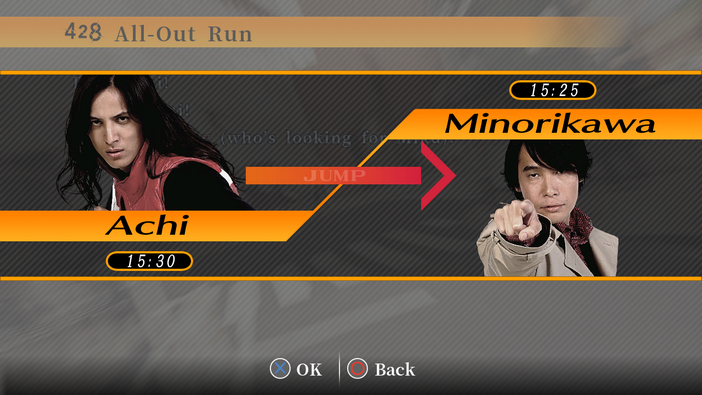 No music.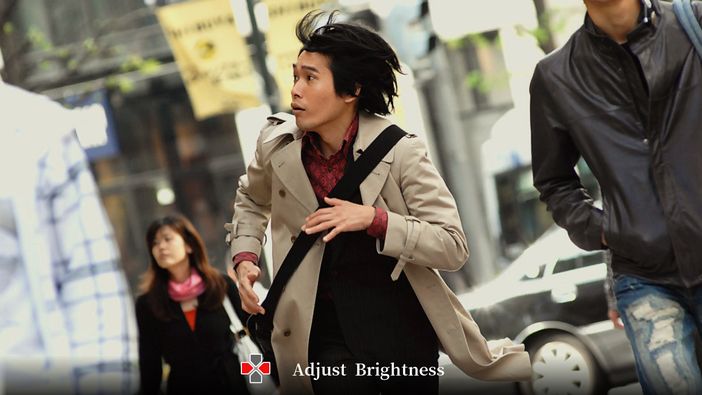 "Hitomi, wait!"
As he ran along Koen-Dori after Miku, Minorikawa heard someone shout out a familiar name. Hitomi...? It was a pretty common name. Ordinarily, he wouldn't have given it a second thought; but he remembered that one of the Miss Midoriyama winners was named Hitomi Osawa. That made him curious.

The World Doesn't Change so Easy.
A moment later he heard a cell phone ringtone. He immediately recognized it as an Aya Kamiki song.

No music.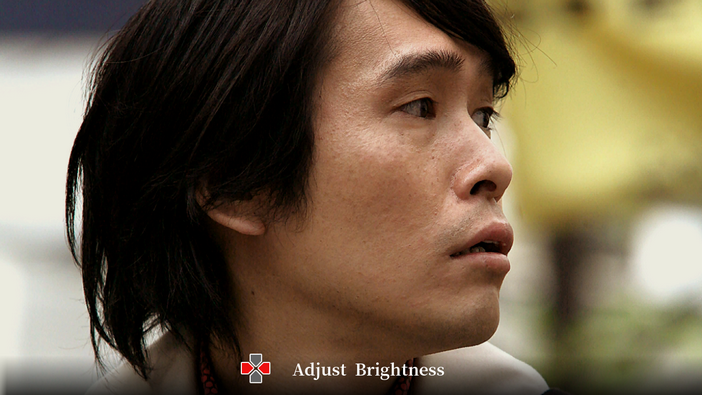 His reporter's instincts tingled. He stopped to take a look around, and one young woman caught his eye almost immediately.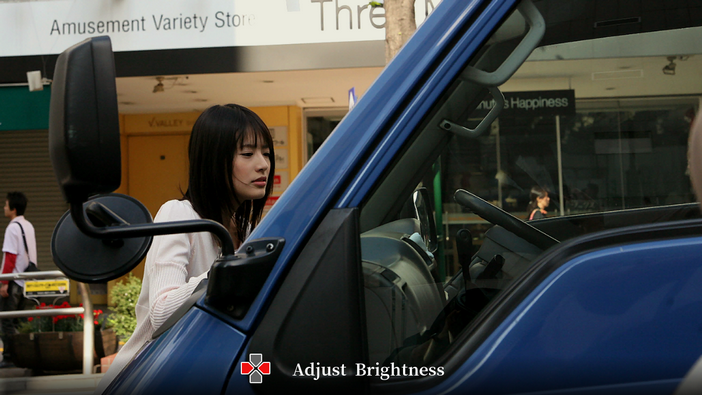 He couldn't assume that any pretty girl he saw was Miss Midoriyama. After all, it'd be a little
too
convenient if he just so happened to run into her now. Still, it didn't cost him anything to ask, "Are you Hitomi Osawa?" He might as well at least check. But to his own surprise, he hesitated in embarrassment. He'd never been too embarrassed to ask a question before. He didn't get a chance to contemplate that realization.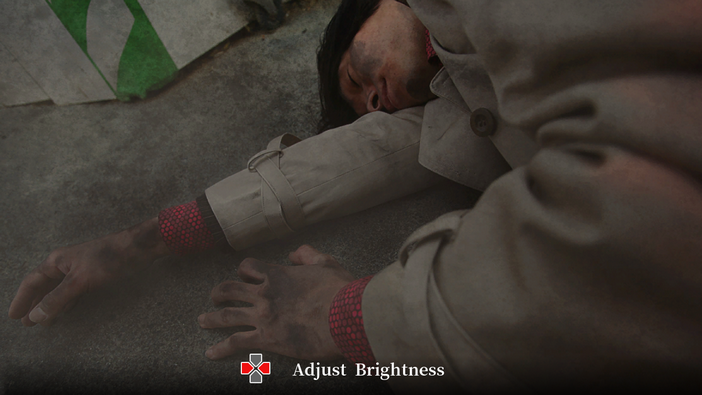 A massive fiery blast knocked him from his feet. A deafening roar set his head throbbing.
What was that? What's going on?
He lay in a daze on the ground, trying to wrap his mind around what had just happened.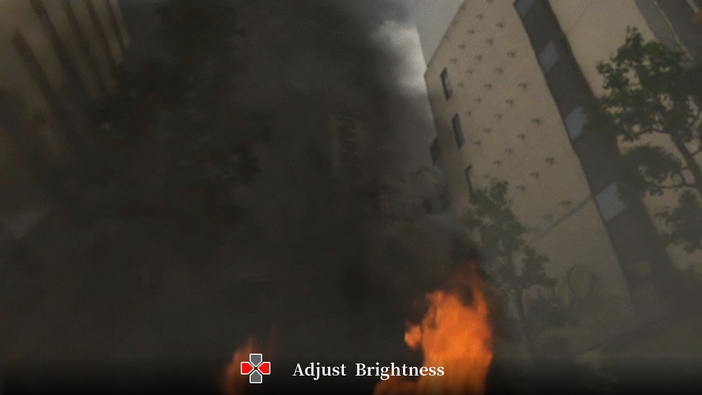 Behind him, there was a minivan, fiercely ablaze.
A minivan...an explosion...
The first thing to pop into his mind was the attempted bioterrorist attack on Kasumigaseki two years earlier. An unoccupied minivan had exploded outside an MPD station, and afterward, a device meant to scatter a dangerous biological agent had been discovered near the subway. In the end, no one had been harmed, but there were rumors that the government had paid a terrorist organization a hefty sum to keep it that way. Right now, Minorikawa was a stone's throw from the Shibuya precinct. Could this be a repeat of the Kasumigaseki attack?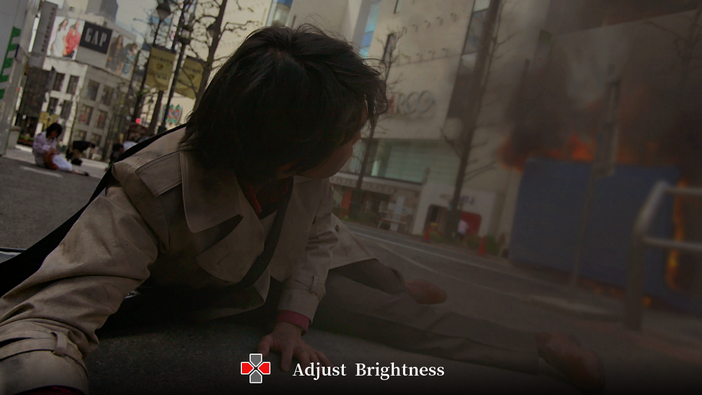 The entire area was in an uproar. People were running around in panic. Minorikawa could see several injured people lying on the ground, unmoving. And yet despite the gravity of the situation, numerous onlookers were casually taking photos with their cell phones. Minorikawa got to his feet, then went to try to get everyone away from the scene of the explosion.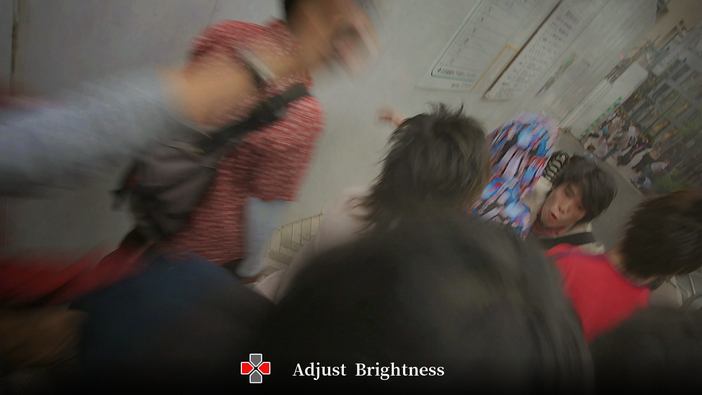 "Hey, you guys! Get back! There could be another bomb!" Minorikawa looked around as he pushed back the crowd. He was getting the strong whiff of a scoop. He needed to write his copy ASAP, but he couldn't just turn his back on this situation now. Two young men were strolling toward the burning vehicle. They had the look of juvenile delinquents.
"Whoa, what the heck? Is this for real?"
"Ain't this dangerous? Like for serious?"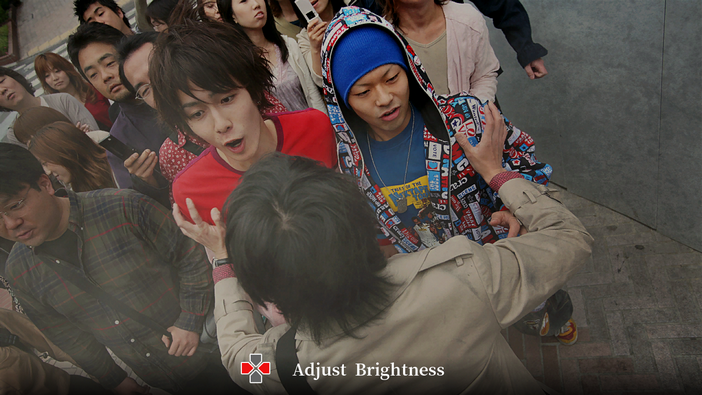 The pair tried to find an optimal vantage point.
"Hey!" Minorikawa snapped. "Don't get any closer!" He spread his arms wide to hold them back. The young men came to a halt, but otherwise paid him no heed.
"Oh, this is bad. This is for-real bad."
"Think this is a terrorist thing?"
"Yo, get out your phone. C'mon."
"But like, you think this is a terrorist thing?"
"Dude, shut up. Just hurry up and call Susumu!" The taller of the two, dressed in red, was ordering around his blue-clad companion.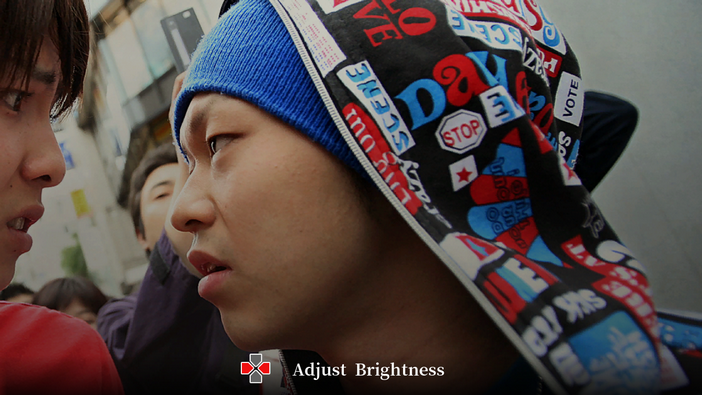 "Huh?" the boy in blue huffed. "Man, do it yourself."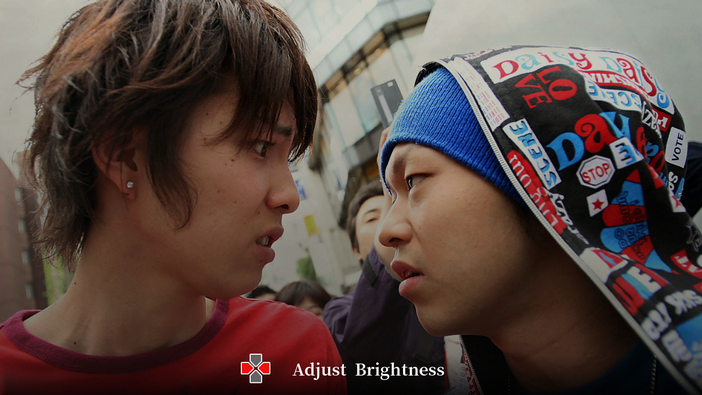 "Say
what
now?!"
"Bitch, this ain't no time to get yourself all worked up."
Minorikawa stood there, arms still held wide, getting more and more annoyed at their back-and-forth.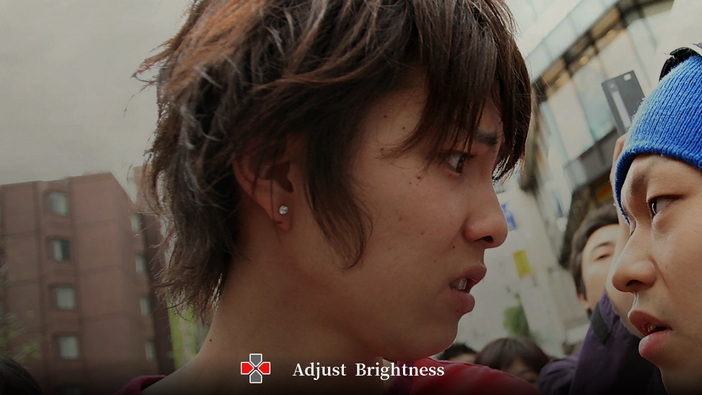 "Yo, just make the call, man." The young fellow in red scowled; he wasn't going to back down.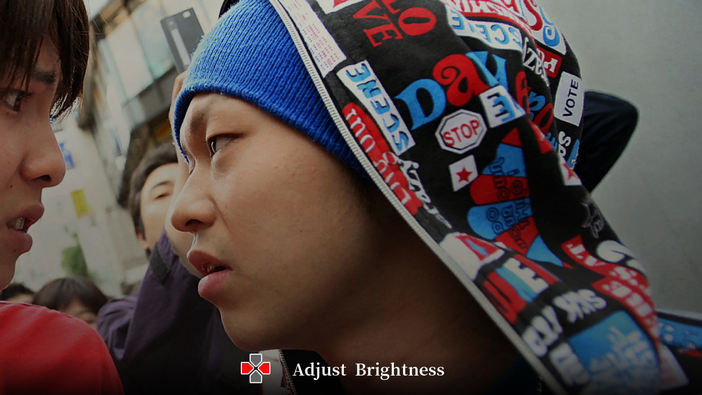 "Huh? Yo, what difference does it make if I do it or you do it?"
"It doesn't make any difference-so it don't matter if you do it."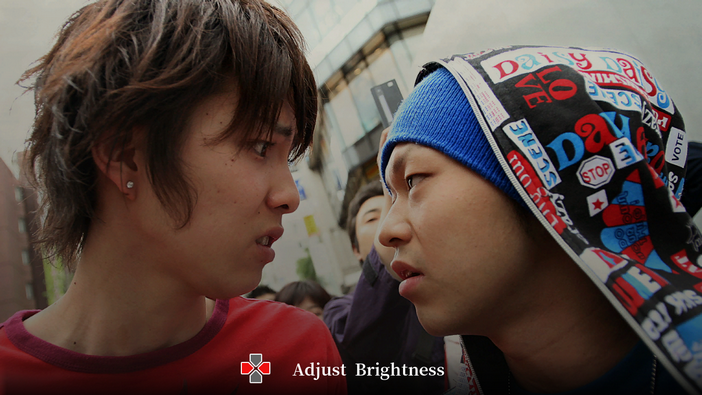 "Yeah, right, it don't matter. So in that case,
you
do it."
"Look, I'm tellin' you to just make the damn call!"
"And I'm tellin'
you
to just make it your damn self!"
Oh, enough of this already!
Minorikawa opened his mouth to tell them off-but then the young man in red spoke again.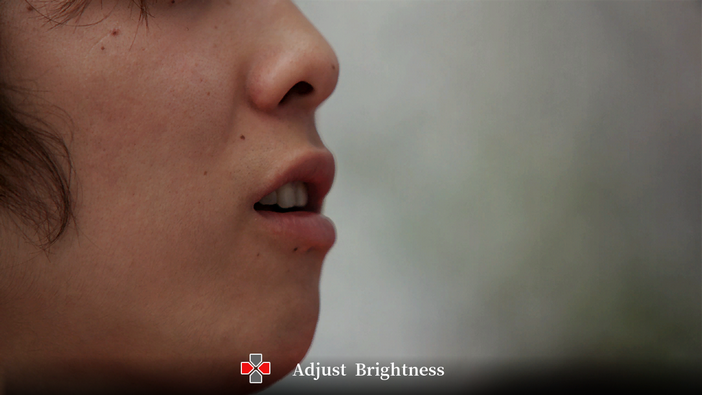 "Dude-the goods from over at Endo Electronics are gone. You gotta let Susumu know."
The name 'Endo Electronics' caught Minorikawa's attention.
"Huh? Yeah, but ain't that all that Achi dude's fault, for gettin' all huffy at us? I mean it was Kiryu who told us to go find the Endo storehouse."
"Yeah, but Susumu don't like dealing in stolen goods. Says it dirties the S.O.S. name."
Well, what a coincidence. Looked like these two were S.O.S. Members.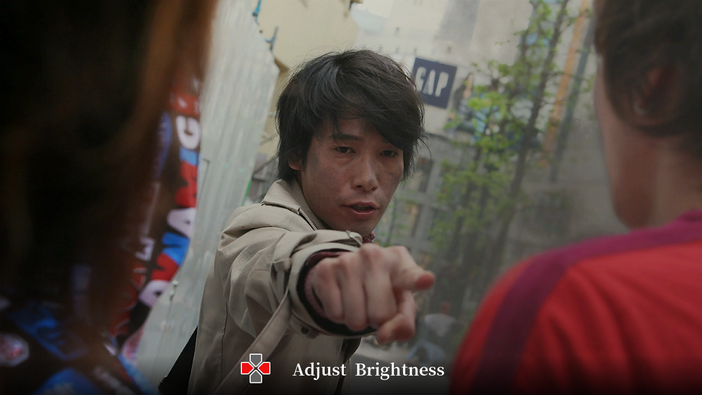 "Hey!" Minorikawa called out. "You two!" He finally succeeded in getting their attention.

Contemplation.
"Where's this Susumu fellow? I'd like to talk to him." He had no idea who Susumu was, having only heard the name just now. Still, from the way these two were talking, it seemed clear he held some position of leadership.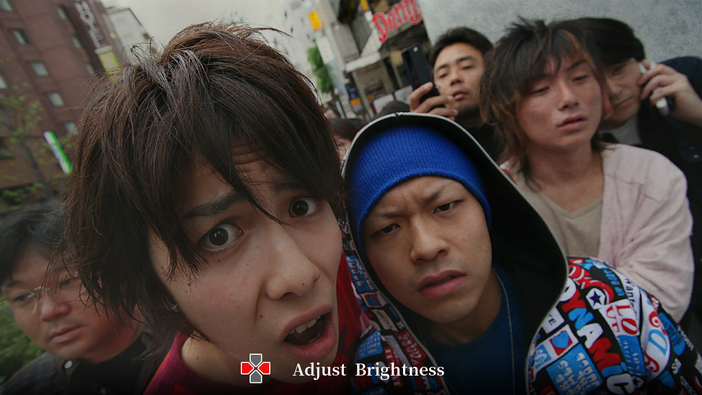 "You think I'd tell you if I knew?" the fellow in red snarled.
Minorikawa kept his composure. "Listen. You guys know the Tenryu-gumi?" The
Tenryu-gumi
was a yakuza syndicate that operated in Shibuya. These street kids were sure to be familiar with the name, if nothing else. "I may not look it, but I'm in pretty tight with the Tenryu-gumi. And maybe you two don't know it, but Susumu's been showing up at their office a lot lately."
428 Tip – Tenryu-gumi wrote:An up-and-coming yakuza syndicate that turned up on the scene ten years ago. With the seemingly legitimate "Takarada Financing" as its business front, the group offers monetary solutions for people in financial trouble-but those who accept their offers soon find that their troubles only grow and grow. Embroiled in conflict with the Kanto-Shiramine-gumi, who have been long established in Shibuya.
"Susumu's been...dealin' with the yakuza?"
"Whoa, for real? Sweet!" The two punks bought it completely.
"What's S.O.S. using as their hangout these days? I've got a little something to discuss with Susumu."
"Hmm? Right now it's this bar called 'Inferno.'"
Minorikawa made a mental note of the name. "Right. And Inferno is where, exactly?"
The two young men suddenly looked distinctly uncomfortable.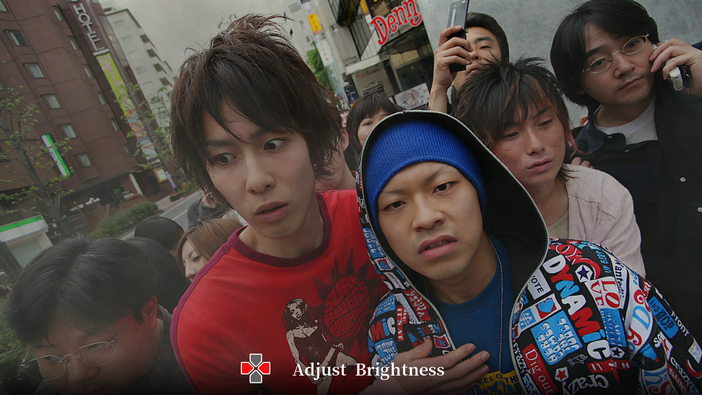 "Um, uh-oh. Later!"
"Yeah, I got a thing I gotta do, too." Backing away, they took off through the crowd.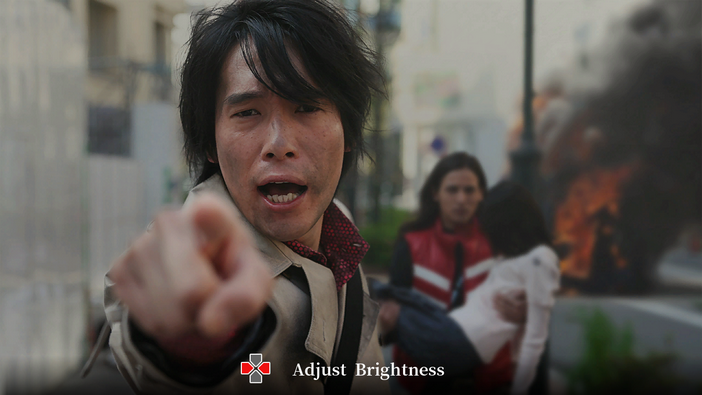 "Hey, wait up! I need to know where Inferno is!" But the pair had already vanished.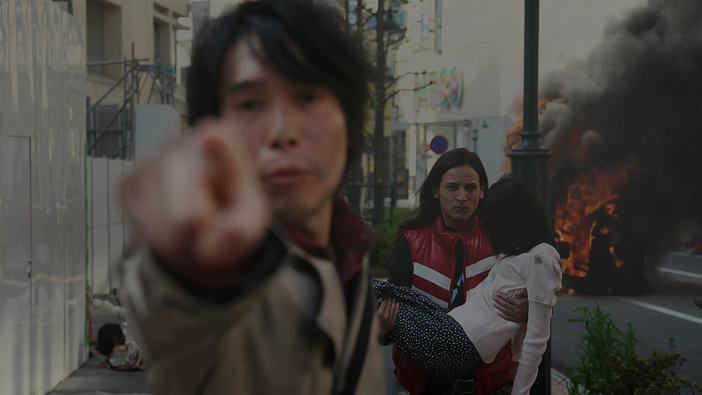 Ambulances began arriving at the scene and paramedics rushed out to tend to the wounded.
"Excuse me. Would you mind answering a few questions?"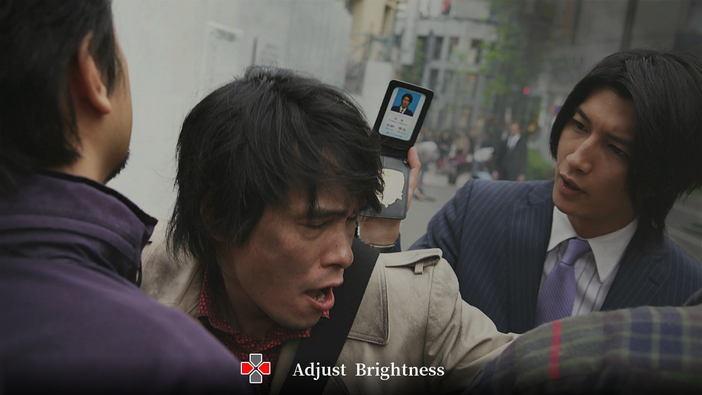 Minorikawa turned to see a
man in a suit
approach him, flashing his badge. So, a detective with questions for him, huh? "How about you answer a few questions for
me
? Was this an accident? Or an attack?"
"We still don't know many details."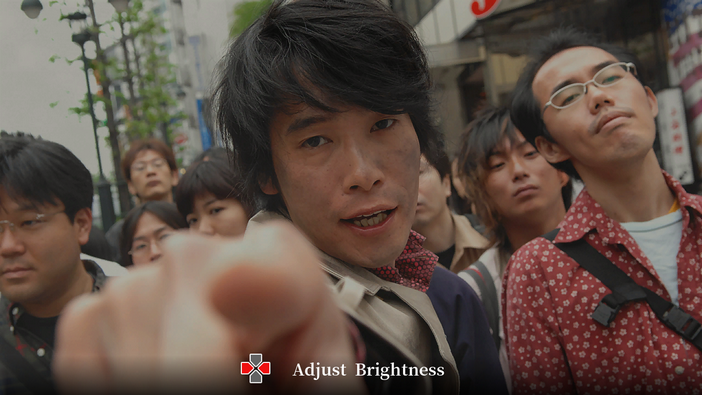 "Let me rephrase that for you: This is a major incident!"' Minorikawa exclaimed.
"Huh?" The detective looked pretty flummoxed.
"I've been around the block a few times, and I know all your police PR lingo. And when you start talking about 'the details,' that is one hundred percent indicative of a major incident!"
Brushing aside Minorikawa's remark, the detective tried another question. "Did you happen to notice anything unusual prior to the explosion?"
"Unusual?" Minorikawa thought back to the moments before the minivan blew up.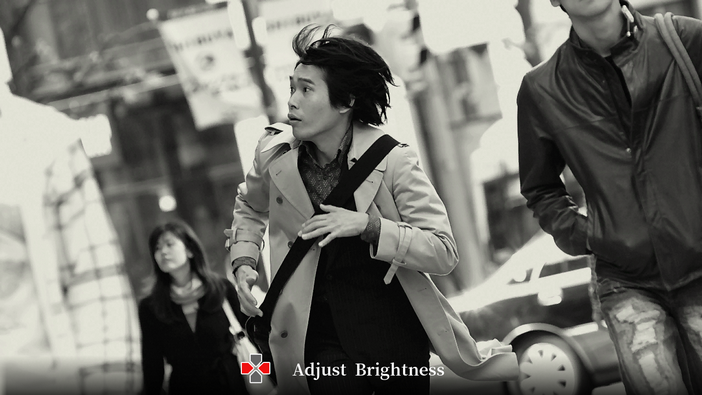 "Now that you mention it, I think I heard a cell phone ringtone."
The detective tilted his head. "A ringtone?"
"No, never mind. Forget that. There's no way the ringtone on someone's phone would be audible through all of that." Minorikawa struck the thought from his own mind as he said it. In all likelihood, he'd associated the ringtone and the explosion simply because one had happened right before the other.
"Kano." A large-statured Caucasian man had called out to the detective.
Evidently, the detective's name was Kano. "Thank you for your cooperation," he said with a bow. Then he ran over to the foreigner.

No music.
"Mr. Minorikawa!" Minorikawa turned at a female voice behind him.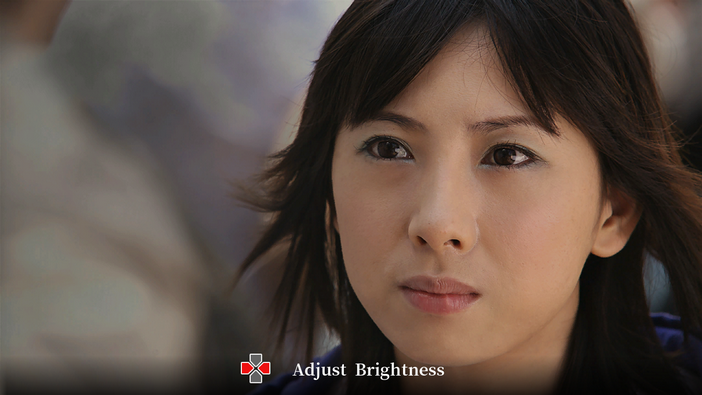 He found Miku standing there. She looked like she'd been crying.
"Miku. About earlier...I, uh..." He trailed off, searching for an apology.
"It's okay. That doesn't matter right now." Miku looked around the scene.
Minorikawa followed her gaze. "Something big went down here," he said.
"I know!" she exclaimed. "The explosion...I saw it happen with my own eyes!"
"You what?"
Miku looked around nervously.
"Are you all right?" he asked her. " You're not hurt, are you?"
"I'm okay. My ears are still ringing a bit, is all."
"Good! So, what did you see at the time of the explosion?"
Miku assumed a thoughtful expression. "There was this girl who was running toward the minivan. And then I think I saw this other Middle Eastern girl suddenly make a dive for her, and then the van just exploded..."
"Wait, hold on," Minorikawa said. "So, if I'm getting this right, it sounds like this Middle Eastern girl saved the girl who was running up to the van?"
Miku nodded.
Just then, Minorikawa's phone chimed; he'd received an email. It was from Chiaki.
Mr. Mino, are you still working on your copy?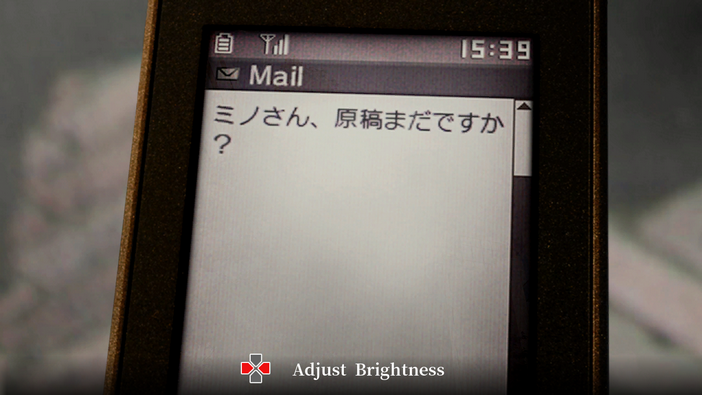 He checked his watch. At this point, the four o'clock deadline was barely twenty minutes away. Nonetheless he decided to stay at the bomb scene. He could definitely smell a scoop here-he was sure of it. Even if he couldn't get his six pages done by four, landing a major scoop should be enough to persuade the loan company.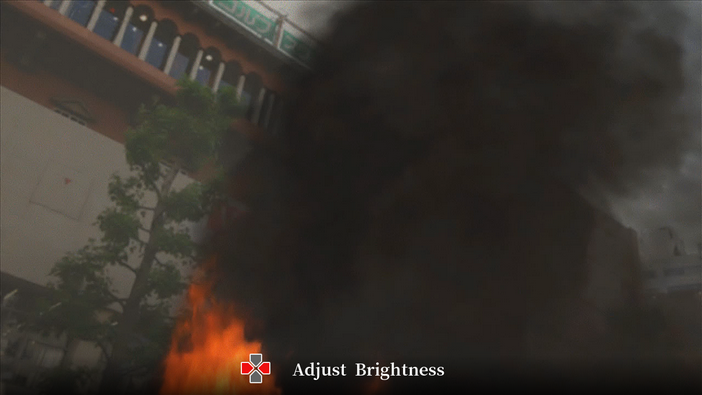 Minorikawa jotted his phone number down and handed it to Miku. "I'll make things up to you," he said. "Give me a call later."
Miku took the scrap of paper, puzzled.
"If you're looking for an aiki-jujutsu dojo, I know a few."
At that, her face lit up.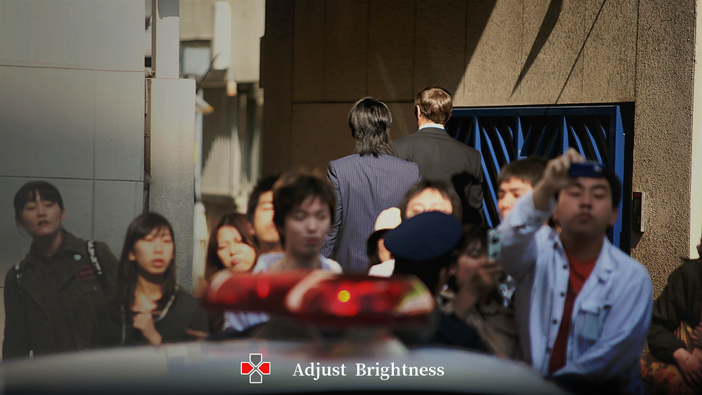 Minorikawa decided to process the scene for clues. As he wandered around, he caught sight of Detective Kano and his Caucasian colleague heading down an alley.

Unrest.
Hmm, what's that I smell? Something pretty damn fishy.
If they were slipping away for a private conversation, maybe there was some way he could listen in.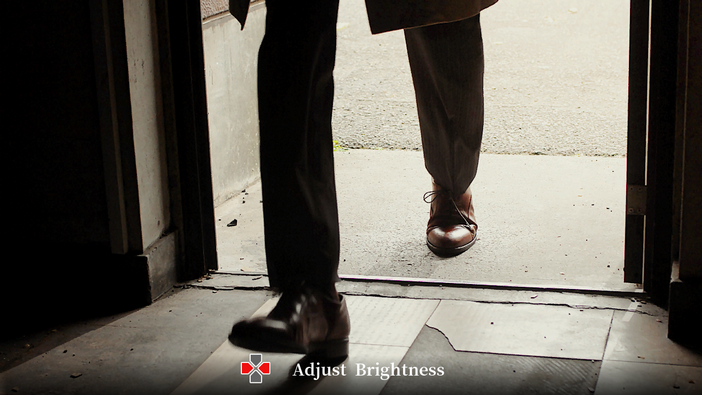 Minorikawa hurried into one of the buildings that bordered the alley. He looked around and found a public bathroom upstairs on the alley side of the building. Hoping beyond hope, he slipped up to the bathroom window.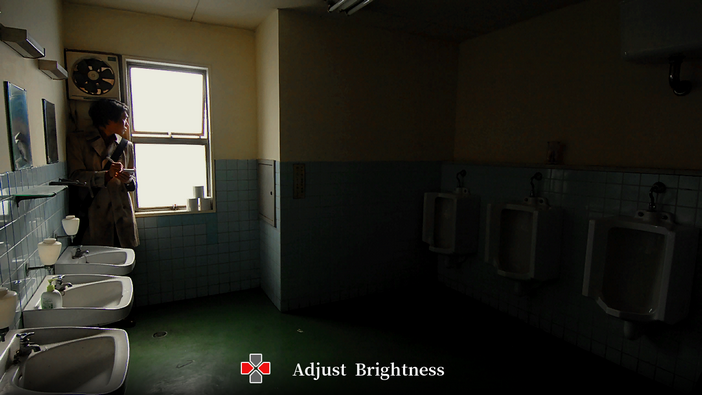 Voices outside! He held his breath and listened.
"Those international criminals you mentioned?" Kano's words were faint, but he could make them out.
Minorikawa did a little fist-pump.
"Correct. Roughly eight hours ago, they infected Maria Osawa with the Ua virus. Then, they let her loose somewhere in Shibuya."
"Hold on. By Ua, you mean..." The discussion involved some terms Minorikawa wasn't familiar with. He focused all of his mental energy on what the two were saying.
"This is a killer virus with a one hundred percent mortality rate once it takes hold..."
"One hundred percent?" Minorikawa muttered to himself.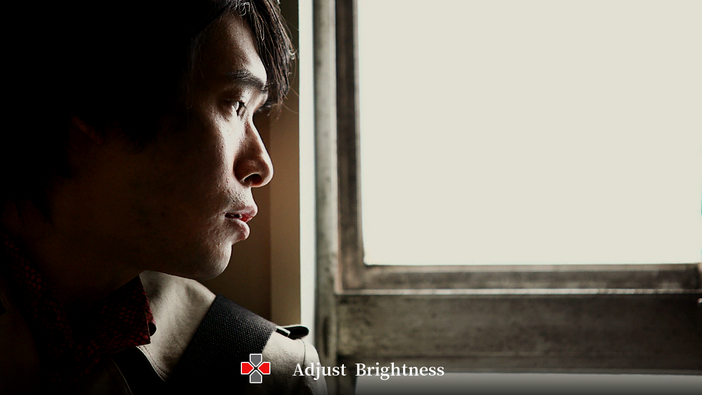 The shock caused him to unclench the fist he didn't realize he'd made. This wasn't just an interesting conversation. It was
monumental.
"It has an incubation period of twelve hours. In another four hours, Maria Osawa will go symptomatic. After that, she'll begin spreading the virus through the city."
"It's capable of airborne transmission?"
"If we don't administer Kenji Osawa's antiviral before she develops symptoms..."
"Yes...?"
"Everyone in Shibuya is going to die."
Minorikawa felt goosebumps rise all over his body. If they were talking about a virus and a Kenji Osawa, they could only mean
that
Kenji Osawa. He recalled what Osawa had said earlier, about the power balance of the world being at stake. There was no doubt about it. This was a
tremendous
scoop.
"Well then we need to find Maria Osawa and get the antiviral to her as soon as possible!"
"Just calm down. There's more to the story th-"

No music.
"Aww, it's startin' to leak out!" The door swung open loudly, and someone came barging into the bathroom.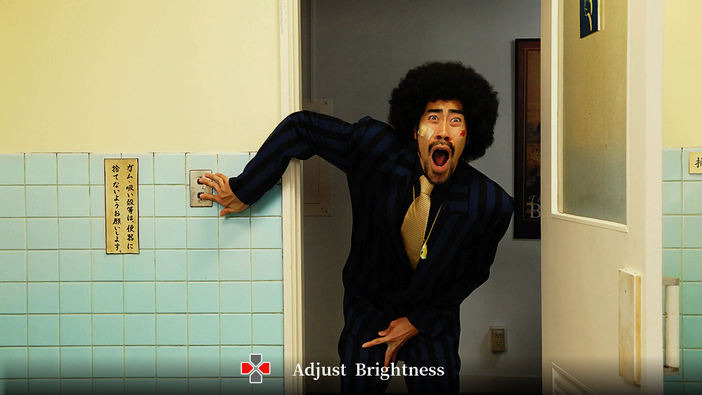 "Ah..." It was Yanagishita.
Why him again? And why here of all places?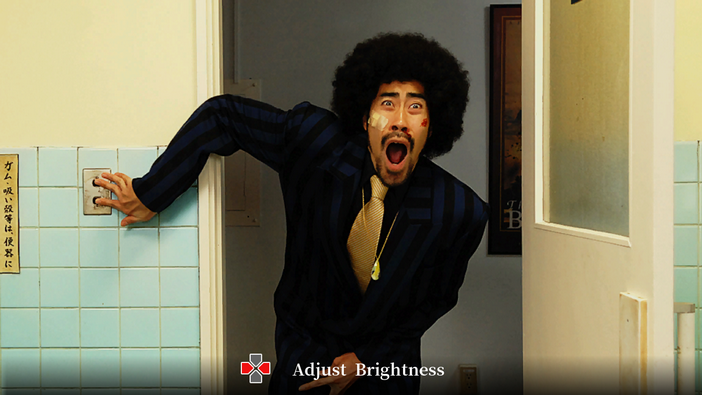 "Oooh, I'm leakin' here!" Yanagishita was on the verge of hysterics. His voice must have been audible outside. Kano and his companion went to take their discussion elsewhere.
And they'd just been getting to the good part.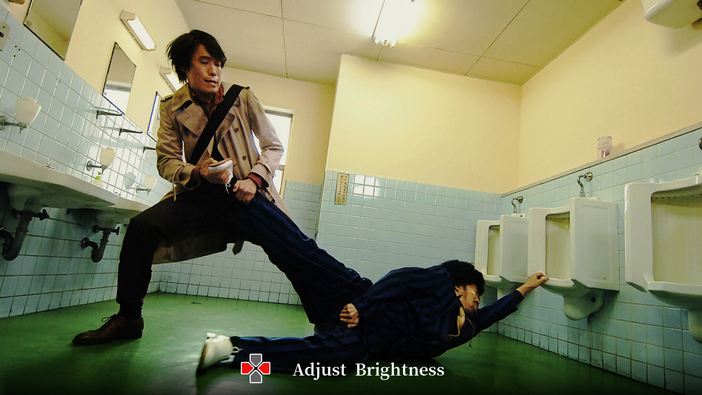 "You son of a bitch! " Enraged, Minorikawa grabbed Yanagishita and tossed him to the floor.
"I'm leakin'!"
"Shut your mouth!" He put all of his strength into an
ankle hold
and gave it a good twist.
"Aaah!" Yanagishita wailed. "Aaaaahhhhhhhhhh!"
General Tip – Ankle hold wrote:A professional wrestling technique that involves grabbing the opponent by the ankle. Being caught up like this can be extremely painful; it also puts a lot of pressure on the lower body-and if you're already fighting the urge to urinate, well...

Decision.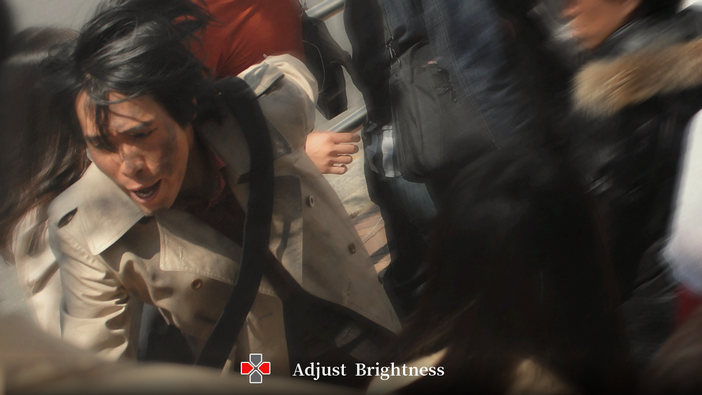 Minorikawa left the idiot blubbering in the bathroom and hurried out of the building. He hadn't heard the whole discussion, but he had a scoop on his hands anyway. This would be a tremendous score for Heaven Publishing-enough to let the company rebuild. He was certain of it.
And if I'm the one saying it, it's gotta be true.
As he ran along, Minorikawa tried to plan his next steps.
First, he had to get back to the editing office. He'd explain the situation to the people from the loan company. Then he'd go find that paperwork for Osawa, and have Chiaki check his copy.
And then, after that... Okay, so he still had a lot of things he needed to do. He swatted himself on both cheeks to get himself psyched up. His phone range. It was Chiaki.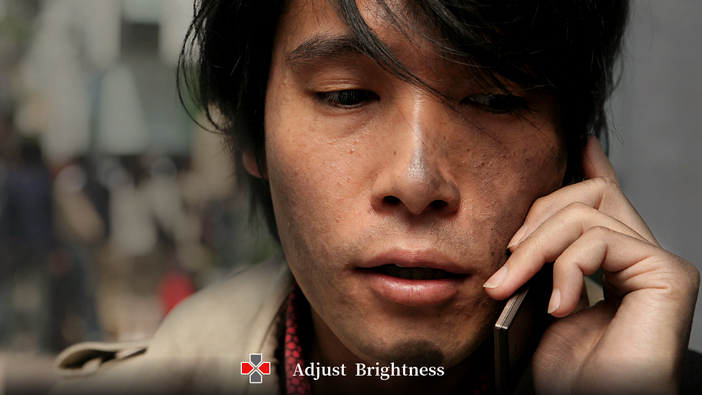 "M-Mr. Mino, something terrible has happened!" Chiaki's voice was a broken yelp.
"Whoa, calm down!"
"Over on Koen-Dori, this minivan exploded!"
"Ah, yeah. I'm well aware. Thanks to that, I've got a big scoop that-"
Chiaki cut him off. "Just now, I got a call from Mr. Toyama's daughter, Hana."
This time Minorikawa waited for her to finish; he had a sinking feeling.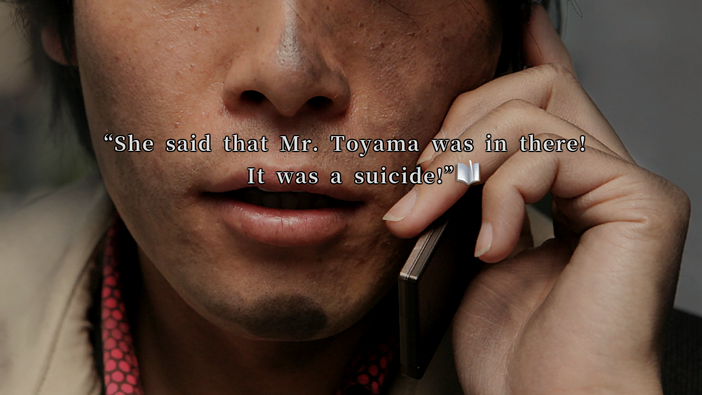 Doubt.
Minorikawa's knees buckled. "Tell me you're joking."
"No! I mean, the van explosion is all over the news, and Hana was in tears on the phone, and-Mr. Mino? Mr. Mino, are you still there?"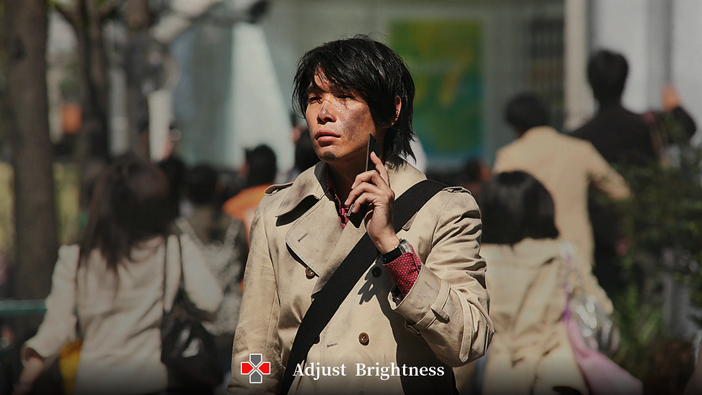 Toyama had...killed himself?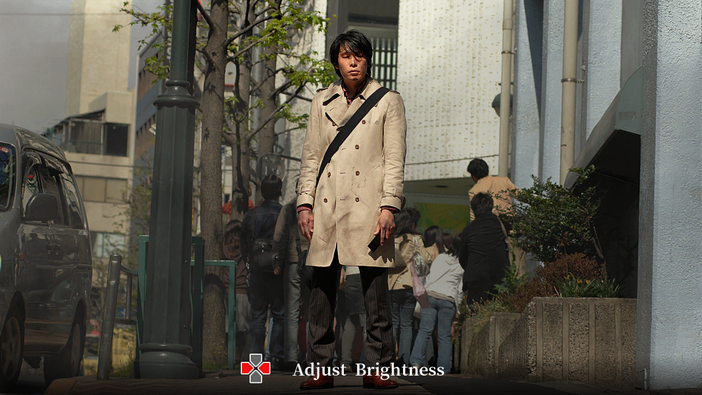 Minorikawa felt the energy drain from his body.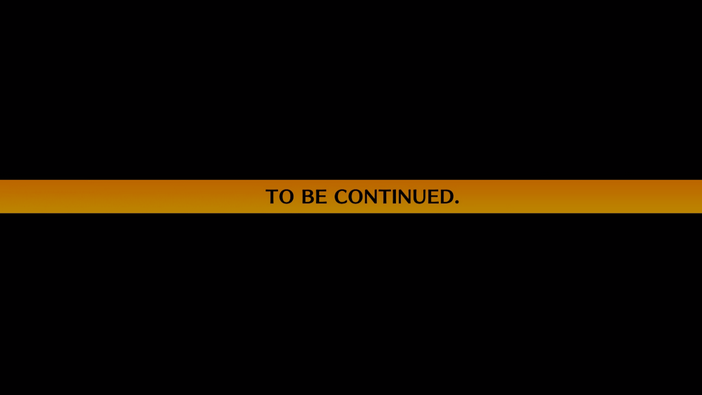 We have to go with Kano next time; even though we've since prevented Osawa's bad ending, he goes straight into a Keep Out that we currently can't unlock.