I was planning a short hiatus from LPing while I worked on my real job, but apparently I can't help myself. Ah shit, here we go again...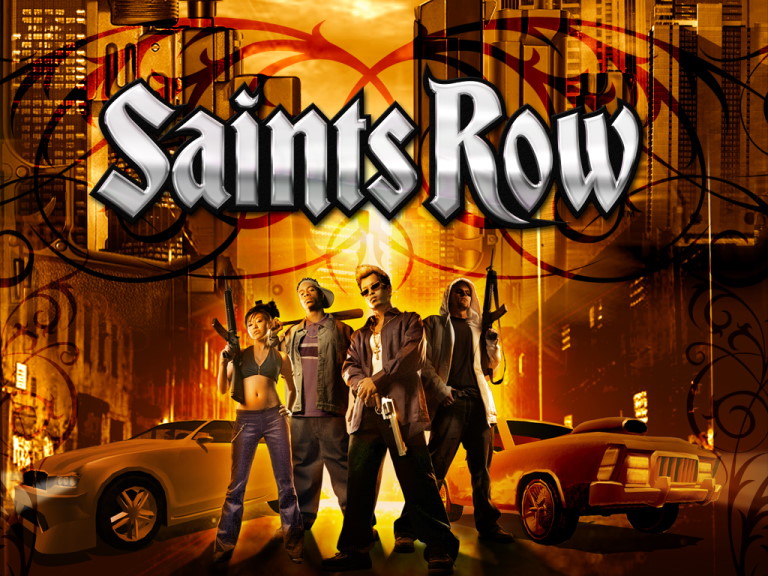 It may be difficult to believe when you consider what happened with the later sequels, but Volition's
Saints Row
, released in 2006 exclusively on the Xbox 360, is really quite a basic Grand Theft Auto clone - basically an HD version of GTA III with some next-gen bells and whistles. Hell, the first time I saw it in a TV commercial, I thought "wow, this even runs just as well as GTA on PS2!" Some signs of Saints Row's trademark humor and charm can already be found in the first game, but this is definitely a bit more generic and has fairly strong "white nerds trying to act gangsta" energy at times.
However, while not exactly the most original product on the planet, Volition's open world crime fest centered around color-coded street gangs featured many quality of life improvements that made it quite hard to go back to PS2 GTA games at the time. GTA IV hadn't even been revealed yet, so this was basically our first taste of what a GTA game might feel like on the then-new Xbox 360. In hindsight, the game was very rough from a technical standpoint as it struggled to hit 20 fps half the time and suffered from massive screen tearing
all
the time... unless you turned v-sync on in the options, in which case the frame rate dropped even further. I planned an LP of this all the way back in 2016, but the awful performance literally made me feel nauseous so that didn't work out.
Now, five years later, it's time to actually head back to the lovely city of Stilwater. Thanks to Microsoft's backwards compatibility program on their more recent Xboxes, the performance issues are completely gone and it's actually possible to play Saints Row (I'm using the Series X, but it runs just as well on the One X and just loads a bit slower) without hurling. So, let's jump into the shoes of some random jackass who ends up in the Third Street Saints street gang by happenstance, and watch him rise through the ranks to become the
sociopath
puckish rogue we all know and love as The Boss!
The LP itself is divided into sections based on the opposing gangs - Los Carnales, the Westside Rollerz, and the Vice Kings, in that order. The Carnales are a bunch of Latino stereotypes who control the drug trade in Stilwater, the Rollerz are Fast & Furious rejects who love illegal street racing and chop shops and that sort of thing, and the Vice Kings are in charge of all the "legitimate" business in downtown Stilwater. Saints Row lets you tackle all gangs at once, but focusing on one gang at a time is generally considered a better idea and definitely works better for organizing the LP, so that's what I'm doing.
Before we begin each gang's actual mission chain, we complete their associated side activities (barring some that are more appropriate to do at other times, such as street races being part of the Rollerz activities in the LP despite the two other gangs technically having their own sets of races). Activities are the primary way to earn Respect, which is basically used as a currency - one bar of Respect is consumed every time you start a new mission or gang stronghold - but also offer various other rewards and have their own cutscenes, so those are shown off as well. So, unless some of the activities get impossibly hard (some of them are definitely damn close), this is a 100% run.
I am once again joined by my buddy
ChaosArgate
, who is very familiar with the Saints Row series in general but not so much with the first game. Sadly, there is no co-op in Saints Row 1, so this is just going to follow the same tried and true format from our GTA LPs. As for the schedule - like I said at the top of the post, I'm fairly busy with work at the moment, but I'll try to update at least once a week.

NO SPOILERS!

VIDEOS:
3rd Street Saints (Tutorial):
Episode 1: Canonized
The Los Carnales:
Episode 2: Round and Round (Prep Work/Los Carnales Activities 1)
Episode 3: Wild America (Prep Work/Los Carnales Activities 2)
Episode 4: Crack Down
Episode 5: Los Carnales Are Fine
Episode 6: Last Year's Fall Collection
Westside Rollerz:
Episode 7: The Need for Speed (Demo Derby/Street Racing)
Episode 8: Little Boxes (Westside Rollerz Activities)
Episode 9: The First Dance
Episode 10: Death Race
Episode 11: Semi-Charmed Life
Vice Kings:
Episode 12: Jeffreymobile (Vice Kings Activities)
Episode 13: Kingdom Come