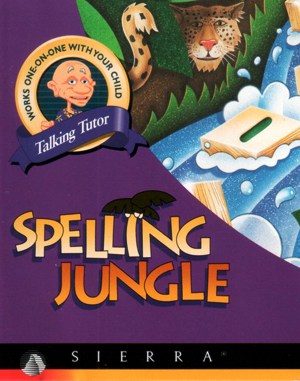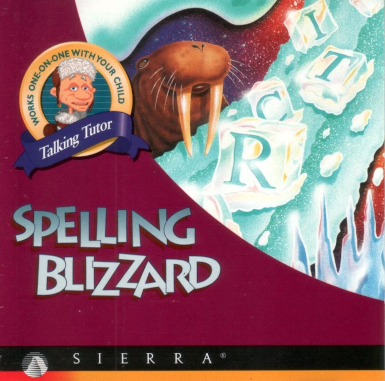 What Is This Game?
In 1993 and 1994, the edugame company Bright Star Technology made a pair of games designed to teach children spelling, which were published by Sierra. Originally titled "Yobi's Magic Spelling Tricks", the first game was released as "Yobi's Basic Spelling Tricks", and then as "
Spelling Jungle
". The sequel, "Yobi's Advanced Spelling Tricks", is similarly better known under another name: "
Spelling Blizzard
".
In both games, you play a villager who travels upriver to find out why your river is flooding. Along the way, you'll have to travel through a series of top-down puzzles where you dodge wild animals, cross rivers, and collect letter tiles to (correctly) spell words. The big difference is that the second game is more challenging - and it's winter.
These games were on the school computers when I was a kid, and were a fond part of my childhood - but I never managed to finish them.
I now have both games and a cantankerous Mac emulator, so we can change that.
How Will this LP Work?
This will, for the most part, be a screenshot LP. I'll play through each level and provide commentary! It should be pretty short and sweet.
I'll also post videos of each batch of 5 levels or so as I play through them. These will be lightly edited and have no commentary, for people who'd rather see the game in action.
Spoiler Policy
Please don't spoil the ending of either game, as I have never seen them.
Notice of Simulcast:
This LP is also posted over
on the Something Awful LP forums.
Chat it up with the biggest LP community out there!
Episodes
Episode 1: Welcome to the Jungle
Episode 2: Lions and Rhinos in Pairs, Oh My!
Episode 3: Novelties of the Jungle
Episode 4: Everything Wants a Piece of Us
Episode 5: Fast Fingers and/or Feet Required
Episode 6: Special ELECTION Update ft. Animal Antics
Episode 7: Hippo HQ and Roundabout Routes
Episode 8: Yobi's Day Off
Episode 9: Pushing Through the Jungle
Episode 10: A Decade of Zebras
{more to come…}
Videos
Levels 1-5
Levels 6-10
Levels 11-15
Levels 16-20
Levels 21-25
Levels 26-30
Levels 31-35
[I've stopped making videos.]