Finally, time to tackle this beast.
The very long-awaited Laxius S____ is finally coming out late this year. Allegedly. After having been delayed for the majority of a decade.
So, I decided it was high-time I started an LP of this series.
So, in 2005, one of my favourite RPGMaker series,
The Way
, ended.
Also in 2005, another of my favourite RPGMaker series,
Master of the Wind
, began.
And now we cover this series. The Laxius series, currently 8 games long, soon to be 9, hit its peak in 2005 (Well, okay, December 2004) with Laxius Power III.
It contended with the Way Episode 5 for Misao Awards, and incredibly, somehow beat The Way 5 for Best Story and some others. See my The Way thread for specifics.
Laxius Power 3's story still is not anything special but I think it indicates just how popular the Laxius series was for a time. I think it might have been more beloved by people outside of the RPGMaker community than inside of it though, but I cannot say for sure. I think it has also just been genuinely forgotten by the RPGMaker community now. None of the games are on RPGMaker.net either, not even his free ones.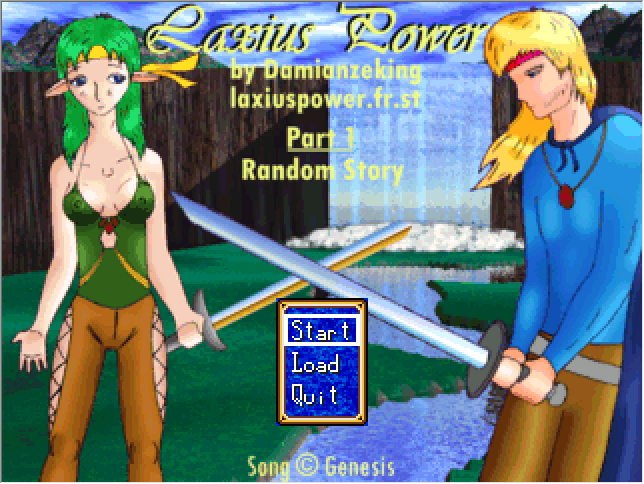 The Title screen, music and the game's opening cutscene are in this video.
Laxius Power 1 is a game I have very complicated feelings about.
There's a lot of nostalgia here, but I do think it has some good ideas. It has an interesting mix of CRPG and JRPG design paradigms.
Unfortunately, there's also a lot of pretty problematic stuff that really should just not exist in a game. I'll quote a review of the first game.
Laxius Power is one of the best fanmade RPGs I have ever seen. Although the plot is quite cliche, the game more than makes up for this with sheer size: not counting numerous side quests and secret locations, Laxius Power will easily take you more than 50 hours to complete.
Coded with ASCII's RPG Maker application, Laxius Power is a console-style RPG, which means you get to control a party of anime-ish characters and explore a Final Fantasy-style world. The game lets you control multiple characters, and even allows you to change the difficulty level – a nice touch that more RPGs should have. One of the best things about the game is that you have considerable freedom of movement: there are always many locations you can explore at any given time – giving the game a strong non-linear feel.

Before you download the game, be warned: unlike most "cute" anime RPGs, this one has a number of "mature" elements that could offend you. There is offensive language and precarious sexual situations depicted, although nothing as blatant as the mildest of Japanese adult Hentai games. Also to the designer's credit, the sexual overtones never become the main focus of the game (it is normally quite obvious if a game designer is using sex as a 'cheap' gimmick to attract more players). The writing is awkward and stilted in some areas, probably a result of the game being translated from French, or coded by a non-native English speaker. That's nothing to detract from the fun, though. Overall, I find Laxius Power to be one of the best freeware RPGs today. If you enjoy console-style RPGs, check out this excellent underdog that will occupy you for dozens of hours. If offensive material puts you off, though, your best bet is to look for a more 'traditional' console RPG. Two thumbs up for this underdog.

Reviewed by: Underdogs
As you might have guessed from that last line, that's the Home of the Underdogs entry, where Laxius Power is rated as one of the Top Dogs with a rating of 8.21 (6917 votes).
The Home of the Underdogs entry is actually how I discovered Laxius Power, and through it, RPGMaker way back when I was like... 13 or 14 or something.
Anyway, like the HotU review states, there's some offensive stuff in here, but fortunately it's never graphic. There's definitely some nudity and fanservice and stuff I'll censor though or just mention in passing.
I might have to put up content warnings here and there but most of it is -relatively- tame. There's some rape threats. One scene of torture late in the game. A lot of sexism... (though I don't think the author is an actual misogynist. At the very least, he isn't anymore). The author is definitely keen on S/M relationships too, but it fortunately only really shows in some stupid bantering and bickering here and there and writing that elf girls are raised to be submissive unlike human women. The R-slur is used here and there. I can't remember anything more off the top of my head.
While there is some weird crap, and some incredibly stupid offensive bullshit, this LP is more a setup for the later games which... are far less problematic (but still have some stupid bad shit) but insane in other ways. This one we'll mostly be enjoying for its Engrish and some odd execution, if anything. If any of you are familiar with the infamously terrible Dominic Deegan webcomic, then I can tell you this game has the same sort of thing going on, where it feels like a young (?) guy or teen that loves harem and 90's fantasy anime a lot uncritically reproduced a lot of the problems with those things in his own work. If you are not familiar with Dominic Deegan... Well, lucky you. But
a thread in BSS is currently ongoing
as good ol' Mookie started a extremely boring and poor sequel series. At some point, to take the edge off the extreme boredom, the thread started to reread and analyse exactly what made the original Dominic Deegan so bad. It's a good and enlightening read, and the problems are sometimes relevant to Laxius Powers own.
The reread starts here.
Laxius Power comes packaged with HTML files that act as the instruction manual of the game. Both gameplay info and setting information that never otherwise comes up in the game are contained inside it. I'll post it when I feel like it, but here's the story summary:
STORY (SHORT SUMMARY)
"Random Story", the 1st part of Laxius Power, features the adventure of Random, a young swordman, and his friends. Gifted with awesome powers a sword in the hand, Random gets bored of his training courses, and decides to make it to SankT Leona, a huge city where a famous tournament is about to take place. The young man just has enough time to get prepared, raise his skills and travel up to the faraway city. But simultaneously to Random's dreams of glory, a threatening order grows in the depth of dark caves and creepy towers. Its name : the Dark Order. Its location : everywhere. Its goal : raising the ultimate army, the most powerful army ever, full of fiends and overboosted creatures, in order to control as quickly as possible the unaware country. Why all these efforts and agitation ? Within 2 years, a millenary cycle - forgotten by everyone but the necromancers - must happen, and bring back antic Over Demons to proceed to the Global Annihilation, and the Dark Order wants to unite with them instead of endure them.
Will the reign of terror win ? The story tells the adventure of Random and how he'll deal with the terrifying events that are about to happen. Also, discover the love story of Random and his elf girlfriend, Sarah, and live their burning passion through dramatic events and scaring enemies. Mythology, adventures and secrets are to be discovered in the world the story takes place. Laxius Power is also a thought about the quest of glory, and the important things in life.
As you can see, English is the second language of our author here, though his English does improve a lot over the series. I believe his first language is French. I had a French friend some years ago, who claimed the French RPGMaker community had a great distaste for Indinera and exiled him for the crime of not making art games and then having the gall to translate them into English. Said friend also said they named the pervert game award after him. But this is all second-hand. I can't read French. If someone knows otherwise, please do not hesitate to correct me.
One last thing: Indinera posted his portfolio on his forum some time back and has kept it updated ever since. I'll quote it here, because you might recognise some of these since I see them, especially Millenium, on sale on Steam and stuff fairly frequently.
I started developing games in April 2001 and took a two-years break in 2006-2007 after the release of Lax Team, to the Rescue.

2001
Laxius Power ~ Random Story October 2001 (re-released May 2002)

2003
Laxius Power II ~ Destinies April 2003

2004
Laxius Power III ~ The Final Terror December (X-mas) 2004

2005
Blades of Heaven April (?) 2005
Lax Team, to the Rescue! December 2005

2008
Laxius Force - Heroes Never Die August 18, 2008

2009
3 Stars of Destiny February 23, 2009
Laxius Party May 2009
Laxius Force II - The Queen of Adretana August 19, 2009
Millennium: A New Hope September 21, 2009
Asguaard November 13, 2009
Millennium 2: Take Me Higher December 20, 2009

2010
Dreamscape March 19, 2010
Ella's Hope (Lead: Eridani) April 29, 2010
Laxius Force III - The Last Stand August 29, 2010
Millennium 3: Cry Wolf October 31, 2010

2011
Sylia (Lead: Ensorcelled) May 8, 2011
Millennium 4: Beyond Sunset August 6, 2011

2012
The Book of Legends February 18, 2012
Moonchild August 26, 2012
Opaline - 2 Fates 1 Love (Lead: Warfare) November 20, 2012

2013
Millennium 5: The Battle of the Millennium July 21, 2013
Onyx (Lead: Valkyria) October 31, 2013

2014
Undefeated January 4, 2014
Girlfriend Rescue August 30, 2014
The Tale of a Common Man October 17, 2014

2015
Elendia Ceus February 20, 2015
A Timely Intervention August 20, 2015
The King's Heroes November 14, 2015

2016
YOU... and who else? May 14, 2016
Witch Hunt October 16, 2016

2017
Little Hearts August 3, 2017

2018
Shadows & Lies April 6, 2018
Fortress of Hell October 31, 2018

2019
Inferno August 15, 2019
A Plunge into Darkness October 28, 2019

2020
Forever Heroes September 21, 2020

2021
Night of the Stars June 18, 2021
The author of Laxius Power went by Damianzeking for a time, but now goes by Indinera or Indinera Falls. He owns Aldorlea Games and publishes his own RPGMaker games on Steam now. As well as other peoples games.
You -might- be more familiar with Indinera's Millennium quintology. They were made in-between installments of the Laxius Force trilogy, which is so strange to me. Laxius Force is completely insane but Millennium is not. I have a fair bit of genuine fondness for Millennium, even.
So with that all out of the way... I'll be updating this LP whenever I feel like. People who read my last two LPs will know from experience that that can mean once a week, it can mean daily, it can even mean two or even three times in a day, depending on how I feel and how excited I am to reach a part.
I do want to warn everyone not to expect something like The Way or Master of the Wind, though. Laxius Power 1 has its weird parts, but the story and characters are awful. The battle system is basic RPGMaker 2k shit. Most of the music and tilesets is basic RTP.
So! In light of all that, I won't be painstakingly transcribing every line of dialogue like I did for The Way and Master of the Wind.
Sorry if this comes off pretty incoherent and all, but I have seriously rewritten and deleted this post many times in the months since the Master of the Wind LP. I have gotten cold feet on starting this LP at the last minute a bunch of times. I mean, for one thing, I originally intended to do Laxius Power right after The Way. I've had many long debates with myself on if it's really worth LPing this game with all its problems. Now I just want to get it off my back. I'm -haunted- by the Laxius series. It's my fate and burden to carry. But, maybe by sharing this burden my pain shall be eased a little bit.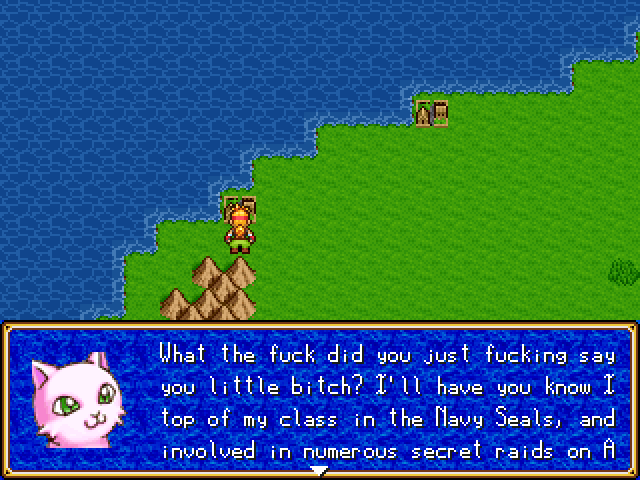 Vilkacis believes Herasia would make a compelling argument for being the fourth party-member if he could.
My brand new Patreon!